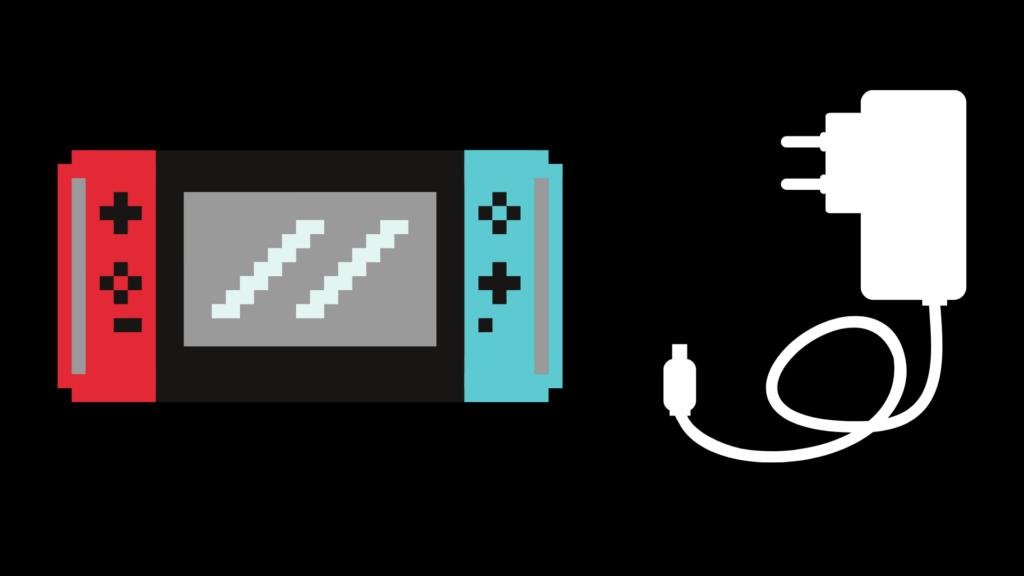 Nintendo's newest console, the Switch, was designed for both at-home and on-the-go use. You can quickly grab the device and attached Joy-Cons from the dock to bring it with you to a friend's house or on a road trip. However, if you forget to take the charging cable, you may find yourself with a dead battery and unable to play your favorite games.
The Nintendo Switch uses a USB Type-C charger, which is what you'll see if you disconnect the cable from the dock. You can then use the cable to charge your video game console directly.
You might be missing out on Nintendo Switch charging tricks if you haven't become acquainted with the device.
You Don't Have to Charge Your Switch on Its Dock
You can remove the Switch from the dock and charge it directly with a USB-C cable, including the one that plugs into the dock itself. Open the back cover and remove the USB-C cable from the port next to the HDMI port, then insert it into your Switch. This method will also charge your Joy-Cons if they're connected to the device.
Nintendo also offers an adjustable charging stand that allows you to charge your console while playing or viewing other content on it at a comfortable angle.
Does Leaving the Switch Docked Harm Its Battery?
According to Nintendo, you can leave your Switched docked once the battery is completely full without causing any harm.
The Benefits of USB-C Chargers
If you've plugged your Switch directly into the charging cable, you've probably immediately noticed how easily the cable plugs in. This specification was designed so that the connector is symmetrical, and you can insert it either way. This means no more flipping the cable when you don't have it turned correctly the first time.
Compared to older USB specifications, including micro and nano-USB, USB Type C charges your device faster. This is important because while the Nintendo Switch has an internal battery around the same capacity as those in many smartphones, the larger screen, and increased processing requirements drain the battery more quickly. If the Switch used an older USB specification, it would take longer to charge and may not charge well while in use.
Many new mobile devices, including most Android phones and tablets, also use USB-C cables, which means you can use a compatible phone charged if you don't have the cable that came with your Nintendo Switch. You may even be able to use the fast-charge capability of other chargers, including OnePlus chargers, which use the company's proprietary Warp Charging technology. Third-party options like those from Anker are also compatible with your Switch.
If you're curious whether your charger will work with your Switch, check its specification. 30-watt PD (Power Delivery) chargers offer the maximum possible charge time. However, 18-watt 12-volt PC chargers can charge your Switch near its maximum charge rate. The less standard 15-volt cable can charge the battery at top speed, even though it's only 18-watt.
How Long the Nintendo Switch Takes to Charge
There are currently three different models of the Nintendo Switch available: the original, new OLED, and Lite models. Although each device charges in approximately the same amount of time, there are slight differences because these devices have different internal batteries.
The original Nintendo Switch charges in 3 hours and 30 minutes when sleeping and 3 hours 15 minutes when in use.
The OLED Switch requires 3 hours and 14 minutes to charge during in sleep mode and just under 3 hours to charge during gaming.
The Nintendo Switch Lite needs only 2 hours and 59 minutes to charge while asleep and 2 hours 55 minutes to charge while in use.
It might seem odd that the Switch charges more quickly while in use, but 
Note that you'll need to use USB-C PD chargers for the fastest charging speeds. Traditional USB-C cables have a reduced power output that can charge your Switch but will do so more slowly. 
Can You Charge Your Joy-Cons with the Same Cable?
Yes, you can charge the controllers when they're connected to the charging grip by plugging the Switch's USB-C cable directly into the grip. According to Nintendo, it takes approximately 3 1/2 hours to fully charge your Joy-Con controllers.
Alternatively, you can charge the controllers and console simultaneously by connecting the Joy-Cons to the Switch before plugging it in or placing it on its dock. Nintendo and third-party sellers make Joy-Con charging docks that typically charge four controllers simultaneously.
Some companies offer charging grips, too. These multipurpose add-ons simultaneously make the Joy-Cons more comfortable to hold while acting as an external battery that can charge your controllers as you use them. However, you must charge the grips before they can charge your controllers.