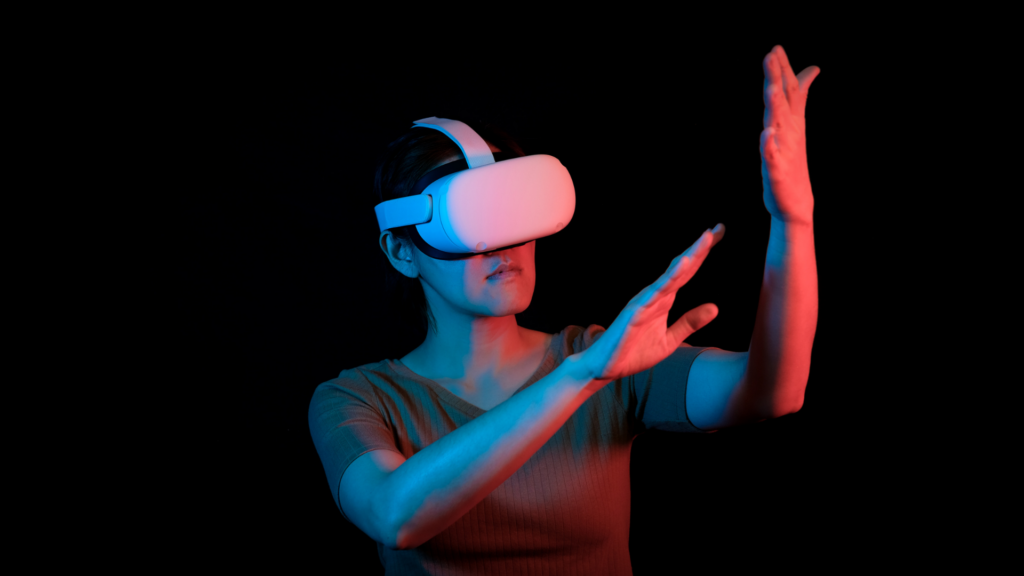 Being able to stream your VR headset to another device is awesome. It lets people see exactly what is going on with the headset, and it makes playing about with it a more social experience. Because of this, a lot of people wonder how they can stream their Oculus Quest 2 to Roku TV. Well, it isn't as easy as you may think. Don't worry, though. We have the answers.
So, how do you cast the Oculus Quest 2 to Roku TV? By using a lot of workarounds.
 You can't stream directly from the Quest 2 to the Roku. Instead, you will need to use an intermediary device (a phone or tablet) and make use of the screen mirroring tool on Roku. Later on, Roku may make this process simpler. However, for now, it isn't going to be easy.
Let us go into a bit more depth, just so you know exactly how the Oculus Quest 2 can be streamed to your Roku TV.
How To Cast Oculus Quest 2 To Roku TV
As we said, it is not going to be easy to cast your Oculus Quest 2 to your Roku TV. You will need a cellphone or tablet (only Android or iOS). This is because of the screen mirroring technology that the Roku TV uses. It may change in the future since it is an Android system, but we just have to wait for Roku to change things up a little bit. That could take a while.
Screen Mirroring From Android 
You will first need to enable screen mirroring. This will only work on some Android phones (never the Google-branded phones). So, if you don't have these options, sharing to your Roku TV is impossible.
Open up the 'Settings' app.
Tap 'Smart View'
Select your Roku device.
Select the relevant option (normally Always Allow or Allow) on your Roku TV when it pops up.
Your screen should now be mirrored.
Screen Mirroring on iOS
If you have iOS, then the process is ever so slightly different. You will need to use AirPlay for your mirroring.
Do bear in mind that this method will only work if your Roku and your Apple device are on the same mobile network!
Look for the 'AirPlay' button in the Oculus app. This does change positions sometimes, so it may be buried under settings, or you may have to tap on the screen. However, we can assure you that it is there.
Select your Roku device.
Accept the notification that now appears on your Roku TV.
Casting Your Oculus Quest 2 To Your Mobile Device
Your first job is to get the Oculus Quest 2 on your mobile device. For this, you are going to need to download the Oculus app.
Select the 'Options' menu in the app (it has the Oculus symbol, and should appear in the right-hand corner)
Select 'Cast From' and select your Oculus Quest 2.
Select 'Cast To' and then select your phone or another device that has Chromecast (the Roku TV does not support Chromecast!)
If you have done everything correctly, then your Oculus 2 should now be on your screen!
Is There Lag When You Cast An Oculus Quest 2 To a Roku TV?
There may be a small amount of lag. This is due to latency over the network. After all, you are not trying to run directly to your Roku TV, you are sending it over multiple devices.
Of course, the person that is using the Oculus Quest 2 will not notice the lag themselves. They will be able to use the device just as they normally would be using their device!
If you are noticing a lot of lag on your Roku TV when the Oculus Quest 2 is being streamed to it, then it is likely that there is some network congestion. You may have to disconnect a few devices from the Wi-Fi network, or at least stop using them so heavily, for it to work. That being said, streaming video shouldn't cause too many issues. The lag is only ever going to be minor and it is unlikely that you will actually notice that it is happening.
Can You Cast Oculus Quest 2 To a Standard TV?
If you have a Smart TV with Chromecast or AirPlay, then yes.
It is actually much more convenient than streaming to your Roku TV here. This is because you can use the Oculus Quest 2 to directly stream to the Smart TV.
Can You Control The Oculus Quest 2 Through a Roku TV?
No. When you stream an Oculus Quest 2 to a Roku TV, it is a purely streaming experience. You are not able to have any control over the Roku TV at all.
You will not be able to control the Roku TV from your Oculus Quest 2 either.
What Does It Mean If I Can't See My Roku TV As a Compatible Streaming Device?
It means that the Roku TV is not on the same Wi-Fi network as your phone or cellphone. It may also not be on the same network as the Oculus Quest 2.
This means that if you do not see your Roku TV listed, you will need to get everything connected to the same Wi-Fi network. This is a common problem for people that forget to switch off the data connection on their phone.
Conclusion
It is not easy to stream the Oculus Quest 2 directly to a Roku TV. This is because the Roku TV doesn't really support any apps that make it simple. Instead, you are going to need to go through your cellphone or tablet first. The exact process will vary whether you have Android or iOS. However, you will always need to have the Oculus app installed.
It is likely in the future that Roku will have far better support for the Oculus Quest 2. After all, it is starting to become incredibly popular as a device.