Having a smart home is a dream that, until recently, seemed distant. However, with the successive innovations in the field of the Internet of Things, many pieces of equipment are being developed to transform homes into a synonym for performance. Today we can make our homes capable of responding to our needs, even without us doing anything.
Given this reality, understanding whether it is worth investing in a smart home can be very interesting. This option has been attracting the attention of customers and even professionals in the area. This is because it is perfectly in line with the demands that the current generation has for their daily routine. If you want to know about smart homes, this article will take you through everything you need to know.
1. What is a smart home?
A smart home is networked and automated building technology. Household and multimedia devices are linked to each other in order to operate conveniently via central remote control. The networked devices automatically take over the work and tasks in a home. It doesn't matter whether you live in a house or an apartment. There are smart home products for every living style that will fit your everyday life.
Communication between individual smart home components is increasingly wireless. The data is usually transmitted either by radio, WLAN, or Bluetooth. In new buildings, some wired solutions are also used to avoid overloading because of the many devices being used. Wired systems are also considered less vulnerable. However, their installation is much more complex.
2. How does a smart-home work?
The main thing that makes Smart-home work properly is the transmission of data between devices. The exchange takes place through wireless connections and the Internet. In this way, the home system is responsible for collecting information from these connected devices, then processes it, and finally, issues orders to automate certain actions established by the user.
The information is transmitted in a dialogue between the central unit and the devices. The central unit is the one that receives the user's orders to perform any action and then communicates with the different devices for them to act.
Bear in mind that the home automation system includes not only a central unit and the devices connected to it but also very fundamental sensors. These allow devices to gather information and communicate with the home automation center through a communication network. The control signals emitted by the central unit and the sensors work together so that the devices act in accordance with instructions given by the user. That is, what you wish to manage with your home automation system at home.
Example:
Let's imagine you have a home with an irrigation system for the garden. Home automation will not favor operation unnecessarily, but only at the time, it deems most appropriate. The control unit receives information on weather conditions and the state of the ground. It independently determines the start of the system, the quantity of water required, and the operating time. If it has already rained during the day, the system may not even start. However, if the ground is in a state of great drought, the operation will be prolonged for a few minutes, giving a suitable amount of water.
In the same way, it is also possible to manage other devices in the home. Starting with electrically controlled windows, depending on the light and time conditions, the windows will be lowered without human intervention. As can be deduced, thanks to the Smart Home, it is possible to simplify and automate many of the operations that are carried out daily in a home. This relieves the human being of some annoyances and efforts.
However, one should not think that a smart home can survive without a man. In fact, a human can intervene at any time and plan a program to switch the systems on or off based on his needs. A classic example is when a person sets the heating system to start from the control unit at a certain time in order to find water and a hot bath when he returns from work. Home automation, in this case, respects the will of the owner and will ensure that the situation is optimized, even when the person is absent.
3. What do smart homes do?
The possibilities of a smart home are now almost unlimited. Intelligent home automation makes everyday life easier for you and increases your safety and comfort at the same time. In addition to this, your smart home will help you save electricity and thus protect the environment. To give you an impression of what a smart home can do, here are some examples:
a. Intelligent lighting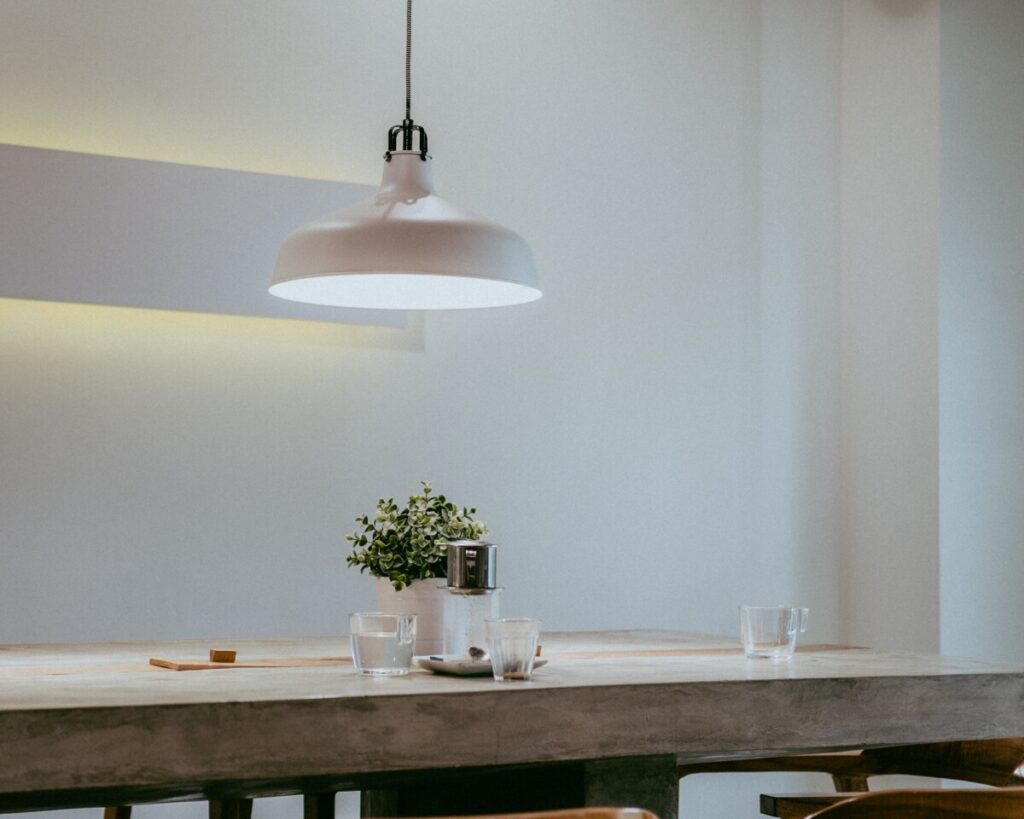 Through smart lighting in your home, you make your life much more pleasant. This is because, with an innovative lighting system, the light in your smart home automatically adapts to your everyday life. For example, let yourself be woken up naturally in your bedroom with slowly dimming lights. Or create a romantic atmosphere for a candlelight dinner with just one voice command. In addition to this, smart lamps dim down in the evening so that you slowly get tired and fall asleep well.
Another possible application is the presence simulation. With it, you let others believe that you are at home through random schedules even though you are not around. Also, you can program your lighting system so that it turns on the exterior lighting based on your GPS data when you get home.
b. Gives additional security through smart security systems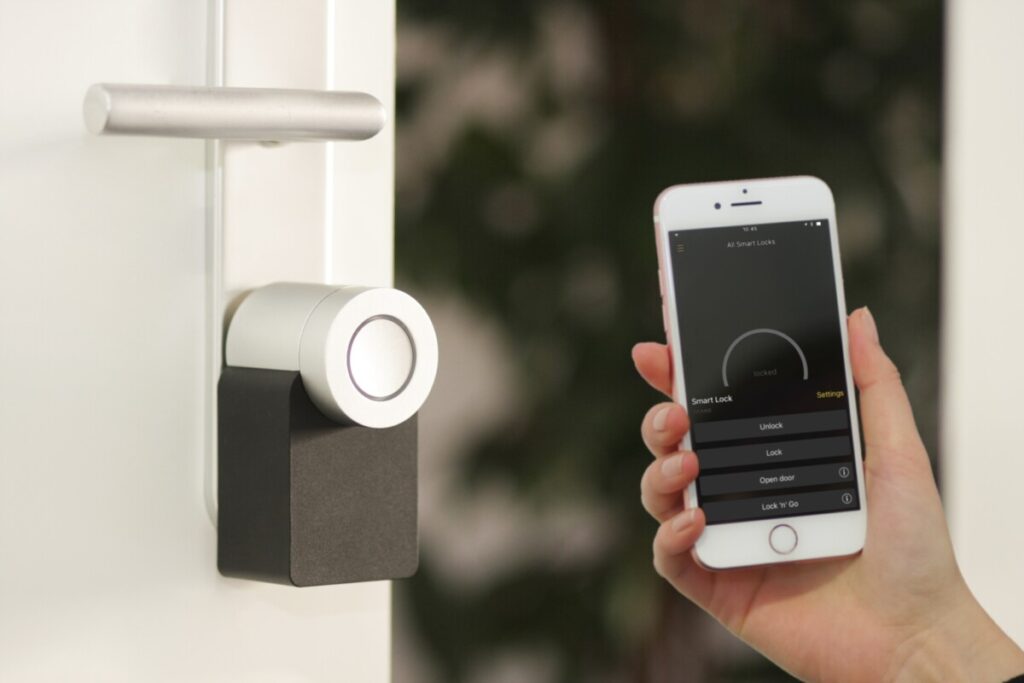 Surveillance cameras are, of course, one of the most important components of a smart security system. Regardless of whether indoor or outdoor cameras, smart homes have good smart surveillance systems. Most of these systems have a push notification to uninvited guests, a picture in HD quality even at night, intercom function, and live access. So, you always have your home in view, and you are immediately warned of a break-in. The good thing is it doesn't matter where you are. In the event of an emergency, you can notify the police immediately when you are around.
Video doorbells are also useful. Similar to surveillance cameras, they offer additional security. In addition to video surveillance, they also report to your smartphone when someone rings the bell. This is not only practical if you want to tell a courier where to put the package, but also if you don't normally hear the bell.
Smart locks and door/window sensors are other important components of a smart security system. While the smart door locks automatically, it grants you and your guest access on request. The sensors always keep you in the picture as to whether the windows or the balcony door are really closed.
c. Intelligent heating control
With a smart heater, you not only make your everyday life much more comfortable but also more environmentally friendly. This is because the intelligent heating systems regulate the temperature in every room so that your desired temperature prevails at all times. To do this, you create schedules for when you are at home or rely on location-based control. With this, your heating system knows exactly whether you are on the way home and start to heat up. With smart schedules, you can easily create your own personal feel-good atmosphere.
The same applies to a cozy bathroom in the morning. This saves you a lot of energy and heating costs and, at the same time, protects the environment. Heating systems for your smart-home work with a wide variety of energy sources. No matter whether oil heating in the basement or gas heater on the wall, with intelligent heating controls and smart radiator thermostats, more comfort moves into your home.
d. Helps in performing household chores
If you are in a smart home and don't like doing vacuuming yourself, vacuum robots take on this task, and preferably when you are not at home. With the new generation of robots, you can precisely measure your home so that you can then divide it into different zones. You then assign different schedules and priorities to the robot. For example, your robot will vacuum in the kitchen every morning and evening, while it only controls your bedroom every three days.
Also, smart adapter plugs in the house are very helpful. With them, you can switch on your coffee machine at the push of a button or on a schedule. This can help you save time in the morning when you wake up.
e. Controls speakers in the smart home
Bluetooth speakers are already standard today, even in non-networked households. With them, you can easily stream the music from your favorite app to your speaker.
On the other hand, your options with a WLAN speaker or even a multi-room system are even more diverse. This is because, with this technology, you can continue to use your smartphone or tablet as normal. There will be no indication of interruptions in music due to incoming calls. Thanks to multi-room, you can listen to your music in all rooms at the same time. Loudspeaker groups are also easily implemented.
Smart speakers also work with integrated voice assistants. The Google Home models have the Google Assistant, the Amazon Echo series Alexa and the Apple Home-Pod Siri on board. All smart loudspeakers play individual songs and playlists on command and inform you about tracks and performers on request.
f. Helps in garden
Your smart home does not end at your own four walls. You can also make your balcony or garden smart with a variety of options. When it comes to smart gardening, lawn care, and garden irrigation are the most used applications.
A robotic lawnmower mows the lawn in a smart garden. It not only relieves you of annoying work fully automatically but also cares for the lawn. You can set the robotic lawnmower to mow according to schedule, adjusts to mow according to the frequency of the weather conditions, and supply your lawn with fertilizer.
Smart irrigation systems reliably supply your plants with water. The system supports you in creating optimal schedules for the different plants, enables remote control and adjusts the irrigation with additional sensors to the specific requirements of your garden, terrace, or balcony.
4. Purpose of a smart home
Smart homes are differentiated from the design stage, with different environments equipped with a variety of devices aimed at convenience, safety, and carrying out domestic tasks. Generally, they all try to serve the same purpose. Which are:
a. Comfort
One of the main purposes of a smart home is that it provides more comfort to residents. This is because automation naturally gives less work to maintain the property and offers a complete network of benefits. Ranging from the operation of appliances to the surveillance system.
b. Savings
Another purpose of a smart home that a few people know about is that these systems can deliver great savings. Many people think that installing these devices can be very expensive. In general, this is not untrue. However, in the long run, the cost-benefit tends to be very good. For example, remote access to home appliances allows residents to turn on only what is needed at the moment. In addition to this, it is possible to adjust everything to the desired intensity, without the need to leave all appliances on or use them at their optimum power.
c. Security
Achieving good levels of security is also one of the reasons why many people want to live in a smart home. For example, it is feasible with innovations to know who enters and exits through the doors the moment when the alarm system was activated, in addition to viewing the monitoring cameras remotely.
5. What is a smart home device?
A smart home device is a device that is programmed to control a smart home automatically. There are various smart home devices, each responsible for a specific operation in the home. Smart devices go beyond simple operation alone. Their real power is in their intelligence and can take over tasks themselves. Example of smart devices are:
a. A smart thermostat
The smart device that is brought into the house most often today is the smart thermostat. You can use this so to control the temperature in your smart home anywhere in the world using an app on your smartphone. The smart thermostat is connected to the Internet via Wi-Fi. This is certainly useful if you are forgetful or lead an irregular life. But a smart thermostat has even more to offer. Thanks to motion sensors and geo-fencing, they also know whether you are on the road and start working around the house.
b. A smart smoke detector
The classic, round smoke detectors that have been hanging on the ceiling for years are now out of date. There are new versions in the market that are a lot safer. The biggest thing about a smart smoke detector device in a smart home is that you can also receive notifications remotely via the app. In this way, checking whether all smoke detectors work is also very simple. Most smart smoke detectors can detect more than just smoke. Often there is also a detection system for carbon monoxide. The latest smart devices today can also distinguish between a rapidly developing fire or a slow, smoldering fire.
c. Smart security
In addition to fire safety, the protection against burglars in a smart home is of a higher and smarter level. With movement or roughly glass breakage at the back door, you immediately get a notification on your smartphone thanks to the smart security device. The smart security device also knows perfectly how to deter thieves. For example, by switching on all lights or turning on the smart speaker at high volume.
d. A smart speaker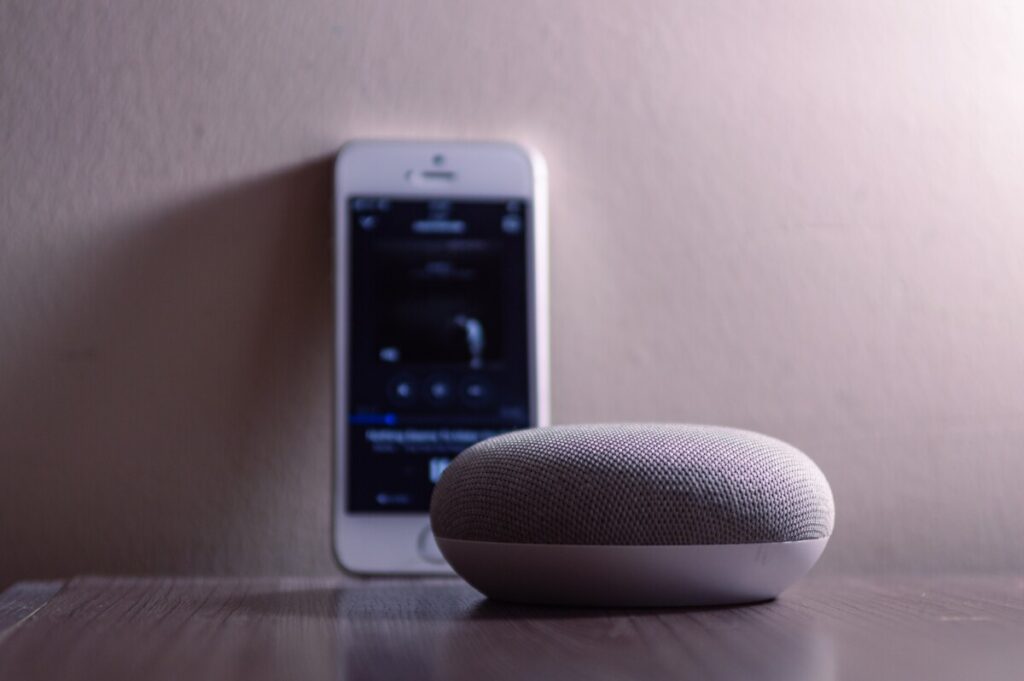 Another smart home device that is rapidly conquering our living rooms is the smart speaker. It is expected that in the future, it will become a more central point for the operation of all smart devices in your home. You simply do all the commands with your voice.
e. Smart lighting
Wi-Fi lamps are another good example of a smart device that you can control via an app. As you know, the right lighting sets the tone in terms of the atmosphere at home. Smart lamps are primarily adjustable in terms of the amount of light, dim-ability, and warm or cold light. But with the more expensive versions of these smart devices, you can even choose any color. There are now many different brands to choose from that can serve your needs.
f. A robot vacuum cleaner
This is another example of a smart device that makes life a lot more fun. This is because for anyone who hates vacuuming or doesn't have the time, can use a robot vacuum cleaner. At the agreed time, this device will come out of the base station in your smart home to drive around and take all the dust with it. You may wonder about the obstacles in the house? Will it perform as expected? Well, thanks to a lot of sensors and cameras, a robot vacuum cleaner is a really smart device. It will not thunder down the stairs or skip a bit.
6. What smart home systems are there?
The number of devices in a smart home increases the complexity and also the number of apps on your phone. This can be annoying and can be cumbersome to control. With the integration of your smart devices in cross-manufacturer smart home systems, the operation is considerably simplified. Here the control takes place via a central app or voice assistant. The large corporations Apple, Amazon, and Google, have also prevailed here. But there are also other manufacturers who offer good smart home systems. Some of the smart home systems are:
a. Smart home with Google
The central component in Google's smart home system is the Google Assistant. As a voice assistant and app on smartphones, tablets, and smart displays, it controls your smart home and helps you in your everyday life. Your smart devices are linked to the Google Assistant via the Google Home app. According to Google, more than 10,000 products can be integrated into the in-house system. This is always possible if the manufacturers of the products offer the so-called Google Home Actions. It is then controlled either by voice assistant or via the Google Home app.
b. Apple Home-Kit
Apple's counterpart is called Apple Home-Kit. Home-Kit also does not require its control center for the basic functions. Everything you need to get started can be found on an iPhone, MacBook, iPad, or Apple Watch. The integration takes place via a Home-Kit code. Automations and scenes are only possible via a Home-Kit control center. The control center must be continuously connected to the Internet.
Comparing the compatible devices, Apple Home-Kit supports much fewer devices. The integration into the Apple world is all the more convincing. The devices are operated intuitively, and Siri also offers extensive voice control.
c. Amazon Alexa
With the voice assistant of the same name, Amazon Alexa is also one of the most used smart home systems. Alexa is the name used to alert the system to begin listening to you. In addition to this, Amazon offers numerous smart speakers with integrated voice assistants. Your smart home devices are integrated using the well-known Alexa skills that offer Amazon access to the devices.
7. Should you get a smart home?
Perhaps you now think if you should get a smart home. If you want to live well, then it is important to invest in one now. It is not a must you buy a fully automated home. If you already have a home, you can still get the necessary equipment and automate your house. You can enjoy a lot of benefits from such as air conditioning, closing gate, doors, windows, and curtains. It is also possible to access cameras, monitor energy consumption, be reminded if you have forgotten to close the gate and much more
It is believed that in the next decade, a complete immersion will happen. Smart homes will be able to learn the habits of their inhabitants using artificial intelligence. Eventually, this knowledge will allow your needs to be anticipated by the devices.
8. Advantages of a smart home
Smart home brings with it several advantages that concern not only the living comfort but also the economic aspect. A Smart Home can be more efficient thanks to technology, and this translates into energy savings following the optimization of available resources. This action leads to a reduction in waste. With this, the advantages of home automation are different and all tangible. Here are the main advantages of a smart home.
a. Watch what happens wherever you are
Whenever you think about a protection system for your home, the first thing you want is to be safe.
With a smart home, you can connect your mobile device to your home and observe what happens when the alarm goes off in real-time. Also, the system will keep you informed through notifications whenever there is an unforeseen event or aspect. This allows you to take care of your house even when you are at a distance.
b. Forget the alarm keys
How will your life be when your alarm activates when you leave home and deactivates when you arrive? With a smart home, it's that simple without you having to do anything. Having one more key to remember in the digital world is somewhat cumbersome. Therefore, being able to get home and that the alarm is disconnected only by detecting your presence is a great advantage.
c. Avoid domestic accidents.
We all know that children, on many occasions, are uncontrollable and touch everything. Having a safety device in the kitchen can control the involuntary ignition of several appliances to avoid an accident. In addition to this, with an intelligent system, you can identify a water leak as soon as it occurs and even cut off the water supply immediately, thus avoiding further damage to our installation.
d. Control everything from a single system
Manage everything from the same application and enjoy a system whose devices complement each other. You get to manage your home from the inside but also when you're away. All these thanks to the Internet and new technologies. In recent years, the latest generation of smartphones and phones have made lives much easier as they are used in home automation.
e. Automate your installation
One of the characteristics that best define smart homes is one that responds to your needs and anticipates what can happen at a given time. That is, the automated system can act against different tasks influenced by many triggers at a certain time of day. Therefore, an automated home adapted to your day to day life allows you to spend more time with your family, your friends, or just relax.
f. Collaborate with responsible energy consumption
With the appropriate electronic device, you can achieve savings in the energy consumption of your home. For example, having your device connected to the Internet, it can know what time it gets dark every day and turn off or turn on the exterior lights autonomously. This will save you unnecessary consumption of electricity. Another example of this is by using a sensor. You can control the operation of an air conditioner whereby it automatically switches off when you open the windows. This will reduce the loss of energy, which end up making extra expenses.
9. What do you have to consider in terms of security?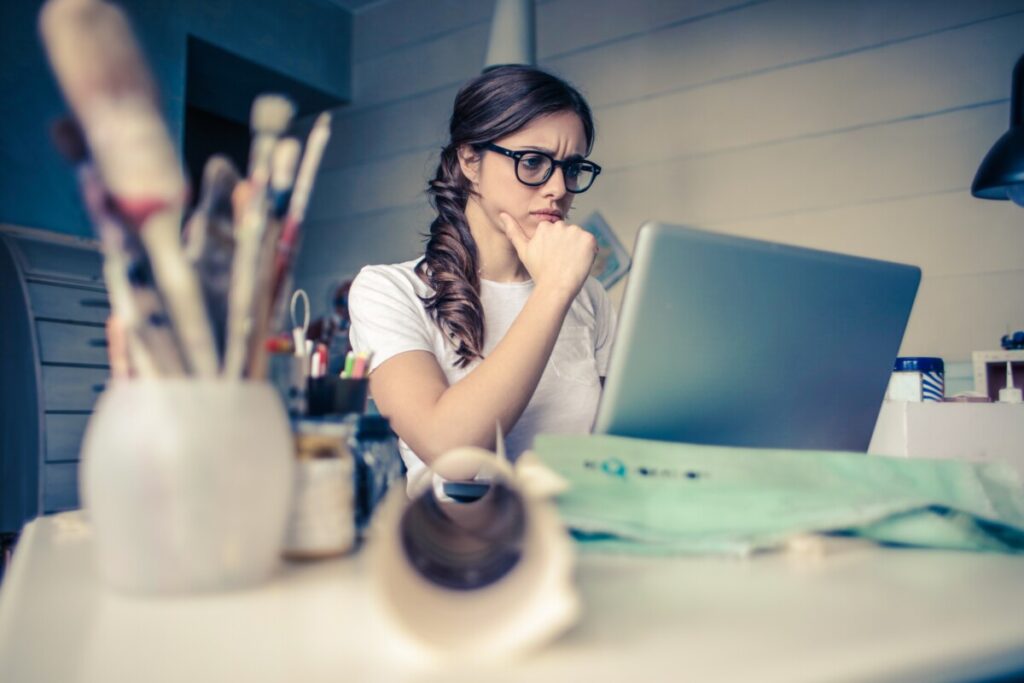 In order for your smart home to work effectively, the smart technology collects data about you as a user, about your lifestyle or your consumption behavior, and connects to the Internet. If you manage the smart home technology together with sensitive data on your smartphone or tablet, you must exclude security gaps.
Unfortunately, there are no generally applicable requirements or minimum requirements for smart systems. Consumers should, therefore, inform themselves well about their desired system before buying and ask the manufacturer for transparency about data security.
The best tip is to pay attention to certain protective measures during installation. Every connected device is a possible gateway for hackers. Overall, a network is secure when the device is strongest secured. The complete system should be protected by a firewall, access rights, and additional encryption. Regular device updates directly from the manufacturer should be installed regularly. This is the only way always to have the latest protection mechanisms active.
In principle, the factory configuration for all devices should be replaced immediately after commissioning with your created user names and passwords. Changing the password regularly increases security. Protectable and confidential information should only be accessible to you as the owner. Therefore, do not save sensitive data locally or in the cloud. The house is the place designed to provide comfort, security, and rest to the family. It is essential to have the necessary equipment to enjoy the home without worrying about anything.
10. Are smart homes worth it?
Having a smart home means having more efficiency and optimization at home. But it also represents an opportunity for savings. Remember the power outlets that "turn on" on their own, the air conditioning in the forgotten office that you left on. Little by little, you will end up using more money. Good lighting, with a sensor that turns on and off by movement, will cause the bill to decrease even more.
These are just examples of how the automation brought by the smart house is an investment. New technologies are both time and money saver. Your life becomes easier, and you tend to spend less on services and charges common to your lifestyle. In short, the smart house is just beginning. Having a smart home will become common and necessary. The sooner you start preparing, the more chances you will have to adapt and enjoy its benefits.
Final Thoughts
Given all that has been exposed, it is easy to see how important it is to live in a smart home. It is undeniable how much a smart home can add to your life. The practicality factor is not the only one to be taken into account, but also all the security the technology can provide. If you have not yet automated your home, then this is the right time to start.