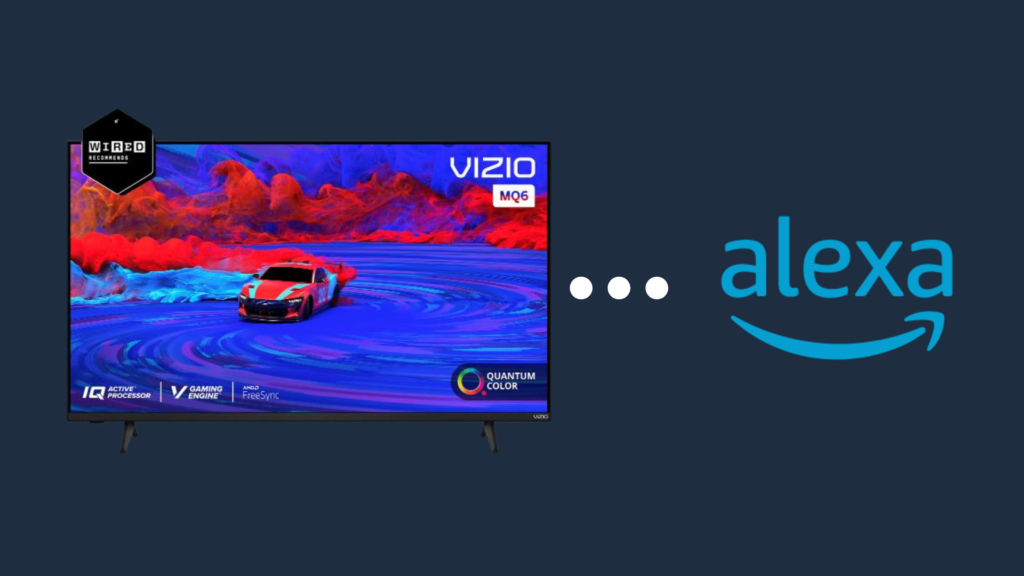 One of the best new things about technology is just how capable devices are of connecting with one another. You can do this with a wide variety of devices, ranging from phones, to tablets, to light bulbs, to even refrigerators! But today, we are going to look at televisions' ability to connect to Alexa-enabled devices, specifically the Vizio TV.
Launch the "Smart Control" app on a 2016 or later Vizio TV. Go to the 'Extras' section, and select 'Amazon Alexa'. Select 'Add to Alexa' on the TV, and then launch the Alexa app. Select 'More', then 'Skills & Games'. Search for Vizio SmartCast, and then select 'Enable to Use'. Enter your MyVizio credentials, and then 'Approve'. Finally, select 'Discover Devices', and you should be good to go.
But how do you get the Alexa app and MyVizio account set up? And what do you do if they are not connecting properly?
How to Connect Vizio TV to Alexa
To connect your Vizio TV to Alexa, the first thing you need to do is open the Smart Control app. You need to make sure that you are using a Vizio TV released in 2016 or later; otherwise you will not be able to connect Alexa to it. The reason for this is because support for Alexa does not exist in earlier Vizio TV models. Alexa first came to mainstream markets in 2014 with the original Amazon Echo, and non-Alexa devices began to be designed to work with it, such as the Vizio TV brand in 2016.
Another way to do it would be to simply use an Amazon Fire Stick instead. All you need to do for this is to plug the Fire Stick into your Vizio TV and set up the Fire Stick with your Amazon account. The Fire Stick plugs into the USB port as well as the HDMI port or an electrical outlet. Navigate to the input your Fire Stick is connected to (ie HDMI 2), and follow the on-screen instructions to get the Fire Stick connected to your Amazon account.
How to set up the Alexa app
If you do not already have the Alexa app enabled on your phone or tablet, the process is relatively simple. You can download the Alexa app on your Android or iOS device, from the Google Play Store and App Store respectively. Once it's downloaded, open the app and sign in using your Amazon account. Plug in the Alexa device that you want to connect to, and complete the initial setup process for the device. In the Alexa app, tap More (the three horizontal lines icon), and select 'Add Device'. Select the Amazon Echo, and then select whichever Echo device you are connecting to.
How to connect a MyVizio account to my Vizio TV
Creating a MyVizio account is a pretty trifling matter, so getting it created should be no great issue. On your computer, smartphone, or tablet, you can access the Vizio login page. Below the login forms, you will see a link to create a new account. On that screen, you will have to give your first and last name, your email, and create a password for this account (make sure it's not easy to guess!). Alternatively, you can choose to sign in with your Facebook, Apple, or Google account instead.
Once you have done one of these methods, you should now have access to your account. Navigate to your email, open the email you were sent, and confirm your email with Vizio. Write down your username and password with Vizio so you don't forget them. Next, go to your television and press the VIZIO button on the remote to bring up SmartCast TV Home on your Vizio TV. During the setup for Alexa on your Vizio TV, and enter the email and password for your account.
A four-digit PIN code will be sent to your email address, and a website will open on your TV to enter the PIN code. Enter the code, select the 'Link' option, and a green checkmark should appear, indicating that your MyVizio account is now connected to your Vizio TV.
What to do if your Alexa is not working
While Alexa devices tend to be somewhat reliable, there are definitely points where they may experience issues. One of the most common reasons why your Alexa device may not be working is due to a lack of a stable Internet connection. No matter what the Alexa device may be, it can do little to nothing if it does not have an Internet connection. There are multiple clues that can be used to determine if this is the case. The most common clue is when Alexa indicates that it is having trouble connecting to the Internet. For instance, if you ask her to search for something, she may say "I'm having trouble connecting right now."
If this is the case, make sure that your Internet connection is working properly. You can do this most easily by checking the connection between your Internet and other devices. If, for instance, your phone is connecting to your Wi-Fi connection, then the issue would likely be to do with your Alexa. If you have changed your Wi-Fi's password recently, you will need to update it on your Alexa device as well. To do that, do what you did to set up Wi-Fi in the first place. This is easier to do on an Amazon Echo Show, as you can simply swipe down from the top of the screen, select 'Settings', and select 'Network'. Select the Wi-Fi network, and follow the prompts to update the password.
Can I use the Alexa app on computers?
Not everyone will necessarily have a phone or tablet that can run the Alexa app, though they may still have a computer. Thankfully, the Alexa app works on computers, which means that you can access it more easily. You can do this just by going to the Amazon Alexa website here.