Consoles
Uncategorized
PS4 Says Connect A USB Storage Device That Contains An Update File For Reinstallation? (Here's How To Fix It)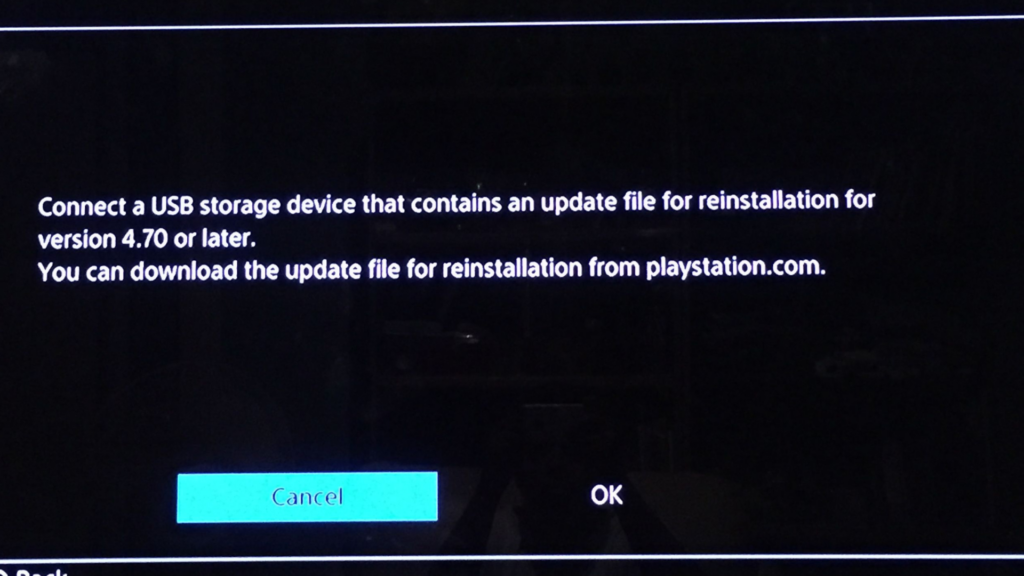 Sometimes your PS4 needs a little external support. Even if all the software on your PS4 stops working, you can still update by using a USB drive. 
You can overcome this problem by installing the PS4 update file onto a USB drive & following the on-screen directions to update your console. You can also put the system into safe mode and initiate an update or initialize the console to factory reset it. 
PS4 owners can follow these steps to fix their console. 
PS4 USB Update File Reinstallation Fix
If your PS4 has trouble updating, you might need to use a USB stick to manually update. Here's how it's done. 
Download the PS4 update file from the PlayStation website
Place the update file onto a USB drive in these folders: PS4>UPDATE
Insert the USB drive when prompted and follow the on-screen directions  
PS4 Can't Find Update on USB
Your PS4 might not be able to install the update if it is in the wrong folder in your flash drive. Follow these steps to get the update file into the right place. 
Create a folder named "PS4"
Create a folder named "UPDATE"
Place the update file into the UPDATE folder 
(It's important to note not to include the quotes when naming these folders.) There should also be no other folders on the USB drive in order to simplify the process and make it easier on your PS4. There should also be no other folders inside of the PS4 folder besides the folder named update.
Do not change the name of the update file itself. Leave the file name the same as whatever you got when you downloaded it from the PlayStation website. 
PS4 Error CE-30774-1
Error code CE-30774-1 lets you know that your PS4 could not update using the USB stick. This error pops up regardless of the cause of this problem. This error might be a little daunting, but we have a few fixes that we can try. 
What Causes This Error and How to Fix 
This error is commonly caused by an inability to read the update file on the USB drive. The quickest fixes involve making sure the USB stick is working right and double-checking that the update file was downloaded properly. 
Format the USB stick as FAT or exFAT
Place the update file in the right folder in the flash drive using the method we outlined above 
Simply try again. USB sticks can be a bit picky about how they are placed 
PS4 Say USB Storage Device Not Connected 
There are a few things we need to consider when the PS4 can't detect your USB storage device. The first thing you want to check is that the USB storage device is working properly. Try plugging the USB device into a computer and see if it can pick it up there.
There's also a chance that the USB port on your PS4 has been damaged. You can test this by trying to use another USB storage device for plugging in a controller.
They're also problems that are harder to solve that can be causing this problem. If your PS4 isn't getting enough power, it can have trouble reading USB devices, your PS4 might have been corrupted during an update or software installation, or it could even be the cable that connects your flash storage drive to the PS4's USB port. 
Get PS4 Out of Safe Mode Without USB
If your PS4 is stuck on a screen that's asking you to insert a USB stick, you might have some trouble getting either into safe mode or getting out of the screen. We're going to cover a few fixes to get you back on track, but there can be a lot of separate problems causing these issues so not all of these fixtures are going to work.
If you're in safe mode, you can try safely rebooting your PS4 from the menu. You can also try to update your system or even do a factory reset and initialize your PS4 as a way to get out of the screen.
You can also try doing a hard reset. Hold the power button until the console turns off and you might be able to get out of the screen without a USB storage device. 
How to Boot Into Safe Mode PS4
Safe mode is the most basic interface you can have with a computer. It's got limited options and is designed to give you a few diagnostic tools and comprehensive fixes for problems. 
Here's how to boot into safe mode on PS4. 
Turn off your PS4
Press and hold the power button 
Release the power button after you hear two beeps. The first beep happens when you press the button and the next comes 7 seconds later 
Connect your DualShock®4 controller with the USB cable 
Press the PS button on the DualShock®4 controller 
Other Fixes to Try While in Safe Mode
There are a few other fixes that you can try while you're in safe mode. These are some excellent options to pick if you don't have a USB around or you've got other problems with your PS4. 
Rebuild the Database
A common source of these problems is the corruption with how the PS4 has been storing files. Files might be in the wrong locations or they might be damaged. Rebuilding the database cleans up how the PS4 stores information and removes any of these problems.
Update the PS4
You also have the option to update your PS4 while in safe mode. Your PS4 might have been damaged during the last update or the update file was corrupted. Updating the PS4 from safe mode is a great way to take another shot at updating your console.
Reset the PS4
You can factory reset your PS4 while in safe mode. Select the option to initialize your PS4 which will delete all data saved on your PS4 and restore the settings your system had when you first set it up.