If you're considering purchasing a Roku Stick, then you may have a few questions regarding setup requirements. A common question most users have is whether or not the device will need to be powered at all times.
Let's take a look at everything you need to know about powering your Roku Stick, as well as a few things you will need to look out for.
Does Roku need to be Powered?
Your Roku device will need to be powered at all times in order to function. The Roku stick features a micro USB port which is used to plug-in the provided USB to the micro USB power cable.
You will have two options for powering your Roku. The first and most recommended method is to plug-in the provided USB power cable into an electrical outlet. This method ensures that your device has sufficient power at all times. 
The second option would be to power up your device by plugging in the provided USB power cable into your TV's USB port. However, while this is a viable option, this method is not recommended for all televisions. Some users reported having issues with their devices when using this method, as certain TV models may not provide enough power to power up the Roku Stick.
 This may cause several issues, such as:
Insufficient Power message on the screen
 Unexpected screen blackouts
 Unexpected Reboots
So, if you do decide to power up your Roku device with your TV's USB port, you will want to ensure that your TV does offer enough power to your device.
Everything needed for setup will be provided with your Roku Stick, this includes:
The Roku Stick
 A Remote Control
 Batteries
 USB Power Cable
 USB Power Adapter
 Quick Start Instruction Manual
How to Setup the Roku Streaming Stick:
1. Plug-in your Roku Stick into your TV's HDMI port.
2. Next, plug the provided USB power cable into your Roku stick and the other end into the included power adapter, then connect it to an electrical outlet.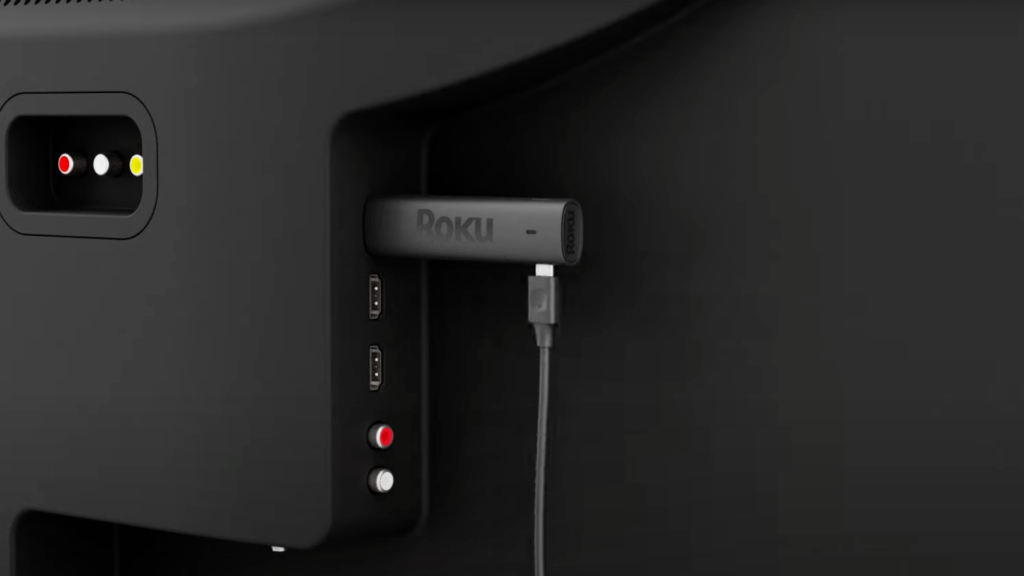 3.  Turn on your TV, and ensure you have the correct HDMI input.
4.  Insert the batteries into your remote. Your remote will begin to flash and pair automatically (if your remote isn't pairing, press and hold the pairing button located in the back of the remote for 5 seconds)
5.  Follow the instructions on the screen to connect to your network and download the most recent software updates.
Should I Unplug My Roku stick When Not in Use?
If you own a Roku Stick device, you may have noticed at first glance that it does not come equipped with an off button. Because of this, many users wonder if they should unplug their devices after use.
The answer to that is no; you wouldn't need to worry about unplugging your Roku Stick when not in use. This is because the Roku Stick is intended to remain plugged into your TV at all times. It features a sleep function that automatically places your device in sleep mode and consumes extremely low power when not in use.
Additionally, Roku installs updates in sleep mode, so unplugging your device may require you to wait for a few updates to be installed. You may also be required to re-authenticate your account.
However, if you still prefer to unplug your Roku Stick, the good news is that you wouldn't need to worry about losing your information. This wouldn't trigger a factory reset, so you can rest assured your info will be saved.
Related Questions:
Does Roku require a subscription?
Roku does not require a monthly subscription; however, you will still pay a monthly fee for premium streaming services such as Netflix, Hulu, & Disney Plus. But the device itself is a one-time purchase and does not require a subscription whatsoever.
Does Roku Require internet?
Yes, Roku does require an internet connection to access streaming services & free channels.
Can Roku Work on any TV?
Roku can work on any TV that has an HDMI port. As long as your TV is equipped with an HDMI port, you can use a Roku Stick with your TV.
Does Roku have YouTube?
Yes, YouTube is featured on the Roku device. Simply login into your account and view your list of subscriptions & playlists.