TV
How to Use Airplay Without Wi-Fi? (Complete Guide)
Airplay is a convenient way to wirelessly stream audio and video content from an Apple device to another screen. However, it does have one major drawback; it requires a Wi-Fi connection. The good news, however, is there are a few workarounds that we will discuss in this article.
What You Need To Know About Using Airplay Without Wi-Fi
Just to be very clear, Airplay is built upon using a local network to transfer media content between devices. This means that both devices would need to be connected to the same Wi-Fi network or connected via an Ethernet connection in order to transfer media.
However, while this is the case, Airplay does have a feature known as Peer-to-Peer Airplay, which is currently the ONLY way to use Airplay without Wi-Fi. It works by turning your phone or tablet into a temporary Wi-FI hotspot which your device can then connect to. The downside to this, however, is it only works with Peer to Peer capable devices, which is limited to Apple devices only. Meaning if you're trying to Peer-to-Peer Airplay to a TV, you will need an Apple TV
Here are the requirements to use Peer-to-Peer Airplay as well as the downsides.
Requirements for Peer-to-Peer Airplay: 
iPhone or iPad iOS 8 or later versions are required.
  If using a MacBook OS X Yosemite v10.10 or a later version is required.
  Apple TV requires OS 7.0 or later versions.
A few downsides to using Peer to Peer Airplay:
Video sound and quality are slightly reduced.
 It won't work with Netflix, YouTube, or Amazon Prime Video.
 Peer-to-Peer Airplay only works with Apple TV, Mac, iPhone, or iPad.
While this is the only way to use Airplay without Wi-Fi, there are alternative methods to display your device's contents on another device without using Wi-Fi or Airplay, which we will detail below.
Method #1 Peer-to-Peer Airplay
Here's how to use Peer to Peer Airplay without Wi-Fi:
First, go to your Apple TV Airplay Settings > select Airplay> select Allow Access> if you have this set to "Anyone on the Same network," change it to "Everyone."
 Now, delete saved your networks on your Apple TV.
 Now turn on Bluetooth and Wi-Fi on your IOS device and TV. (It just has to be turned on, no need to be connected to either.)
  Restart both devices.
On your iPhone, Swipe down from the top-right edge to open the control centre and click on the Airplay icon and select your TV to start mirroring on it.
 You may also get a security code; simply enter the code to start mirroring.
If you are experiencing issues connecting via the peer-to-peer method or simply don't see the "Airplay Control," then restart your Apple TV and source device, and this should, in most cases, solve the issue. Outdated software can also cause issues connecting via peer-to-peer check if your Apple TV or iPhone/iPad/MacBook has a software update available.
Method #2 Using an Apple Lightning Connector with HDMI
An alternative method to mirroring your device without Wi-Fi would be to use an HDMI cable. You'll need a lightning to HDMI adapter or USB-C to HDMI adapter, depending on your device, to be able to connect one end of the HDMI to your phone or iPad. Once you've plugged the adapter into your phone or iPad, simply plug in the other end into the TV and navigate to the appropriate Source on your TV, and the content should display on the screen.
Alternative Methods For Mirroring Without Wi-Fi
There are a few other alternative methods that are worth mentioning. However, the downside is you will need an Android Phone.
Method #3 Roku TV
The first is if you own a Roku TV or Roku TV streaming device. You can screen mirror using Roku's built-in mirroring feature without Wi-Fi. However, the issue is you can only do this using an Android or Windows device.
On your Roku TV, navigate to Settings > System > Screen Mirroring > Screen Mirroring Devices.
On your Android device select the screen mirroring option (Select "Smart View" if using a Samsung device).
Select your Roku TV from the "Available Devices" list.
 Your TV will display a "No internet connection" notification, select "Proceed Anyways."
Method #4 Fire TV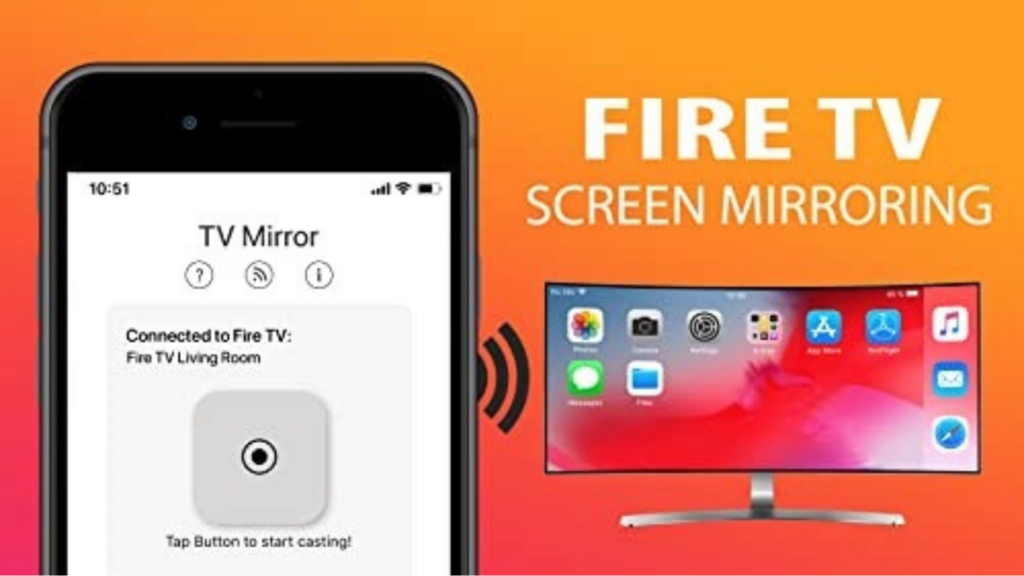 Navigate to System Settings.
 Select your network and click on "Forget this Network."
 Press and hold the home button. on your remote until the shortcut menu appears
 Select "Mirroring."
 Now on your mobile device, select the screen mirroring option (Select "Smart View" if using a Samsung device).
 Select your Fire TV from the "Available Devices" list.
Method #5 Samsung TV
Certain Samsung TVs are equipped with miracast functionality, which allows you to mirror your TV without Wi-Fi. Here are a few Samsung TV models that have this feature built-in: LED D7000, PDP D8000, LED ES7500, PDP E8000, LED F4500 (Excludes F900), PDP F5500, H4500, H5500 (Excludes H6003, H6103, H6153, H6201, H6203), J4500, J5500 (Excludes J6203), K4300, K5300.
The first thing you'll need to do is "forget" your network on your Samsung TV.
Go to Network > select your Network connection > Click on "Forget.
On your Android device, select the screen mirroring option (Select "Smart View" if using a Samsung device).
Select your Samsung TV from the "Available Devices" list.