TV
How to Change Location on Paramount Plus (Complete Guide)
Paramount Plus is a popular streaming service that offers a wide variety of content, including movies, TV shows, live sports, and news.
Owned by ViacomCBS, the platform is available in the United States, Canada, Latin America, and parts of Europe. Subscribers can access a diverse range of programming from various networks like CBS, MTV, Nickelodeon, Comedy Central, and more.
Why Location Matters on Paramount Plus
Your location plays a significant role in determining the content you can access on Paramount Plus. Some shows and movies might be restricted due to regional limitations.
By changing your location, you can bypass these restrictions and access the full library of content available on Paramount Plus.
Changing Your Location on Paramount Plus:
Changing Your Local Station
Paramount Plus offers four local channels to users: CBS affiliate, CBSN, ET Live, and CBS Sports HQ.
To access customized content such as news and sports based on different areas, you can change your local CBS affiliate on Paramount Plus.
Using a VPN
A Virtual Private Network (VPN) can be used to change your location on Paramount Plus.
It masks your original IP address and lets you choose a virtual network corresponding to a location of your choice. This allows you to access content that is restricted in your region.
Accessing Paramount Plus Outside the US
Paramount Plus is available in countries like Canada, Sweden, Denmark, Norway, Finland, and some Latin American countries. However, new releases are first made available to US subscribers. If you want to watch the latest content before anyone else, you can use a reliable VPN to browse through the app.
Steps to Change Local Station on Paramount Plus
1. Signing In
Sign in to your Paramount Plus account.
2. Selecting Live TV
Go to the menu and select "Live TV." The menu can be horizontal or vertical, depending on the device you are using.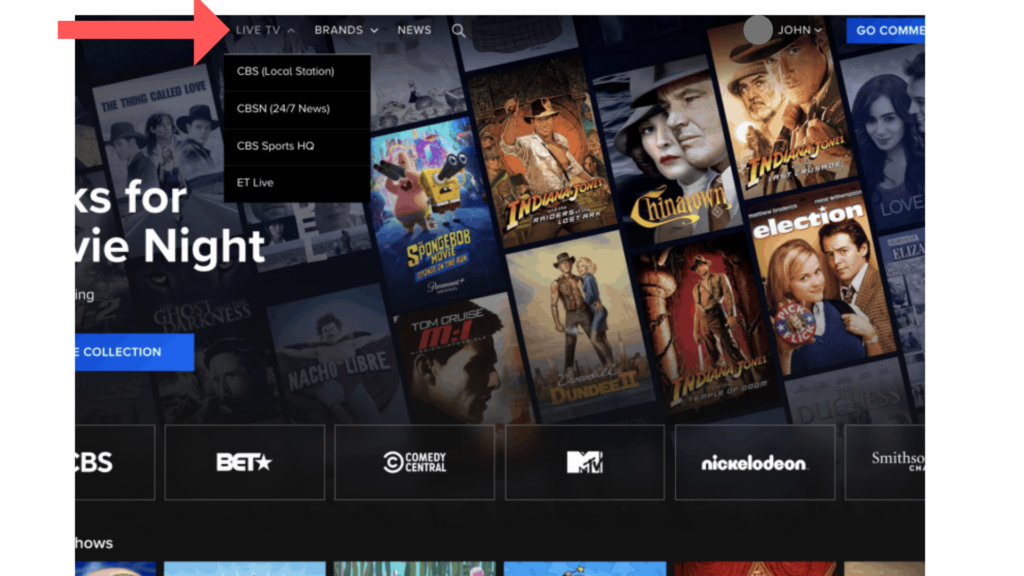 3. Switching Local CBS Affiliate
You can switch between your local CBS affiliate and other channels from the menu.
Switching to CBSN Live Local News Channel
Open Paramount Plus on your device.
 Select the "news" option from the menu (either horizontal or vertical).
 Find the "CBS Live Local News."
 Lastly, select your local CBSN channel broadcasting according to your area, such as CBSN Chicago.
Change the Location Station on Paramount Plus Using VPN
It is essential to note that altering your local CBS affiliate directly within the Paramount Plus platform is not feasible. The CBS affiliate channel you can access is determined by your geographical location, which is linked to your IP address. Consequently, the platform will automatically stream the CBS affiliate corresponding to your current location.
To illustrate this point with an example, let's say you access Paramount Plus in New York City. The system will automatically set you up to watch WCBS, the New York City CBS affiliate. However, if you want to watch WBBM (the Chicago CBS affiliate), you will need to change your IP address location to Chicago. In order to accomplish this, you'll have to use a VPN service.
Here are the steps to change your location station on Paramount Plus using a VPN:
Download and sign up for the VPN you have chosen.
 Now type your desired location in the search bar.
 Click on the search result and wait while the VPN connects you to a server of your choice.
 Make sure your IP location has changed to the one you selected, and proceed.
 Open the Paramount Plus app.
 Go to the menu and select 'Live TV'.
 Now select the CBS local station.
Potential Issues and Solutions
Sometimes, Paramount Plus may detect that you're using a VPN and block access to the service. If this happens, try the following:
Disconnect from your current VPN server and connect to a different server in the same country.
Clear your browser's cache and cookies to remove any location-related data.
Restart your device and reconnect to the VPN before accessing Paramount Plus.
Simultaneous Streaming Limits on Paramount Plus
It's important to note that Paramount Plus has a limit of three simultaneous streams at any given time across all content available on the service. While it is possible to watch different shows on different devices at once, make sure not to exceed this limit to avoid being blocked from streaming.