TV
Disney Plus keeps Logging You Out? Here's how to Fix it
Disney Plus is the go-to platform for streaming all your favorite Disney, Marvel, Star Wars, and National Geographic shows.
However, a recurring issue that some users have faced is that Disney Plus keeps logging them out.
In this article, we will explore the possible reasons for this issue and provide you with easy, step-by-step solutions to get you back to enjoying your favorite shows and movies.
How to Fix Disney Plus keeps Logging Me out
There are, unfortunately, several reasons why Disney Plus might randomly log users out frequently.
These reasons may include unstable internet connections, app glitches, outdated app versions, device compatibility issues, or even conflicts with VPN and proxy services.
Force Close the Disney Plus App
To ensure the app closes entirely, go to the menu or Apps & Games and choose to Close Application or Force Stop.
This action terminates all the background processes related to the app, resolving any potential issues that might be causing the logging-out problem.
After force-closing the app, log in again to see if the issue is resolved.
Log Out of All Devices on Disney Plus
Disney Plus allows you to use your account on up to 10 devices. If you share your account with multiple family members or on too many devices, you might experience login issues.
Logging out of all devices can help manage your account's usage and resolve login problems by ending all active sessions. Follow these steps:
Sign in to Disney Plus and click on your profile icon located in the top right corner (bottom right for mobile devices).
Within the Account Details section, select the option to "Sign out of all devices."
Input your current password and click on "Sign out."
Depending on your region, the steps may slightly vary, if you don't see your profile picture in the top right corner or your Account detail section, follow these steps instead:
Select the MySpace logo on the left-hand side
Select Help & Settings on the top right corner
On the Subscription & Devices tab, scroll down to This Device and Other Devices and proceed to log out of all devices.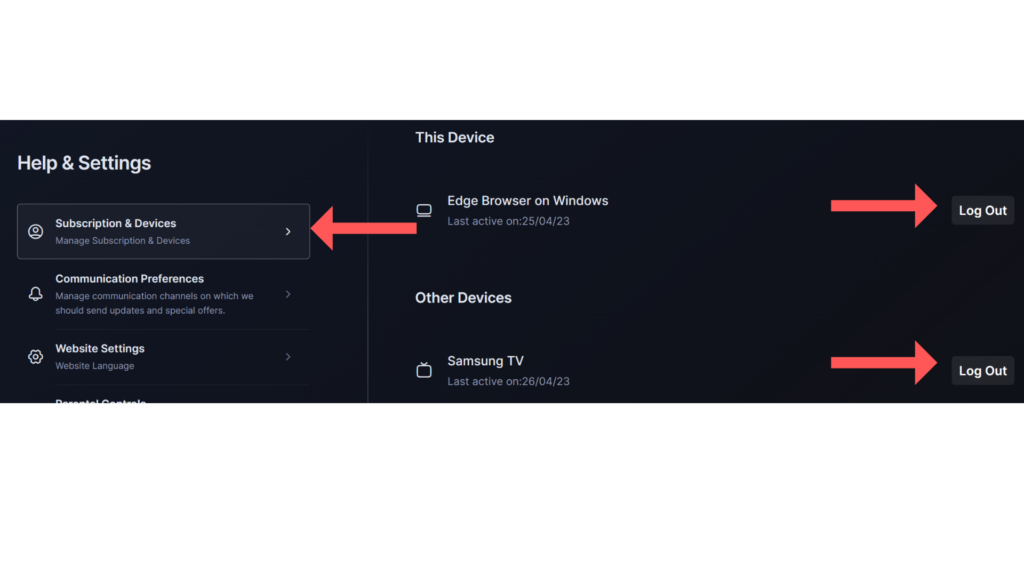 Allow up to 4 hours for the process to complete on all devices. By logging out of all devices, you ensure that your account is only active on the devices you want to use, minimizing the chances of encountering logging-out issues.
Restart the Device
Power off your device, wait for a few seconds, and turn it back on. Restarting your device can help clear temporary data and resolve minor technical issues that could be causing Disney Plus to log you out. Once the device restarts, log in to Disney Plus and check if the problem persists.
Reinstall Disney Plus
Remove the Disney Plus app from your device, and then reinstall it from the App Store or the relevant app marketplace. A fresh installation can resolve various technical issues, as it overwrites any corrupted or outdated files that might be causing the app to log you out. After reinstalling the app, log in and check if the issue is resolved.
Update Disney Plus
Regularly updating the app can prevent and fix issues, as updates usually include bug fixes and improvements.
Check if there are any updates available for Disney Plus and install them if necessary. By keeping the app up to date, you ensure that you have the latest features and fixes, minimizing the chances of encountering logging-out issues.
Clear Cache on Amazon Fire Device
For Amazon Fire users, navigate to Settings > Apps & Notifications > Manage All Applications > Disney Plus > Storage, and select Clear Data, Clear Storage, and Clear Cache. Clearing the cache can improve the app's performance and prevent random logouts by eliminating temporary data that could be causing conflicts within the app.
Clear Cache, Cookies, and Web History on Computers
If you're streaming on a computer or laptop, clear your cache, remove cookies, and delete your web history. In browsers like Firefox or Google Chrome, click the menu bar item for preferences, navigate to Privacy settings, and remove all data. Clearing cache, cookies, and web history can resolve conflicts and performance issues caused by outdated or corrupted temporary data, making it less likely for Disney Plus to log you out randomly.
Disable VPN or Proxy
If you're using a VPN or proxy service, it might interfere with the streaming experience and cause Disney Plus to log you out. Disable any VPN or proxy services you have enabled on your device and try streaming again. If the issue persists, consider using a different VPN service or disabling it entirely while using Disney Plus.
Contact Disney Plus Customer Service
If none of the above solutions resolve the logging out issue, reach out to Disney Plus customer support for further assistance. They can help identify and resolve technical problems related to your account or device.