Uncategorized
Average Dimensions for a 65-Inch TV (With Examples)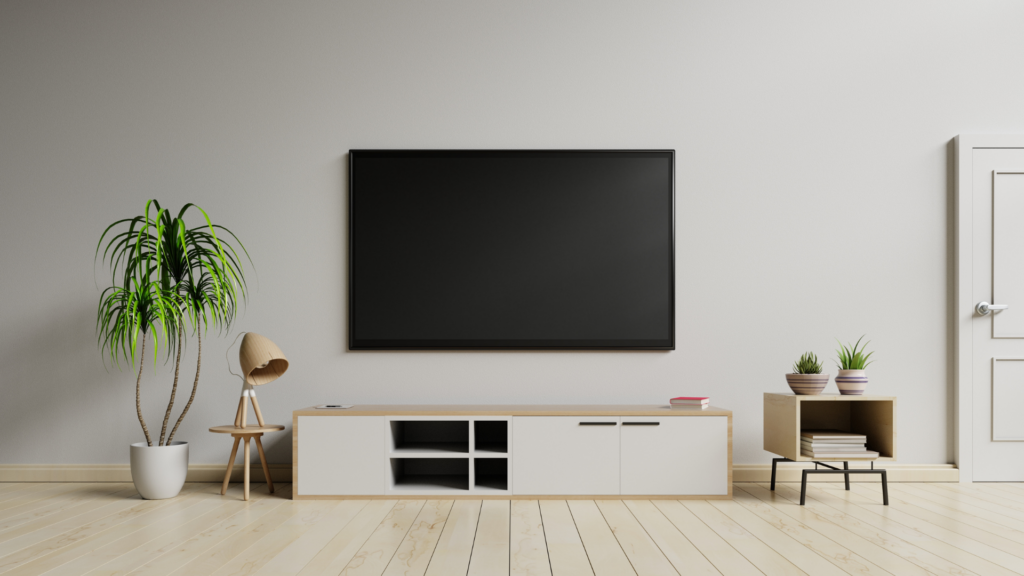 Big screen TVs are the fastest growing in the market today. This is because size is one of the essential factors many customers consider while looking for new flat-screen TVs. Large screens offer a great viewing and gaming experience. After determining prices, favorite brands, and screen types, most customers pay attention to the dimensions to ensure that the TV fits well in specific locations of their choice. So what are the average dimensions for a 65-inch TV?
On Average 65 inch TVs are 58 to 59 inches wide, 32-33 inches tall, & 2 inches thick without a stand. And are 58 to 59 inches wide, 34 to 35.6 inches tall, 9.5 to 12 inches thick with a stand attached. The dimensions are written in WxHxD form.
As you continue reading this article, you will get more insights into the different dimensions that exist today based on popular 65-inch TV brands. You'll also learn how to mount them in your favorite location in your house.
The 65-Inch TV Dimensions Explained
When you are planning to buy a 65-inch TV, there are three crucial dimensions that you need to know. The dimensions include width, height, and depth (thickness). The width is the estimation from side to side, while height is the measurement of the TV from top to bottom.
The TV depth is simply the measurement of how thick the TV is from front to back. The estimation is vital on whether the TV will fit well in your cabinet or stand.
Interestingly, technology has made it easier for continuous redesigning of TVs to take considerably smaller spaces.
You may need to consider the thickness to guarantee fitting in an existing cabinet or stand. Today, most flat screens are smaller than 10 inches deep with an attached stand and three inches thin without a stand attached.
The usual estimations for a 65-inch tv TV are 58 inches wide, 32 inches tall, and 2 inches thick, without a stand attached. The dimensions are written in WxHxD form.
But the figures can vary. For example, the dimensions could also be 58 x 34 x 1.7 without a stand or 58 x 36 x 13.3 with a stand. The stands have their specific depths, but the average depth is about11.6 inches.
In centimeters, the width of the 65-inch TV will be 147 cm, while the height will be 86 cm without a stand and about 90 cm with a stand. The thickness of the TV will be about 4.3 cm.
So with a stand, the dimensions will be 147 x 90 x 33.8. However, without a stand, the dimensions will be 147 x 86 x 4.3
Depending on your choice, you can mount the TV on the wall or a stand. But if you prefer the frame, it could be better if you consider the size of the stand while buying it to ensure the TV fits well.
Let's now look at the dimensions of a few popular 65-inch TVs:
| | | |
| --- | --- | --- |
| TV | Dimensions with stand (W x H x D) | Dimensions without stand (W x H x D) |
| LG C1 65 inch Class 4K Smart OLED TV | 57.0″ x 33.9″ x 9.9″ | 57.0″ x 32.7″ x 1.8″ |
| Samsung – 65″ Class QN90A Neo QLED 4K UHD Smart Tizen TV | 56.9″ x 35.2″ x 11.2″ | 56.9″ 32.6″ x 1″ |
| 65″ 4K ULED™ Hisense Android Smart TV  | 57.0″ x 35.3″ x 11.5″ | 57.0″ x 32.9″ x 3.1″ |
| Sony BRAVIA XR A90J 4K HDR OLED  | 59.13″ x 32.83″ x 12.48″ | 56.85″ x 32.80″ x 1.62″ |
| TCL 65S435 | 57.4″ x 35.3″ x 12.6″ | 57.4″ x 33.2″ x 3.3″ |
| VIZIO V-Series 65″ Class 4K HDR Smart TV – V655-J09 | 57.41″ x 35.63″ x 11.95″  | 57.41″ x 33.14″ x 2.44″ |
| Element 65″ 4K UHD Roku TV | 57" x 35.1" x 9.4" | 57" x 32.7" x 3.2" |
| Samsung 65″ Smart 4K Crystal HDR UHD TV TU7000 Series | 57.1″ x 35.6″ x 11.2″ | 57" x 35.1" x 9.4" |
Samsung (Samsung BE65T-H Pro)
The Samsung 65 inch BE65T-H Pro is one of the popular 65-inch TVs in the market. It has the dimensions of 57 x 11.16 x 35.63 inches with the stand and 57 x 2.35x 31.6 inches without the stand. It has a thickness of 2.35 inches.
In centimeters, the dimensions are 144.78 x 28.34 x 90.50 with a stand and 144.78 x 5.97 x 80.26 without the frame. The measurements are done diagonally from all corners to find the exact screen size.
TCL Series
The TCL 65R635 has a dimension of 57.1 x 35.7 x 10.7 with a stand and 57.1 x 32.9 x 3.0 without a frame.
Many customers prefer it because it offers quality pictures and images. In addition, it has efficient mini-LED and effective full-array local dimming that enhances its performance. 
It is the best bet for gamers using a THX mode that integrates the low input lag and high contrast to improve the experience.
 The 65-Inch TCL 65S435 has dimensions of 57.4 x 35.3 x 12.6 with a stand and 57.4 wide, 33.2 tall, and 3.3 thick without a frame. Most customers like it because it is affordable and provides relatively good pictures and images.
Other brands that can deliver a 65-inch screen experience include:
LG (e.g., The 65-inch LG CX OLED)
Vizio: (eg. Vizio OLED TV (OLED65-H1)
SunBriteTV (eg. The SunBriteTV Pro 2 outdoor TV)
Insignia (e.g., the Insignia F30 Fire TV)
Transporting Your New 65-Inch TV 
 Many people also ask whether the 65-inch TV can fit in their SUV, and yes, it is possible if you have a larger SUV. However, it would be best if you put it upright to avoid potential damage during transportation. 
Don't use smaller cars for transportation because they have smaller space to put your TV at risk of damage. For example, a 65-inch TV will not be in a regular-sized SUV because most of them are packed nicely inside a large box that will take a relatively more prominent space in your car.
 So you need to be sure if your SUV will fit the device before transportation to save time and money. In addition, experts recommend that you transport the TV vertically to enhance balance and reduce the chances of the screen cracking or producing a distorted image.
Ensure the TV is well protected not to topple over while driving on a bumpy road. Also, avoid making emergency breaks when driving.
While at home, you will still need to ensure that you have a suitable room size for the TV. Remember, you can either place it on a stand or mount it.
 Another vital factor that many people don't take seriously is the distance one should sit away from the TV, considering the size. For the 65-inch TV, experts advise that you sit about nine feet away to get the best image quality.
How High Should The TV Be Mounted?
The 65-inch TV provides the best viewing experience when its middle is at eye level. For most people, the level should be about 42 inches high. That means it should be mounted 25 inches from the floor to the TV'S bottom and 59 inches above the floor.
You may not know the trick customarily used to mount the TV on your wall, but it is easy. First, take the height of your 65-inch TV, usually, 32 inches, divide it by two, then subtract the answer from the measurement of your eye level while sitting down, which is generally 42 inches.
Mounting the TV can also vary from one person to another depending on the height of the person. For example, taller individuals might need to adjust the mounting slightly higher than shorter individuals. 
Depending on your height, you will only need to use a tape measure to measure your eye level while sitting on your sofa, then use the new measurements to determine how high you should mount your TV for comfortable watching.
However, you can easily manipulate how high you should place the TV to fit your needs with a stand. But it should not be too high to the extent that you have to tilt your head back to watch your favorite program comfortably. 
Professionals recommend that the eye level should not fall below the bottom third of your screen. They argue that this will ensure that you don't strain your neck while watching. It simply means that you should not mount your TV higher than 32 inches above the floor to the bottom of the TV.
The mounting process is even more straightforward with the full-motion TV since you can tilt it down to decrease glare and watch nicely without straining your neck.
65-Inch is The way To Go
If you need a bigger image that will give you a more fantastic immersive and enjoyable watching experience from movies to news or special programs that make you feel good, then, 65-inch TV will be the best bet for you. You only need to do your market research well to ensure that you have the most affordable but quality TV screen that will serve you well. It should at least have all the exciting features that you need. The 65-inch TVs are the best for living rooms and home theater entertainment.