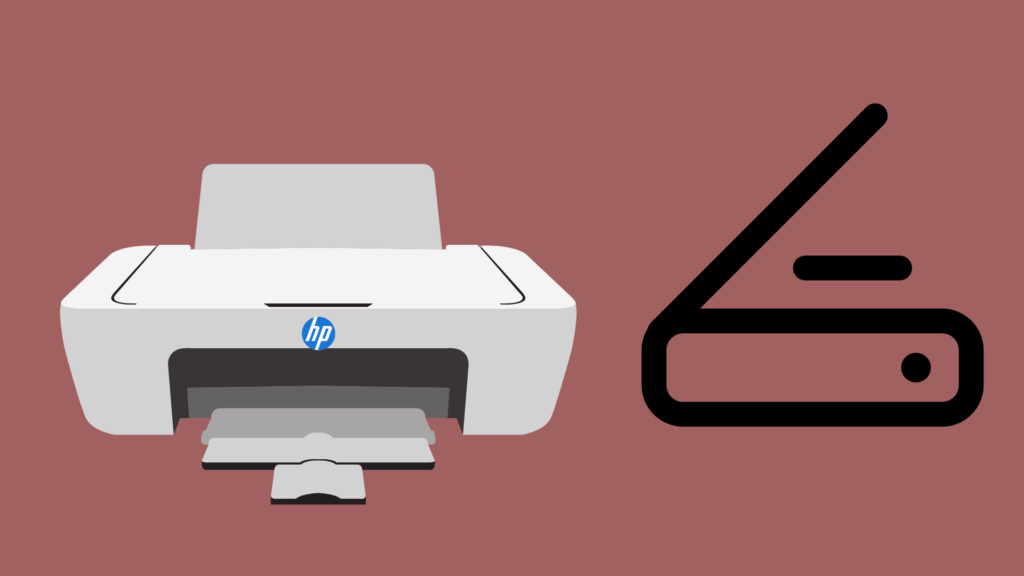 Over the years, Hewlett Packard (HP) has made all kinds of all-in-one printers. They range from enormous ones that take up an entire desk to ones that can easily be stored in an unobtrusive place. The HP Deskjet 3755 is a small one. It may look like a regular printer, but it is quite capable of scanning images. 
As someone who has this exact printer model, explaining how to scan is easy. 
The HP Deskjet 3755 is what is known as a top-loading printer. That means that the blank paper is fed from the top, not the bottom. The scanner is actually built into the printer – there is no flap or glass pane, like some models. But scanning is really easy. All you need is a Wi-Fi connection and a smartphone. 
Prepping the Printer
Your printer needs to be connected to the Wi-Fi network. There are two ways it can do this – it can do direct Wi-Fi or through your home network. Either way, you need to use the HP Smart App, which is free and can be downloaded on either Android or iPhone. 
If you are doing the direct Wi-Fi route, then push the bottom right button on the printer – it's right above the Wi-Fi one. Make sure that the printer is showing up on your HP Smart app – you will see its ink levels, which means that it is connected. You will also need to enter a password. 
You might want to do it through your home Wi-Fi. That's easy. Just make sure that the HP Deskjet's Wi-Fi light is on. Then find the printer on your HP Smart App. Whichever way works better for you.
Scanning
Now comes the fun part. You are going to see a slot above where your printed items come out. You insert whatever you want to be scanned face up into the slot. That is important … face up, not down. Then you choose 'Scan" on your HP Smart App. The paper will start to feed through to scan the item. 
When that is finished, you will see a preview of the scan right there on your phone. You can do things like crop or resize the scan. Once you are satisfied with what you see, then you can save the scan. After that, you can email it to yourself or someone else if you want to do more in-depth editing of the file using programs like Photoshop or Procreate.  
If you want to scan multiple pages, all you need to do is just put in each page one at a time. The slot is not big enough to put multiple pages in at once. Just keep doing this until everything is finished. 
Overall, the process of doing this takes a few minutes. It is not a time-consuming thing. It's much easier than when you had to connect it to a computer via a USB cable and then wait for it to upload. 
Other Uses 
You can also use the same slot that you scan items to do photocopies. You insert the paper and then press the color or black and white button to have it done right then and there. No having to rush over to a copy store. 
Another great feature of this printer is that it can communicate with HP and alert them when your ink is running low. They will then ship you replacement cartridges as part of your ink plan. No having to make a mad dash to a store to get something in the middle of the night. The replacement comes in ample time before the cartridge actually runs out. 
Troubleshooting
Although HP has a good reputation in the printer field, it is not perfect. Things happen when you are trying to scan something with the HP Deskjet 3755. Fortunately, most of them are easily corrected with just a little bit of work. 
If your scan comes up blank, make sure that you have put the paper facing up, not down. Should the scan not begin, open the HP Smart App and make sure that the printer is connected to the App and is selected. If the paper doesn't go through, make sure that there is nothing in there that could cause a jam. If the App is not showing the printer, then make sure that your home Wi-Fi is working and that the white Wi-Fi light is showing on the printer's dashboard. 
That pretty much covers everything as far as scanning with the HP Deskjet 7355. This is a printer that can do a lot for everyone in a family, whether it is printing out homework, making copies for a meeting, or scanning things. All of which are able to be done quickly and allow people to focus on other things in their home.