PS5
How Many Controllers Can Connect to PS5: A Definitive Guide
The PlayStation 5 has quickly become a popular gaming console, with its impressive graphics, speed, and overall performance. One aspect that gamers often have questions about is controller compatibility – specifically, how many controllers can connect to the PS5 at once? Let's dive into that aspect to provide useful information for gamers planning group play sessions.
The PS5 is designed with social gaming experiences in mind, supporting both online and local multiplayer modes. In the past, PlayStation consoles have varied in the number of controllers allowed to connect simultaneously – from the PS1 and PS2 hosting eight controllers, to the PS3 supporting seven. Knowing this information will enable users to maximize their gaming sessions and undertake engaging local multiplayer activities.
While it is essential to understand the limitations of the console when it comes to controller connectivity, it is equally crucial to learn how to sync multiple controllers to the PS5. By familiarizing yourself with the console's settings and capabilities, it will be possible to create the optimal group gaming experience.
How Many Controllers Can Connect to PS5
The PS5 supports up to four controllers simultaneously, allowing for multiplayer gameplay without the need to swap controllers between players constantly.
When connecting controllers to the PS5, each controller is assigned a specific color, which helps differentiate between players during gameplay. The process of pairing additional controllers to a PS5 is simple and done wirelessly. This enables users to switch between controllers with ease or to add new controllers when gaming sessions expand to include more players.
It is essential to note that each DualSense wireless controller can be paired with only one PS5. This means that if you own multiple PS5 consoles or wish to use your controller at a friend's house, you will have to go through the process of unpairing and pairing the controller with the new system. This ensures that your controller remains linked to the intended console and avoids potential issues during gameplay.
Connecting Controllers to PS5
The PlayStation 5 (PS5) offers two options for connecting controllers to the console, a wired or wireless method.
However, if you don't have a controller already connected to your console, then you'll need to pair using the wired method. Once at least one controller is connected to the console, you can pair additional controllers using the wireless method.
Note: If you're experiencing issues connecting your controller to a new PS5 because it is paired with another console, then you may need to unpair it first before you can connect it to the new one.
Wired Connection
To connect your DualSense controller to your PS5 console using a wired connection, follow these steps:
Switch on your PS5 console.
Connect the controller to your console using the included USB cable.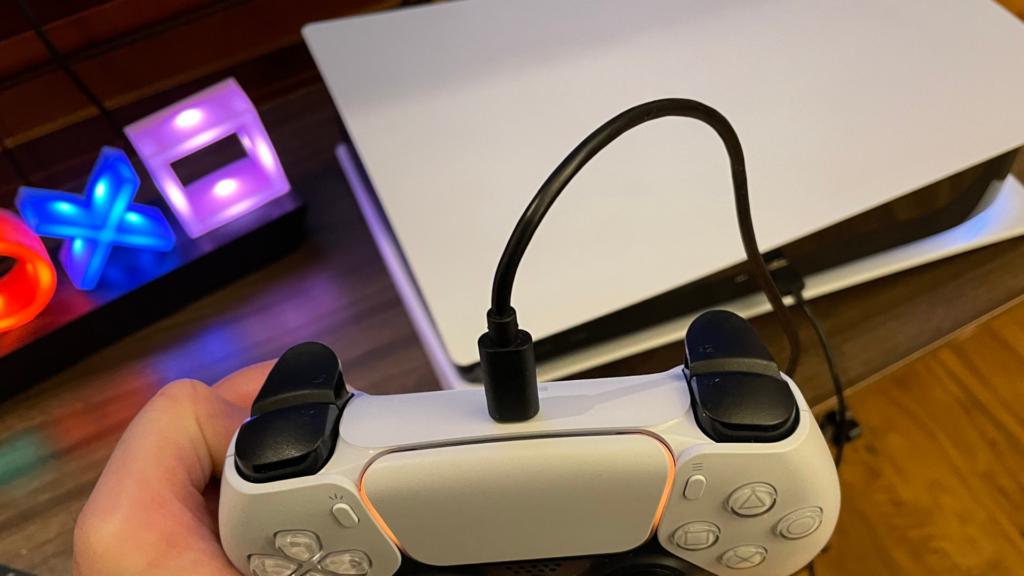 Press the PS button on the controller.
Your connected controller will automatically pair with your console and is now ready to use.
Wireless Connection
To pair a PS5 controller wirelessly, you must already have a controller connected to your console. Without an initial controller paired, you will need to connect using the wired connection mentioned above.
Press and hold the Create (left) and PS (right) buttons on your controller for a few seconds.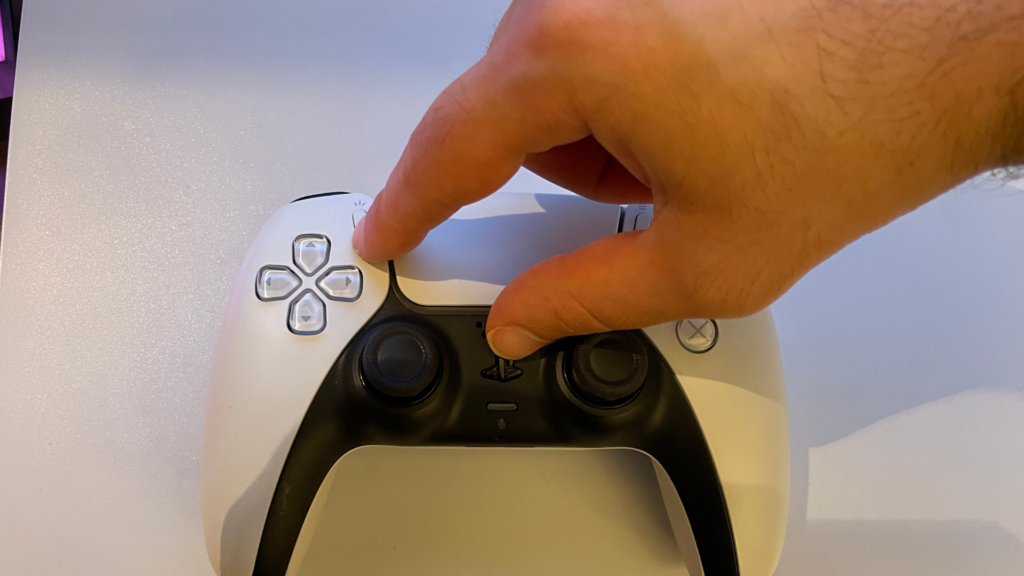 Release the buttons when the light bar on the controller starts flashing.
On your PS5, go to Settings > Accessories > General > Bluetooth Accessories.
Your PS5 will now search for available Bluetooth devices. Select the detected controller when it appears on the list.
Click Register to pair the controller with your console.
Your wireless controller is now connected and ready to use with your PS5 console.
Types of Compatible Controllers
DualSense Wireless Controller
The PlayStation 5 is compatible with the DualSense wireless controller, which is specifically designed for the console. This controller features haptic feedback, adaptive triggers, a built-in microphone, and a USB type-C port for charging. It can be easily paired with the PS5 console, and its settings can be adjusted as per the user's preference.
DualShock 4 Wireless Controller
While the PlayStation 5 is primarily designed to work with the new DualSense controller, it also supports the DualShock 4 wireless controller for backward compatibility with PlayStation 4 games. To use a DualShock 4 controller with PS5, simply connect it to the console via Bluetooth or a USB cable. However, it is essential to note that the DualShock 4 controller does not support every PS5 game, as some games may require the unique features of the DualSense controller.
Third-Party Controllers
In addition to the official Sony controllers, the PlayStation 5 is also compatible with some third-party controllers, such as Scuff controllers. These controllers may offer a variety of styles and features, depending on the manufacturer. Make sure to check the compatibility of the third-party controller with the PS5 before purchasing, as not all controllers will work with the console. Keep in mind that using a third-party controller might result in limited functionality, as they might not support all the features of the DualSense wireless controller.
Limitations and Scenarios
The PS5 is backward compatible with most PS4 games, enabling players to utilize their existing game library. However, there's a crucial caveat when it comes to controller compatibility.
While the PS5's DualSense controller can be used to play both PS5 and PS4 games, the PS4's DualShock 4 controller is only compatible with PS4 games on the PS5 console.
In conclusion, always ensure that you have the appropriate controllers for the games you wish to play.