Connecting Galaxy Buds to an iPad is a straightforward process, and it's compatible with most iOS devices.
However, there are some limitations when using the Galaxy Buds app, especially with older iPads and the Galaxy Buds Pro.
In this guide, we'll walk you through two methods to pair your Galaxy Buds with your iPad and address some common concerns.
How to Pair Galaxy Buds with iPad
You can connect your Galaxy Buds to your iPad either manually or using the Galaxy Buds app. Keep in mind that the Galaxy Buds, Galaxy Buds2, Galaxy Buds2 Pro, and Galaxy Buds Pro are not compatible with the iOS app, so you'll need to use the manual method for those. Additionally, the app requires at least an iPad Air 3rd Generation with iOS 10 or later.
Before connecting your Galaxy Buds to your iPad, disconnect them from any other device and turn off Bluetooth on that device to avoid interference.
Connecting Galaxy Buds Manually:
First, disconnect your Galaxy Buds from any previously connected devices by selecting "Forget" in the Bluetooth list or disabling Bluetooth on that device.
Next, open the lid of your Galaxy Buds case to initiate the pairing mode.
Go to your iPad's Bluetooth settings and select your Galaxy Buds from the list to pair them.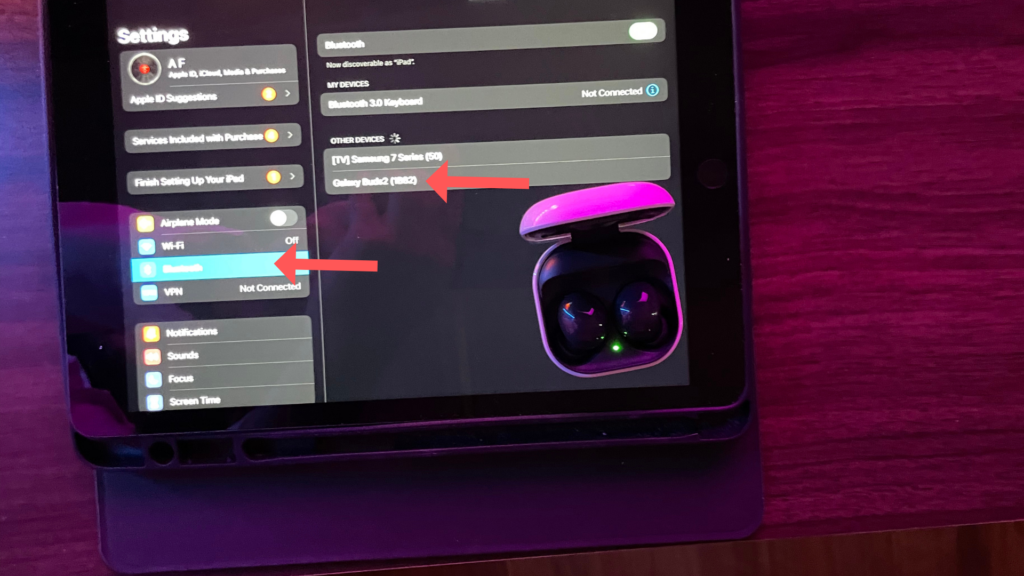 Connecting Galaxy Buds Using the App:
Install the Galaxy Buds App on the App Store
Launch the Buds app and select "Get started."
Put your earbuds in their charging case, close the lid for 5-6 seconds, then open it again.
Find your earbuds on the list of devices.
If needed, turn on Bluetooth on your device.
Choose your earbuds when they appear to start pairing and configuration.
Ensure that Galaxy Buds Live and Galaxy Buds+ are listed on your iPhone when selecting your device.
Go through the information, decide if you want to send diagnostic information, and press "Agree."
Read the instructions and tap "Understood."
Your Galaxy Buds+ or Buds Live will finalize the connection with your phone.
Review the information and tap "Acknowledge."
You can now manage your earbuds using the app.
To connect an additional device, access the Buds app and press "Additional options" (represented by three vertical dots).
Choose "Link new device" and confirm your earbuds are in pairing mode by inserting them into your ears and pressing both touchpads for a few seconds.
Lastly, pick your earbuds from the list of nearby devices.
Limitations and Drawbacks of Using Galaxy Buds on iPad or iOS Devices
Without the Galaxy Buds App, you won't be able to customize some features like ANC level and equalizer settings. However, the basic shortcut features will still work when manually connected.
Troubleshooting Connection Issues
Despite being simple and easy to use, wireless earbuds can encounter various issues that may prevent them from connecting to your device. In this section, we will discuss some common troubleshooting steps that can help you fix any connection issues you may encounter when connecting your Galaxy Buds to your iPad.
Restart your iPad before trying advanced solutions.
Turn your iPad's Bluetooth off and on to reset the connection.
Restart your iPad to clear out the active memory.
Unpair the Galaxy Buds and delete the Bluetooth profile, then repair the connection.
Charge the Galaxy Buds for at least 30 minutes before attempting to pair them.
Soft reset the Galaxy Buds by placing them in the charging case and waiting 7 to 10 seconds.
Factory reset the Galaxy Buds by using the Galaxy Wearable app on an Android device.
Unpair unwanted Bluetooth devices from your phone or PC.
Check for software updates for the Galaxy Buds.
By following these tips, you can ensure a seamless experience while using your Galaxy Buds with different iOS devices. Remember to check for updates and new features periodically to make the most of your Galaxy Buds.
Galaxy Buds Touchpad Commands
In this section, we will delve into the various touchpad commands available for Galaxy Buds users when paired with an iPad. By mastering these simple yet effective controls, you can enhance your listening experience, manage calls with ease, and effortlessly control your music playback. Get ready to make the most of your Galaxy Buds and iPad combination!
Handling Calls with Ease
Accept a call: Double-tap the touchpad. This quick gesture allows you to answer calls without fumbling with your device.
Reject a call: Press and hold the touchpad for over two seconds. This feature is particularly useful when you're busy or in a situation where taking a call is inappropriate.
Terminate a call: Double-tap the touchpad. Ending a call with this simple gesture keeps your focus on other activities.
Silence microphone: Press and hold the touchpad while on a call. Use this feature to mute your side of the conversation during conference calls or when you need privacy.
Hang up current call and pick up another call: Press and hold the touchpad for over two seconds. Juggling multiple calls is made easier with this touch command.
Put current call on hold and answer an incoming call: Double-tap the touchpad. This is particularly helpful when an urgent call comes in while you're already on the line.
Switch between active call and call on hold: Double-tap the touchpad while on a call. Efficiently manage multiple calls with this simple touch command.
Music Control Made Effortless
Start or pause music: Tap the touchpad. This allows you to easily pause your music when you need to focus on something else and then resume playback.
Advance to next track: Rapidly tap the touchpad twice. This feature is especially helpful when you want to quickly move through a playlist or album.
Return to previous track: Rapidly tap the touchpad three times. Rediscover a favorite song or revisit a recently played track with ease.
Modify volume: Press and hold the touchpad (applicable to Galaxy Buds, Galaxy Buds+, Galaxy Buds Live, or Galaxy Buds Pro). For Gear IconX, slide your finger up or down on the touchpad. Adjusting the volume using touch controls allows you to find the perfect listening level without reaching for your device.
Remember that the ability to launch Spotify from the earbuds is not supported on iOS devices or the original Galaxy Buds. Additionally, touchpad commands and functionalities may vary depending on the device and software version. By becoming proficient in these touch controls and applying them to your everyday use, you can enhance your overall listening experience with your Galaxy Buds and iPad.