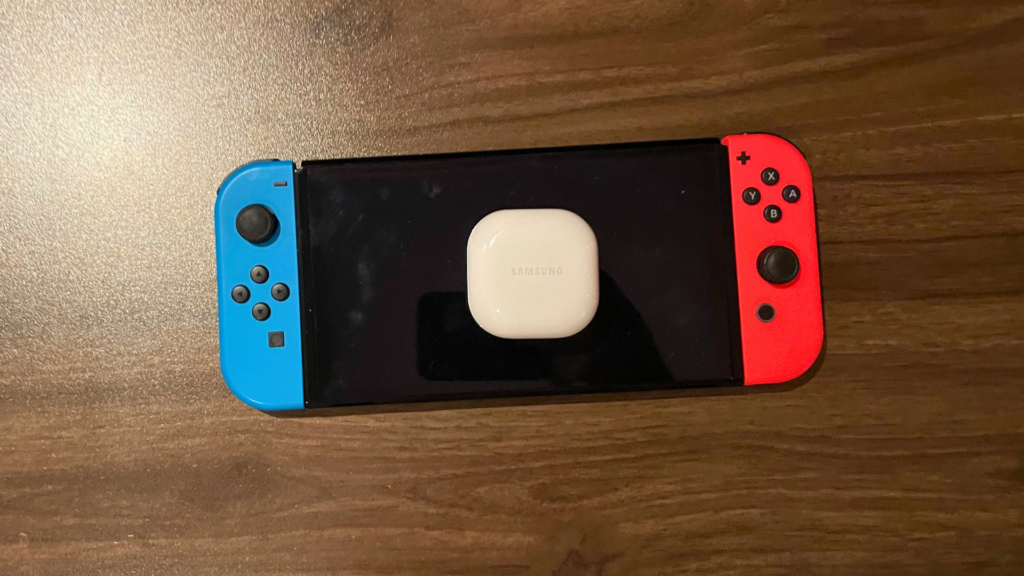 Whether you're solving puzzles in "Zelda" or racing in "Mario Kart," sound is a vital aspect of the gaming experience on your Nintendo Switch. This article aims to help you enhance this experience by guiding you on how to pair your Galaxy Buds with your Nintendo Switch.
We'll walk you through each step of the pairing process, discuss common issues and their solutions, and share tips on maximizing your gaming sessions. Let's dive in!
Steps to Pair Galaxy Buds with Nintendo Switch
If your Galaxy Buds have a previous pairing history with a different device, it's crucial to turn off Bluetooth on that particular device. Another option is to delete or disconnect your Galaxy Buds from the said device's list of recognized Bluetooth devices.
By doing so, you'll avoid any unexpected connections or disruptions with the other device while attempting to link your Galaxy Buds to your Nintendo Switch. After these initial precautions, you're all set to initiate the pairing process.
How to Pair Galaxy Buds with Nintendo Switch:
Start by turning on your Nintendo Switch and going to the home screen.
Navigate to the "System Settings" menu, represented by the gear icon.
From here select the "Bluetooth Audio" tab, and select "Pair Device." Your Switch will start searching for available devices.
Now, put your Galaxy Buds in the charging case, then close and open the lid. This will put your Buds into pairing mode.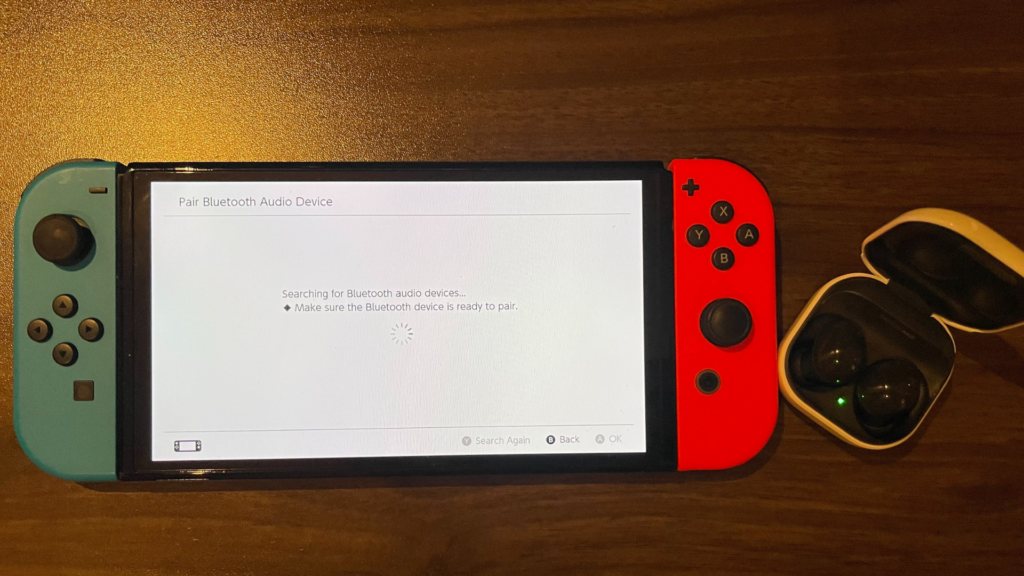 Once your Switch detects the Galaxy Buds, they will appear on the list of available devices. Select your Galaxy Buds from this list.
Your Nintendo Switch should now be paired with your Galaxy Buds, and you should be able to hear all audio from the Switch through your Galaxy Buds.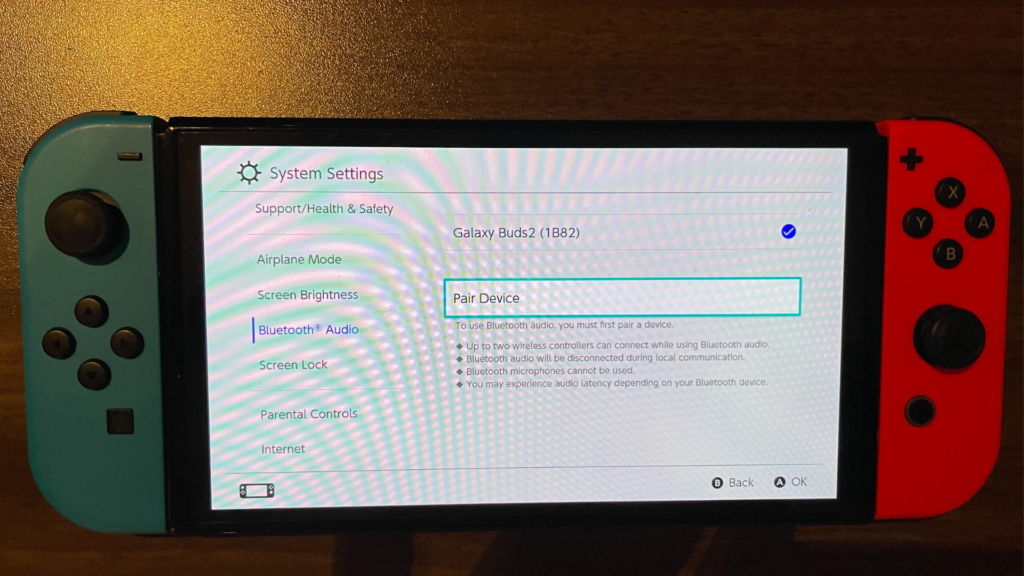 How to Disconnect Galaxy Buds on Nintendo Switch
In the Bluetooth Audio Settings List, select your Galaxy Buds.
From here, you can choose either to disconnect your Galaxy Buds or select "Remove Device," which will erase the history of your Galaxy Buds from the system. If you choose the latter, you'll need to re-pair your Galaxy Buds.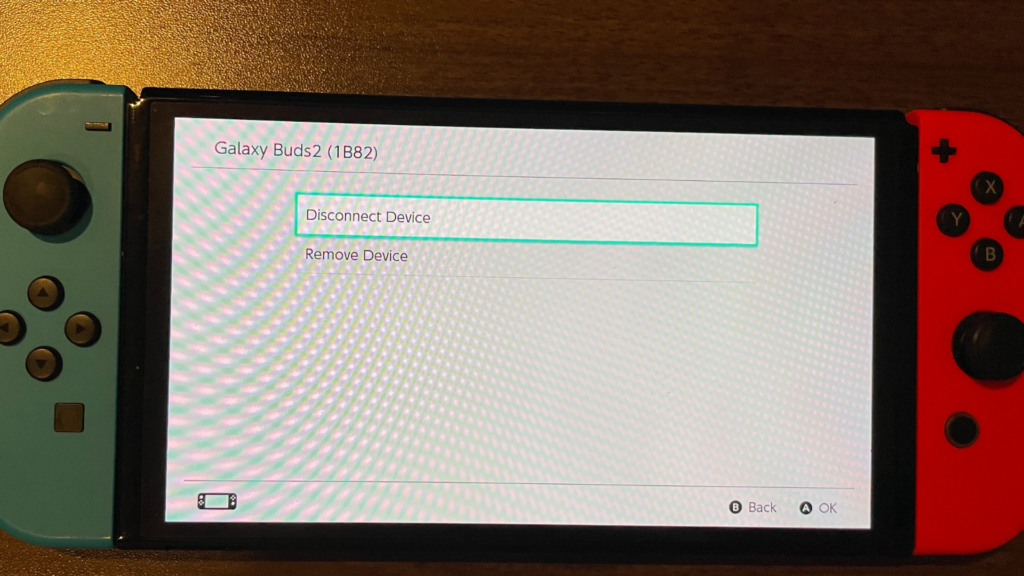 Potential Pairing Issues and Troubleshooting Tips
While pairing your Galaxy Buds to the Nintendo Switch can be a seamless process, there might be occasional hitches. Here are some of the potential pairing issues you may encounter, alongside troubleshooting tips to get you back on track.
1. Galaxy Buds Not Detected by Nintendo Switch:
The most common issue is that the Nintendo Switch may not detect your Galaxy Buds. If this happens, make sure your buds are in pairing mode. Ensure that the Galaxy Buds' case is open, and the earbuds are inside. This activates pairing mode and makes them discoverable.
Additionally, if your Galaxy Buds have been paired with another device in the past, it's important to deactivate Bluetooth on that specific device. Alternatively, you can also remove or disconnect your Galaxy Buds from the recognized list of Bluetooth devices on that device
2. Unstable Bluetooth Connection:
Sometimes, the Bluetooth connection between your Nintendo Switch and the Galaxy Buds may become unstable or may drop frequently. This could be due to interference from other wireless devices nearby. Try to minimize wireless interference by moving away from other Bluetooth devices or switching them off.
3. Poor Sound Quality:
If you're experiencing poor sound quality, it could be due to a weak Bluetooth connection. Make sure your Nintendo Switch and Galaxy Buds are within a reasonable range of each other, ideally within 5 meters.
4. Difficulty Reconnecting:
If you have problems reconnecting your Galaxy Buds after an initial successful pairing, you might need to manually disconnect the earbuds from the Nintendo Switch before you attempt to reconnect. You can do this by navigating to the System Settings > Bluetooth Audio > Device List, then selecting your Galaxy Buds and choosing 'Disconnect.'
5. Delayed Audio:
Another common issue is latency or delay between the game's visuals and the sound in your buds. This is more of a limitation with Bluetooth technology and less specific to the Galaxy Buds or Nintendo Switch. However, some third-party adapters offer modes to decrease latency which might help.
Remember, the success of pairing can depend on various factors like the presence of the latest software updates.
Maximizing the Gaming Experience with Galaxy Buds on Nintendo Switch
Once you've successfully paired your Galaxy Buds with your Nintendo Switch, there are several strategies you can use to enhance and maximize your gaming experience. Here's how:
1. Ensure Good Battery Life:
To prevent any interruptions during gameplay, always check the battery life of your Galaxy Buds before starting your gaming session. The Galaxy Buds can be checked via the Samsung Wearable app on your mobile device or by observing the LED indicator on the charging case.
2. Adjust Audio Settings:
Depending on the game, you might want to adjust the audio settings on your Nintendo Switch. Some games offer specific audio settings for headphones or earbuds that can enhance your experience.
3. Utilize Galaxy Buds Features:
Galaxy Buds come with various features like ambient sound mode, equalizer settings, touch controls, etc. These can be customized via the Samsung Wearable app on a connected mobile device. Tailor these features to your liking for an optimized gaming experience.
4. Minimize Interference:
Bluetooth connections can be influenced by other devices. To minimize interference, try to keep your Nintendo Switch and Galaxy Buds close together and away from other Bluetooth devices.
5. Care for Your Earbuds:
Comfort is crucial for long gaming sessions. Ensure the ear tips of your Galaxy Buds are clean and fit well. If necessary, consider changing the ear tips for ones that better fit your ears.
6. Keep Your Devices Updated:
Ensure both your Galaxy Buds and Nintendo Switch are running on their latest software versions. Updates often include improvements to connectivity and performance, which can contribute to a better gaming experience.
With these tips, you can fully enjoy the immersive gaming experience that pairing your Galaxy Buds with your Nintendo Switch offers. Remember that everyone's preferences and needs might differ, so feel free to adapt these suggestions to suit your specific gaming style.