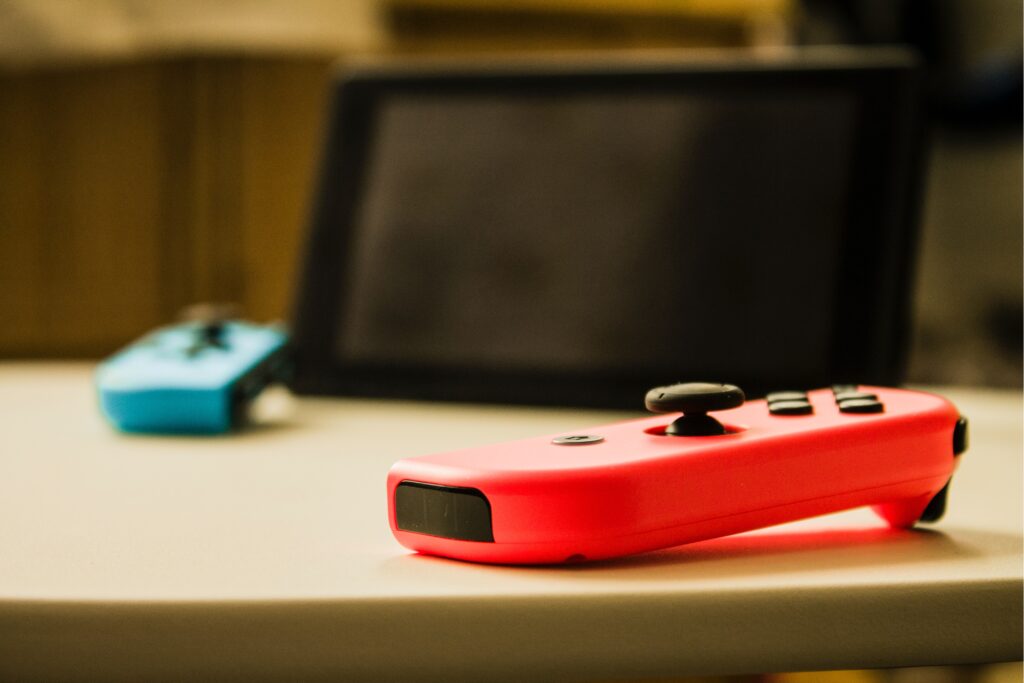 In short, you will not be able to connect your Nintendo Switch controller to your iPhone. Although the two use Bluetooth, neither party has contributed the necessary software required to connect the two devices. However, this may change, and for now, there are a range of other controllers you can use for mobile gaming.
Are you an avid mobile gamer that wants a better experience through a Nintendo Switch controller, and want to know why you can't connect your controller, and what alternatives there are? We've got all the info you need, let's dive right in!
Why Can't I Connect My Nintendo Switch Controller to My iPhone?
The controllers are incompatible with the iPhone operating system (iOS), which is the main reason why Nintendo Switch Joy-Cons can't connect to it. Despite the fact that both iPhones and Joy-Cons have Bluetooth capabilities, iOS has its own Bluetooth controller standard that prevents them from pairing.
Nintendo and Apple would have made Joy-Con controllers compatible with the iPhone by now if they wanted to, but they haven't found a need to collaborate as of yet. Furthermore, Apple keeps the inner workings of iOS a closely guarded secret.
This is primarily to protect the privacy of users. This might be one of the reasons why there isn't a third-party solution on the market that allows Joy-Cons to connect to the iPhone. Any third-party accessory that wants to function with the iPhone or iPad has to be approved by Apple in order to have access to knowledge about how their iOS works and design a suitable product.
What Are Other Controller Options For iPhones?
While Nintendo's controllers aren't compatible with iOS, some of its competitors' controllers, such as those from PlayStation and Xbox, are. The iPhone can use the following PlayStation and Xbox controllers:
Xbox Elite Wireless Controller Series 2
Xbox Adaptive Controller
Xbox Wireless Controller Series S and Series X
PlayStation DualShock 4 Wireless Controller
PlayStation 5 DualSense Wireless Controller
These aren't your only options either, there are a range of MFi (made for iOS) controllers that can deliver the same polished gaming experience as console controllers.
How to Connect Console Controllers
PlayStation DualShock 4 or PlayStation 5 DualSense Wireless Controllers
Swipe down from the top and check that Bluetooth is enabled in the Control Center before you begin.
Step 1: Press and hold the PS and Share buttons on the DualShock 4 controller at the same time until the light bar starts flashing. Pairing mode has been enabled on the controller
Step 2: Tap to access the Settings app on your mobile device.
Step 3: Choose Bluetooth as your mode of communication.
Step 4: To pair both devices, tap the entry for the DualShock 4 Wireless Controller on the list.
Xbox Controllers
To begin with, not all Xbox Controllers are compatible with Apple's mobile devices. A segmented plate surrounds the Xbox button on older, incompatible devices, but not on compatible Bluetooth versions. However, Microsoft's official list is as follows:
Bluetooth Xbox Wireless Controller (Model 1708)
Xbox Adaptive Controller Xbox Elite Wireless Controller Series 2
In a nutshell, the controller that came with the original Xbox One does not have Bluetooth, therefore it can only be used with a wired connection (with a compatible dongle). Bluetooth is included in the controller that comes with the Xbox One S and subsequent consoles.
Xbox Wireless Controller (Model 1708) and Xbox Adaptive Controller Xbox Elite Wireless Controller Series 2
Swipe down from the top and make sure Bluetooth is turned on in the Control Center before you begin.
Step 1: With the Xbox controller turned on, press and hold the Wireless Enrollment Button on the back, immediately above the USB port, between the Shoulder and Trigger buttons.
Step 2: Open the Settings app on your mobile device by tapping it.
Step 3: Select Bluetooth from the drop-down menu.
Step 4: To link both devices, tap the Xbox Wireless Controller entry on the list.
What Are MFi Controllers?
MFi controllers are gamepads that Apple has authorised for usage on iOS devices as part of its "Made for iPhone" scheme. This means that regardless of the device's software version, these controllers will always operate with any iPhone, iPad, and Apple TV. In contrast, a "regular" wireless controller may stop operating after a few upgrades.
These controllers share nothing other than their compatibility with Apple's devices and the company's permission to use the MFi trademark on their goods, therefore they don't have any particular features in common.
MFi stands for "Made for iPhone," a long-running Apple initiative that assures third-party accessories are compatible with iOS devices, and began in 2010. Apple may certify and approve a wide range of devices, including headphones, chargers, and controllers, among others.
MFi certification demands the device to go through a procedure to ensure that it meets Apple's quality requirements and is compatible with any portion of the iPhone. The participant's firms have access to proprietary information regarding the specifications of the iOS machines in order to assure this quality.
What iPhone Games Can I Play with Controllers?
There are thousands of iOS games that support MFi and console controllers, so we've taken some of the highest rating ones just for you!
Stardew Valley
Grand Theft Auto: San Andreas
Space Marshals
Transistor
Asphalt 8: Airborne
Suzy Cube
Evoland 2
The Binding of Isaac: Rebirth
Grand Theft Auto: Chinatown Wars
Leo's Fortune
BADLAND
Goblin Sword
Super Hexagon
Goat Simulator
Space Marshals 2
Flipping Legend
Life Is Strange
Chronology – Deluxe Edition
Gangstar Vegas
Oddmar
Most games will express their controller adaptability on the description in the App Store or will show a small controller icon in their loading screen. If you're not too sure whether your controller isn't working, or if the game simply doesn't support wireless controllers, a quick google search should answer your question.
Can I Connect MFi or Console Controllers to Other Apple Products?
Your gaming is not limited to your iPhone, as iPads and Apple Tv's can also be connected to via Bluetooth. All aforementioned controllers are able to connect not only to your iPad, offering a large screen, but also your apple tv. The connection method is the same as your iPhone on the iPad, but Apple Tv is slightly different.
The only difference for Apple Tv users is that after selecting Settings, you will need to select Remotes and Devices, then Bluetooth, and then the selected controller entry. Apple Tv offers a true console experience, with iOS games that can't be found anywhere else.
Summary
You cannot connect a Nintendo Switch controller to an iPhone. The lack of software compatibility means that, although they share Bluetooth capability, the Nintendo Switch controller will not be able to connect to the iPhone. This may change in the future if the two brands decide to collaborate.
Other options are readily available, for instance, if you already own a PlayStation 4 or 5, or an Xbox One, your controller should be able to connect to your iPhone. If you still desire a more polished mobile gaming experience, MFi controllers offer the practicality of a controller, specially designed for iPhone.
We hope you have all the info you need about Nintendo Switch controllers and their inability to connect with iPhone's, and what your other options are!