Many people have switched to wireless headphones like Samsung's Galaxy Buds for convenience and improved sound quality.
Although the PS4 and PS5 do not natively support Bluetooth headphones other than PlayStation-branded ones, you can still connect your Galaxy Buds using a Bluetooth adapter.
Connecting Galaxy Buds to PS4 & PS5:
In this article, we'll discuss two different methods for connecting your Galaxy Buds to your PS4 or PS5 gaming consoles. The first method involves using a USB Bluetooth adapter, which plugs into your console's USB port and allows you to pair your Galaxy Buds with the console.
The second method takes advantage of your smart TV's built-in Bluetooth capabilities, allowing you to connect your Galaxy Buds directly to the TV instead of the gaming console. Both options have their benefits, and the best choice depends on your specific setup and preferences.
Connect Via Bluetooth Adapter
For the first method, you'll need to purchase a Bluetooth adapter that's compatible with the pS5. You'll specifically want to Purchase a USB Bluetooth adapter with a pairing button (adapters without a pairing button may not work on your PS5).
Disconnect your Galaxy Buds from any other devices.
Plug the USB adapter into your PS4 or PS5's USB port and wait for it to flash.
Open the Galaxy Buds case lid to initiate pairing mode.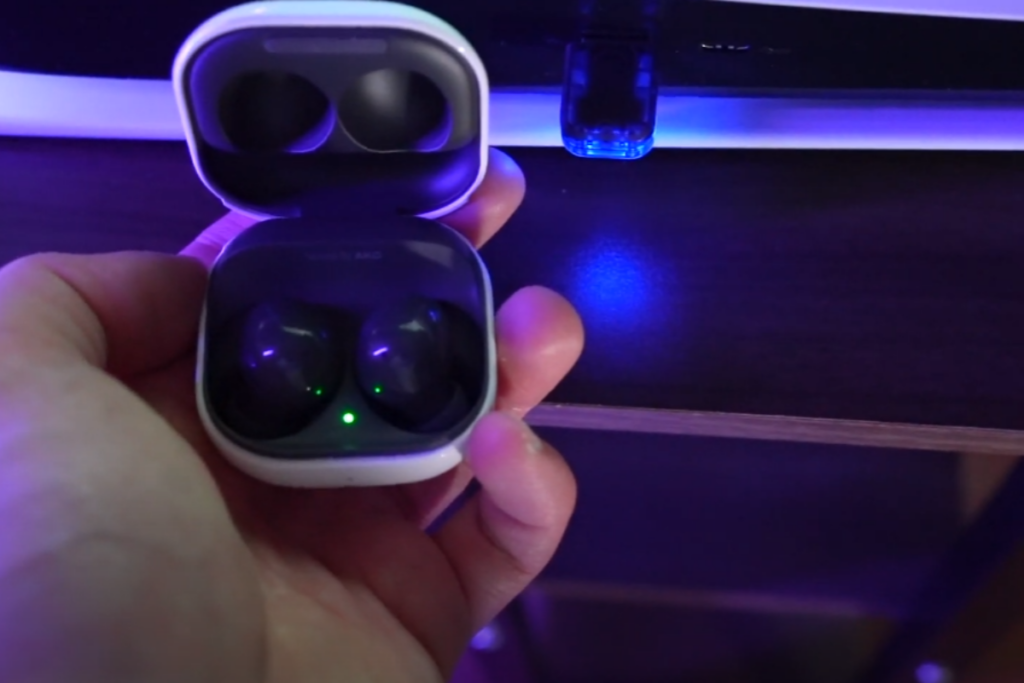 The case will automatically pair with the adapter, indicated by a solid light on the adapter.
 On your PS4 or PS5, navigate to settings and ensure the volume output is set to "USB Headphones (USB Audio Device)."
 Adjust the Galaxy Buds volume on the Volume tab by moving the slider.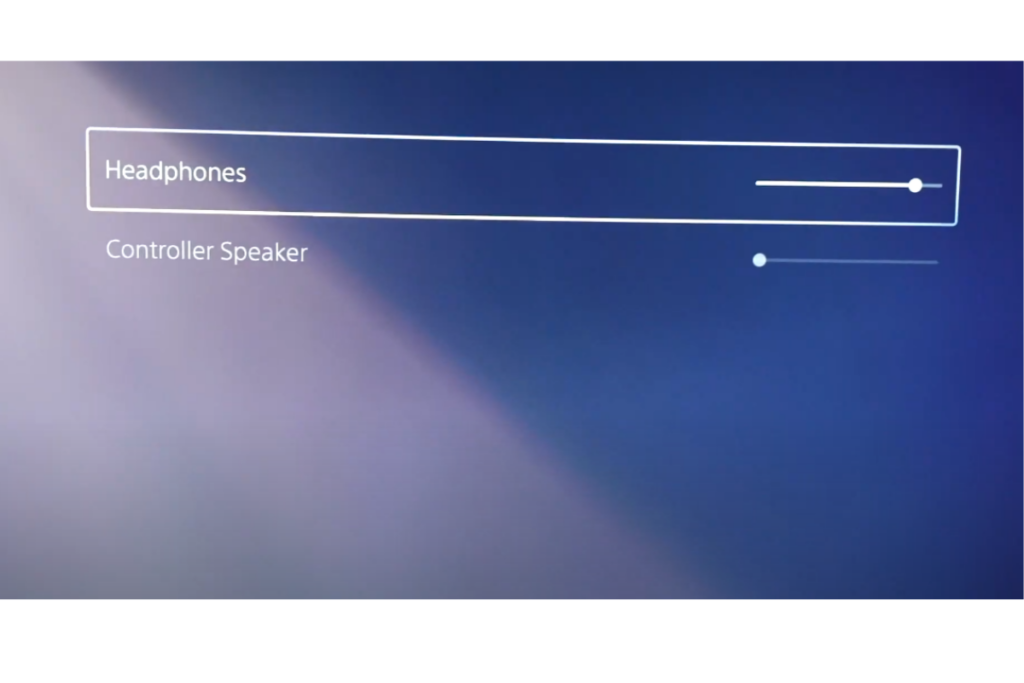 Connect Via TV's Bluetooth
If your smart TV is a recent model, there's a high likelihood that it comes with built-in Bluetooth support. This allows you to connect your Galaxy Buds directly to the TV, bypassing the need to connect them to your PS5. As a result, you'll be able to hear any audio playing on your television set.
It's important to note that the latency levels for TV Bluetooth audio can vary significantly. Older or more affordable models might have higher latency levels, which can affect your gaming experience. However, if you already own a TV with Bluetooth audio support, it's worth giving it a try to see how well it performs.
Here's how:
Navigate to your TV's Bluetooth List
 Place your Galaxy Buds in pairing mode by simply placing them in the case and opening the lid (Disconnect your Galaxy Buds from any other devices before doing so.)
 Select your Galaxy Buds from the Bluetooth list to connect.
Your Galaxy Buds should now be connected to your TV, allowing you to listen to your PS5's audio through your TV's audio system.
Your Galaxy Buds should now be connected to your TV, allowing you to listen to your PS5's audio through your TV's audio system.
Choosing the Right Bluetooth Adapter
If you decide to opt for the Bluetooth adapter connection method, then to ensure seamless compatibility between your PS4 or PS5 and Galaxy Buds, it's essential to select the right Bluetooth adapter or transmitter. Here are some factors to consider when choosing the best Bluetooth adapter for your gaming setup:
Compatibility: Look for a Bluetooth adapter specifically designed to work with PS4 and PS5 consoles. Some adapters may only be compatible with PCs or other devices, so double-check the product description to confirm compatibility.
 Bluetooth Version: Opt for a Bluetooth adapter that supports at least Bluetooth 4.0 or higher. This ensures better audio quality, lower latency, and increased range between your console and Galaxy Buds.
 Pairing Button: Choose an adapter with a pairing button, as this feature makes it easier to connect your Galaxy Buds to the PS4 or PS5. Adapters without pairing buttons are primarily designed for PCs and may not work well with gaming consoles.
 Transmission Range: Consider the transmission range of the Bluetooth adapter. A longer range ensures a stable connection between your console and Galaxy Buds, even if you're not sitting close to your gaming setup.
 Price and Reviews: Lastly, compare the prices of different Bluetooth adapters and read customer reviews to determine the best value for your money. Look for a product with positive reviews from users who have successfully connected their wireless earbuds to their gaming consoles.
By considering these factors, you can make an informed decision when choosing the right Bluetooth adapter for connecting your Galaxy Buds to your PS4 or PS5.
Troubleshooting Connection Issues:
While connecting your Galaxy Buds to your PS4 or PS5, you might encounter some issues. Here are some tips and solutions for common problems users may face during the connection process:
1. Ensure Galaxy Buds are not connected to another device
Before attempting to connect your Galaxy Buds to your console, make sure they are not connected to any other devices. To disconnect them, simply turn off Bluetooth on the connected device.
2. Reset The Bluetooth Adapter
If your Galaxy Buds are not connecting to the adapter, try resetting the adapter by unplugging it from the console and plugging it back in. This can help refresh the connection between the adapter and your gaming console.
3. Restart your gaming console
Sometimes, restarting your PS4 or PS5 can resolve connection issues. Power off your console, wait for a few moments, and then turn it back on before attempting to connect your Galaxy Buds again.
4. Restart Your Galaxy Buds
If you want to give your earbuds a quick restart without a complete reset, simply place them inside the charging case and close the lid. Wait for at least 7 seconds, and then take the earbuds out of the case.
5. Reset Your Galaxy Buds
Resetting your earbuds will revert all settings back to their default state. To reset your earbuds, use the Galaxy Wearable app and ensure both earbuds are connected. For Galaxy Buds+ and Galaxy Buds Live paired with an iPhone, you can reset them using the Buds app on an iPhone 7 or later with iOS 10 or higher.
To begin, open the Galaxy Wearable app on your Galaxy phone.
For Galaxy Buds+, Galaxy Buds Live, Galaxy Buds Pro, and Galaxy Buds2: Tap Watch settings, tap Reset, and then tap Reset again to confirm.
For Galaxy Buds: Tap About Earbuds. Tap Reset earbuds, and then tap Reset to confirm.
For Gear IconX: Tap the SETTINGS tab in the app, and then tap About Gear. Tap Reset Gear, and then tap RESET. (Resetting the Gear IconX to factory settings will erase all music stored in the earbuds. To avoid data loss, consider performing a restart instead.)
6. Check for firmware updates
Make sure your Galaxy Buds and gaming console are up-to-date with the latest firmware. Updates can often fix bugs and improve device compatibility.
7. Verify audio settings
After successfully connecting your Galaxy Buds, ensure the audio output is set to USB Headphones (USB Audio Device) in your console's settings. Additionally, check the volume levels and adjust them accordingly.
8. Test with another Bluetooth device
If your Galaxy Buds are still not connecting, try pairing them with another Bluetooth device, such as a smartphone or tablet. This can help you determine if the issue lies with the Galaxy Buds or the Bluetooth adapter.
By following these troubleshooting tips, you can overcome common connection issues and enjoy a seamless gaming experience with your Galaxy Buds and PS4 or PS5.
Optimizing Audio Settings for Gaming
When using your Galaxy Buds with PlayStation 5, you can optimize your audio settings to get the most out of the console's 3D Audio capabilities.
In this section, we'll walk you through the process of enabling and adjusting 3D Audio, choosing games that support this immersive technology, and getting the best possible 3D Audio experience. Transform your gaming sessions by diving deep into the action with a fine-tuned audio setup that truly brings your games to life.
Understanding PS5 Audio Options
The PS5 does not support Dolby Atmos for games, but it does support it for streaming apps and Blu-ray/4K Blu-ray player.
Instead, the PS5 uses Sony's Tempest 3D Audio system for gaming.
To experience 3D Audio with your Galaxy Buds, make sure they are connected to your PS5 via Bluetooth.
Enabling and Adjusting 3D Audio
Navigate to Settings > Sound > Audio Output.
Ensure "Enable 3D Audio" is activated.
When using Galaxy Buds for the first time, select "Adjust 3D Audio Profile" and follow the on-screen instructions to optimize your 3D Audio experience.
Any wired or wireless headphones, like the Galaxy Buds, should work with the PS5's 3D Audio system, although the quality of the headphones may impact the effectiveness of the 3D Audio experience.
Choosing Games that Support 3D Audio
Some games, like Spider-Man: Miles Morales and Demons Souls, have more noticeable 3D Audio implementation.
Play games optimized for next-gen consoles, such as Marvel's Avengers, Spider-Man Remastered, Final Fantasy XIV, and Resident Evil: Village, to fully experience 3D Audio.
Avoid playing the PS4 versions of games for the best 3D Audio experience on PS5.