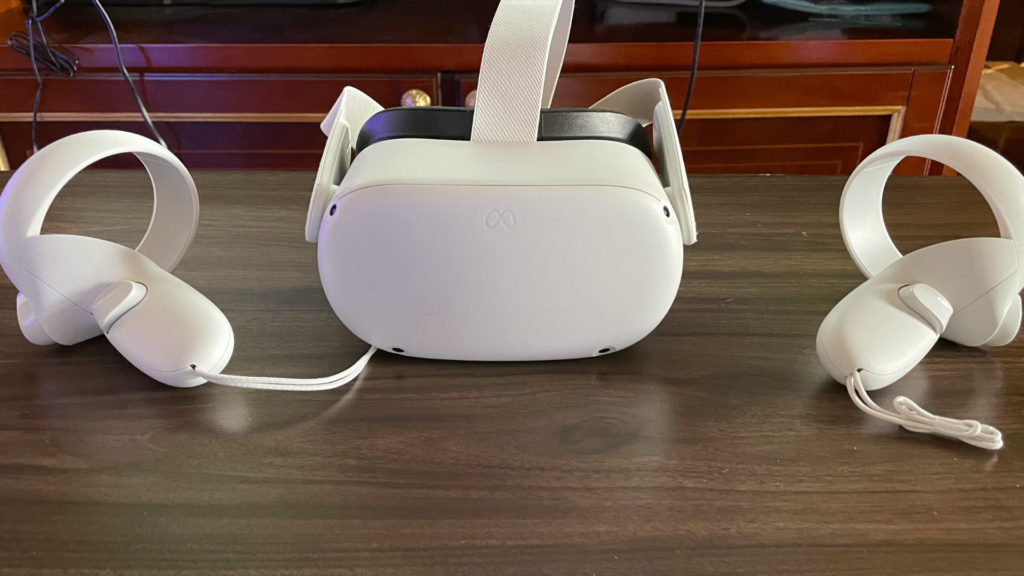 While there are plenty of things you can do with the Oculus Quest, many of its best games are controlled using its innovative motion controllers. These Oculus controllers can do a wide variety of complex motion controller movements, being able to serve as both a pointer control and able to control and interact with objects in a fun and interesting manner. But before you can actually control anything with them, you need to get the Oculus controller set up with your Oculus Quest. But how do you do that?
How to Connect Oculus Controller to Oculus Quest
The only way you can get your Oculus controller connected to your Oculus Quest headset is using the Oculus app. Setting it up on the app is relatively simple for most people, though depending on the type of Oculus app you use, you may have a different app to use instead.
Connect the Oculus controller using the Oculus app on your phone
In order to get your Oculus controllers connected, you first need to get access to the Oculus app, which can be done by downloading from the appropriate store. For example, on many Android devices, you have to download it from the Google Play Store, while iOS device users need to download it from the App Store. Make sure that your device is connected to a Wi-Fi connection if possible to avoid wasting data needlessly.
Once the Oculus app is installed, open it and tap the Headset icon located in the top-right corner of the app. Next, select the Devices option, and then select which controller you want to set up, Left or Right (you will have to do both for a first-time setup).
When pairing your left Oculus controller, you have to press and hold two buttons on it, namely the three-line button (also known as the burger button) and the Y button, until the light on the Oculus controller begins to blink and light up. Once this is done, the left Oculus controller will have connected. To connect the right Oculus controller, select Right, and then hold the sideways oval button and B button until the same things happen.
Once both controllers have been paired with your Oculus headset, they will then automatically connect to the headset whenever it is powered on.
Connect using the Oculus for Business app
The app you should use will come down to what your purpose for the Oculus is. If you are using the Oculus Quest for fun, you should just use the Oculus app. However, if you own a business that actually uses an Oculus device as part of it, there is a separate app called Oculus for Business. This is meant to have an app that caters specifically to such Oculus users.
The method of setting up controllers with your Oculus Quest headset is more or less the same through this app as it is through the regular app, so you can just refer to the previous section to set up your controllers.
How to remove an Oculus controller from your Oculus Quest
If you want to use your Oculus controller with a different (but the same model of) Oculus Quest, or you purchased one or more replacement controllers, you may be wondering how to unpair them from the Oculus app. This is a simple process. Open the app, and tap the Devices option. Tap the Headset icon, and then tap on the headset that you want to modify. Tap the Controllers setting, and then select the controllers you wish to unpair. Finally, tap Unpair Controller. Do this for both controllers, and then you can set up one or two controllers with the app if you wish.
Can you pair multiple sets of Oculus controllers to an Oculus Quest?
If you have multiple controllers that are compatible with your Oculus Quest, you may want to pair multiple sets of Oculus controls. After all, you can connect your Oculus Quest to an external monitor in order to display the footage, so a second player could theoretically be able to use this second set to have input in a game or app. However, unfortunately, you can only pair one set of Oculus controllers to one headset at a time. Thankfully, if an Oculus controller breaks and needs to be replaced, you can unpair controllers individually without removing the other controller.
Can any Oculus controller connect to any Oculus device?
If you have multiple Oculus devices, or are planning to upgrade to a newer Oculus model, you may be curious whether it is possible to connect your current Oculus controller to it. The unfortunate news is that, if you have a pair of controllers from one Oculus device, or even if you want to use those controllers as spares, you will not be able to do so. The Oculus Quest and Oculus Quest 2 are not capable of working with the other's respective controllers.
Are there any third-party Oculus controllers?
A lot of video game consoles have third-party controllers that are available to use with it, but does that remain true with the Oculus Quest? As good as it would be, unfortunately, there are no third-party alternatives to the Oculus controllers compatible with the Oculus Quest. However, there are ways to use other controllers with your Oculus Quest. For example, you can connect basically any traditional gamepad controller that has Bluetooth functionality to your Oculus Quest. This includes controllers like the Xbox controller, the Dualsense, and the Joy-Cons.