Devices like the HP Pen are invaluable for many who need to be able to easily write, draw, and erase text from different programs on different devices. As useful as it is, however, there have been reports of the HP Pen no longer working, either during use or at all. But why does the HP Pen have trouble working at times?
One of the common reasons it doesn't work is due to the battery being dead, which can be solved by either charging it or swapping the battery out for a new one. It also may be unpaired from the device, or another device is pulling its focus from the device you are using.
But what other things may be going wrong with your HP Pen? And what can be done to fix the issues?
Why is My HP Pen not Working?
It ran out of battery
This is to be expected for any portable electronic device, but eventually, your HP Pen is going to run out of charge. The method to fix this will ultimately depend on the type of HP Pen you use. Some HP Pens use an AAAA battery as well as two cell batteries, while others are rechargeable.
However, both are pretty simple to replace. If your HP Pen uses replaceable batteries, all you need to do is replace them. They do last a while though, so you don't have to worry about replacing them too often.
Meanwhile, if you use a rechargeable HP Pen, all you need to do is plug it in using a USB-C charger.
The rechargeable HP Pen will normally last you from 1-3 weeks, though if the pen is constantly active due to pressure on the tip, it could run out in only two days. Thankfully, it should not take long at all to recharge, only taking 30 minutes.
It is not connected to the device
Much like a lot of other wireless devices, the HP Pen needs to be connected to the device you are using Bluetooth. Thankfully, connecting the two devices is a simple process. All you need to do is make sure that the device has Bluetooth, and that it is accessible.
This can be ensured by making sure that Bluetooth is currently enabled, and that Airplane mode is disabled. Once you've checked this out, you can begin the pairing process.
To put the HP Pen in discovery mode, press and hold the top button of the pen for three seconds. Next, go to the Bluetooth section of your device.
On Windows, you can find this either by searching for Bluetooth or selecting the message icon in the bottom-right corner of the screen and then selecting Bluetooth. Select your HP Pen (it may have a slightly different name depending on the exact type of HP Pen you own), and then select Done.
Your device needs to have its BIOS and Chipset drivers updated
It is possible that your device is not fully updated, with its BIOS and Chipset drivers being out of date.
On an HP device, for example, you can download drivers from HP's support website here.
Another method, that helps make the process simpler, is to download the HP Support Assistant program to your PC. This program, when installed, will update your drivers automatically.
You need to download the latest HP Pen control software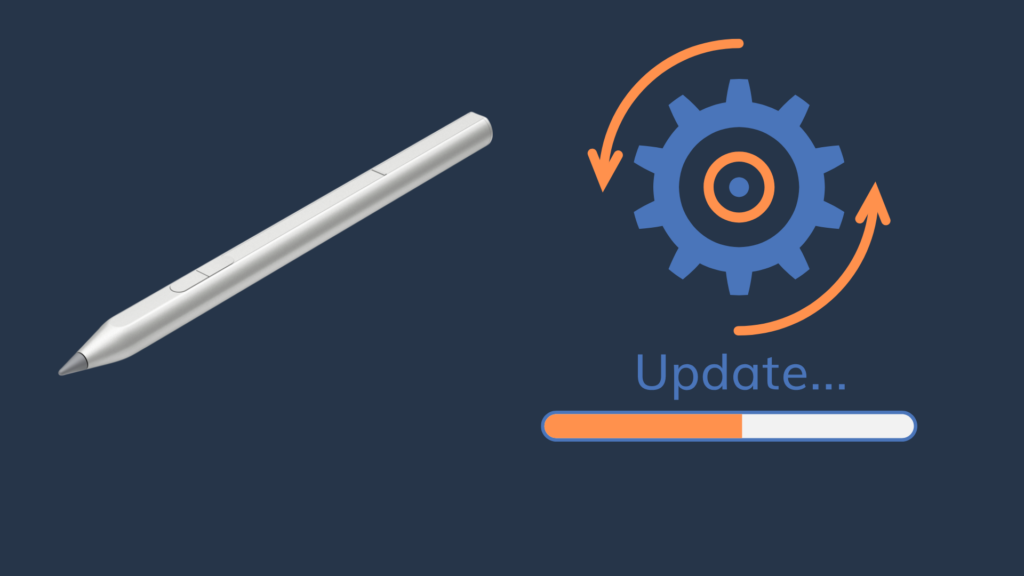 The software used to control your HP Pen may be outdated, and thus would benefit from having the latest version of the HP Pen Control software. You can find it on HP's official website or by searching for it on Google.
There is something going wrong with your keyboard's drivers
Drivers can be somewhat screwy, and in some cases, the best solution would be to uninstall the drivers, restart your computer, and reinstall them.
To do this, search for Device Manager in Windows, and expand the Keyboards section on this page. Right-click on each driver and uninstall them.
Restart the computer, and then test your HP Pen. If your HP Pen works, try updating the keyboard drivers again and then test to see if the HP Pen still works.
It is currently connected to a different device
This is a problem that may occur with pretty much any Bluetooth device if you have it connected to multiple devices at the same time. For instance, if you are using the HP Pen with your phone, it may get screwy if your tablet also has an active connection to your HP Pen.
To avoid this kind of interference, make sure that the only device your HP Pen is currently connected to is the device you are using it with. You can remove your HP Pen from Bluetooth on a device by going into the list of connected devices and removing it from that list.
It is broken or defective
This is a much more serious issue than all the other ones, as this can usually not be easily fixed. In most cases, fixing a broken or defective HP Pen will require you to go through HP customer service to get a repair or replacement set up.
Depending on the reason your HP Pen is not working, and when the break or defect was discovered, it may be easier or more difficult to get this problem fixed.
Your HP Pen, depending on whether it comes with another device or you purchase it on its own, may have a different type of warranty covering it.
HP's products come with a one-year limited warranty that covers defects. If the defect is detected outside of this warranty period, or the HP Pen becomes damaged due to user error, the warranty will likely not apply here.
The only way you can extend the warranty coverage and length is to purchase an extended warranty. This allows for you to have more types of damage covered, and for you to have more time before the warranty expires.