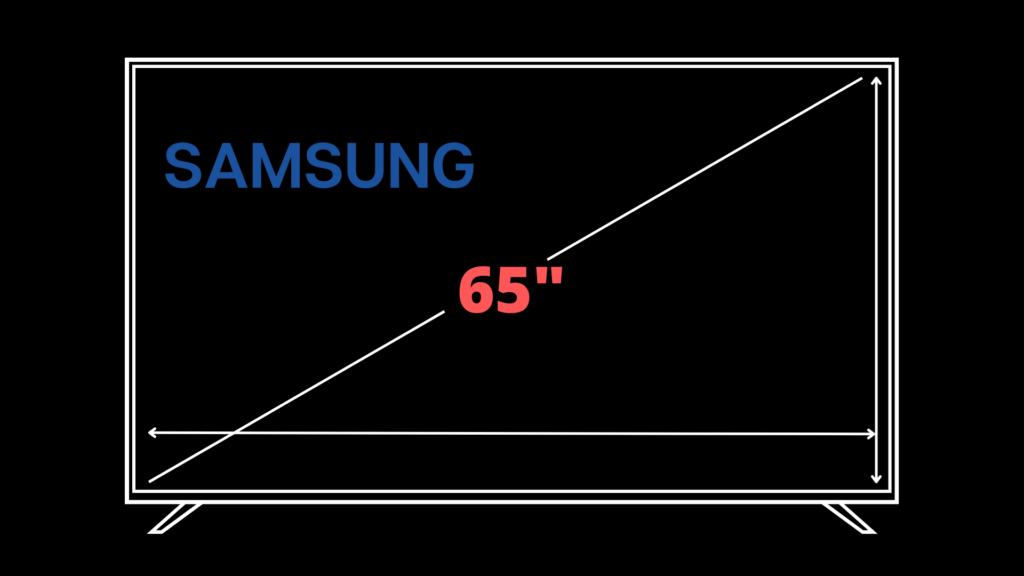 Shopping for a new TV can be overwhelming. There are many technological terms, specs, and dimensions you need to consider before spending a fair amount of cash. At the most basic level, the first thing to consider are the dimensions of the TV you plan on buying, so you know it will fit back home. 
Samsung makes a wide variety of TVs, but how do you know which one is right for you and what determines the difference in pricing? Read below for a helpful comparison chart and list of things to look for when choosing your next 65" Samsung TV.
| | | | | |
| --- | --- | --- | --- | --- |
| Product Name | Product Size Without Stand (W x H x D) | Product Size With Stand (W x H x D) | Weight Without Stand | Price |
| 65″ Class S95B OLED 4K Smart TV (2022) | 56.9″ x 32.5″ x 1.6″ | 56.9″ x 35.1″ x 11.3″ | 47.8 lb. | $2,999.99 |
| 65" Class QN800B Samsung Neo QLED 8K Smart TV (2022) | 56.8" x 32.6" x 0.7" | 56.8" x 35.3" x 11.7" | 51.5 lb. | $3499.99 |
| 65" Class QN90B Samsung Neo QLED 4K Smart TV (2022) | 56.9″ x x 32.6″ x 1″ | 56.9″ x 35.1″ x 11.2″ | 53.8 lb | $2,599.99 |
| 65" Class QN85B Samsung Neo QLED 4K Smart TV (2022) | 56.9″ x 32.6″ x 1.1″ | 56.9″ x 35.1″ x 11.2″ | 52.2 lb | $1,999.99 |
| QN900A Samsung Neo QLED 8K Smart TV (2021) | 56.4″ x 32.3″ x 0.6″ | 56.4″ x 35.1″ x 11.8″ | 48.7 lb. | $4,999.99 $2,999.99 (SALE) |
| 65″ Class QN90A Samsung Neo QLED 4K Smart TV (2021) | 56.9" x 32.6" x 1" | 56.9" x 35.2" x 11.2" | 53.8 lb. | $2,599.99 $1,749.99  |
| 65″ Class QN85A Samsung Neo QLED 4K Smart TV (2021) | 56.9″ x 32.6″ x 1.1″ | 56.9″ x 35.2″ x 11.2″ | 53.4 lb. | $2,199.99 $1,599.99 |
| 65″ Class Q80A QLED 4K Smart TV (2021) | 56.9″ x 32.7″ x 2.2″ | 56.9″ x 35.7″ x 11.4″ | 53.1 lb. | $1,699.99 $1,249.99 |
| 65" Class Q60A QLED 4K Smart TV (2021) | 57.1″ x 32.7″ x 1″ | 57.1″ x 34.3″ x 11.1″ | 46.1 lb. | $1,099.99 $899.99 |
| 65" Class The Terrace Partial Sun Outdoor QLED 4K Smart TV | 57.7″ x 33.5″ x 2.4″ |   | 81.8 lb. | $5,119.99 $4,299.99 |
| 65″ Class The Serif QLED 4K UHD HDR Smart TV (2021) | 58.2″ x 53.6″ x 19.6″ | 58.2″ x 34.5″ x 11″ | 80.7 lb. | $1,999.99 $1,499.99 |
| 65″ Class TU7000 Crystal UHD 4K Smart TV (2020) | 57.1″ x 32.7″ x 2.4″ | 57.1″ x 35.6″ x 11.2″ | 45.4 lb. | $549.99 $529.99 |
| 65″ Class QN800A Samsung Neo QLED 8K Smart TV (2021) – NextGen TV | 56.8″ x 32.6″ x 0.7″ | 56.8″ x 35.3″ x 11.8″ | 50 lb. | $3,499.99 $1,999.99 |
Now that you've determined the size and dimensions of your Samsung TV, it's best to understand the latest technologies, so you can make the most of your purchase.
Helpful Terminology When Shopping for 65" Your Samsung TV
Neural Quantum Processor
Many Samsung TVs include a neural quantum processor, an AI system that analyzes what's on screen in real-time, so the sound from your speakers precisely matches the movement on screen. This highly technical feature ensures that the audio dynamically adjusts for the best sound quality possible.
Mini LEDS
Samsung uses Mini LEDs to provide backlighting to LCD (Liquid Crystal Display) screens. LCD pixels can't be illuminated on their own, so the Mini LEDs do the work behind the scenes and help control dimming, brightness, and contrast. They are much smaller than traditional LEDs, allowing the TV to be slimmer and more lightweight.
Quantum Matrix Technology
Quantum Matrix Technology uses all the Mini LEDs to improve sharpness and color that mimics real-life like never before. Imagine a layered system of LEDs the size of a grain of sand–Samsung's new technology uses hundreds of "zones" of Mini LEDs, each containing tens of thousands of Mini LEDs. This grid works seamlessly to illuminate the TV display.
HDR (High Dynamic Range)
HDR TVs allow for a deep range of contrast, from the brightest whites to the darkest blacks. It mimics what you see in real life, rather than dulling the colors. Most TVs today use HDR technology.
LCD (Liquid Crystal Display)
LCD TVs differ greatly from plasma TVs in displaying images. Currents pass through the individual crystals, allowing them to filter light and create images on screen. LCD crystals don't produce light, which is why they rely on technology like LEDs to backlight them. Most TVs use LCD today, so you don't have to worry about the downsides of plasma TVs (reflective, not as bright).
Tap View
A nice bonus feature in several Samsung TVs including 65" Class QN800B Samsung Neo QLED 8K Smart TV (2022) is the Tap View. You can easily mirror your phone on your TV with a simple tap connected via Bluetooth to enjoy movies, music, fitness classes, and apps on screen without worrying about the display or sizing getting distorted.
QLED vs. OLED–which one should you choose?
All of Samsung's TVs have a QLED or OLED designation. QLED stands for "quantum dot LED TV", while OLED stands for "organic light-emitting diode". The two are fundamentally different technologies and affect the display and lighting of your TV.
According to reviews online, OLED presents better contrast and black levels because of their emissive pixels, which can turn off when being unused for infinite contrast. QLED TVs often let light through, which could cause dimmer, washed-out black levels and blooming around brighter sections. Therefore, many people prefer an OLED picture over QLED. However, QLED has a much brighter display, which is helpful in already bright rooms and with HDR content. Most Samsung TVs offer QLED.
Additional Benefits of QLED:
Great at resisting moisture, resulting in a longer shelf life
Available in higher display sizes
Switching speed (on/off) is extremely fast
Superior levels of brightness, up to 100x brighter than CRT and LCD displays
More power-efficient compared to OLED screens
Of course, there are always certain drawbacks. QLEDs tend to have a "light bleed" effect, making the screen unevenly lit at times.
What's the difference between 4K vs. 8K?
8K and 4K refer to the resolution and number of pixels in your television. 8K television contain nearly 33 million pixels, while 4K contains about 8 million. Both resolutions offer excellent quality; however, 8K is certainly preferred when watching native 8K content. Still, there's not a super widespread distribution of 8K broadcasting yet, so you might not notice a difference depending on the shows and movies you watch. If you absolutely want the latest tech, an 8K television is your best-bet, but a 4K television will do just fine.
What is NextGen TV?
Television manufacturers like Samsung now offer TV sets with the all-new NextGen technology. NextGen is quite literally the next generation of TV displays that delivers brilliant color and sharper images for a breathtaking visual experience. It has a built-in Dolby Audio system, which produces enhanced dialogue and dynamically adjusts volume when you change the channel, or when the audio jumps on screen. With NextGen, you can also merge broadcast TV with content from broadcast sources like Youtube to watch live sports, news, and events in real-time without losing quality. And as a bonus, it's designed to be upgradable, so the TV can evolve with the latest technological advancements. 
These 4 models use NextGen TV:
Samsung Neo QLED 8K Smart TV, Model QN900A
Samsung Neo QLED 4K Smart TV, Model QN850A
Samsung Neo QLED 8K Smart TV, Model QN800A
Samsung Neo QLED 4K Smart TV, Model QN90A
Choosing the Samsung TV That's Right For You
With so many features and high-tech options, how do you know which TV is right for you? It's best to consider what your TV will be most used for and the type of content you watch. For example, is it a centerpiece in your living room, or an accessory in your guestroom? Will it be used for gaming, or used as an entertainment system to host parties? Below are some suggestions based on features like sound, display, and purpose.
Best 65" Samsung TV for Watching Movies
The Samsung QN90A QLED is ideal for watching movies in a dark room with a group of friends and family. In addition to the Quantum Matrix Technology and Object Tracking Sound+, this TV has a VA (vertical alignment) panel with top-notch contrast and image depth. It also has the Mini LED backlighting, which means that black looks black in a dimly lit room, and there will be minimal blooming around bright objects.
Best 65" Samsung TV for Watching TV Shows
The Samsung QN85A QLED is an excellent choice for watching your favorite TV shows and sports. It allows for wide viewing angles, which may be helpful if you tend to walk around or do chores while you keep the TV on, or if you have a large group viewing the show. It's ideal for a bright room, as the contrast ratio isn't as strong when the room is dark. The built-in Tizen, Samsung's smart operating system, has a multitude of apps you can download for whatever streaming service you prefer.
Best 65" Samsung TV for The Outdoor Patio
Not all TVs are meant for the outdoors, but the 65" Class The Terrace Partial Sun Outdoor QLED 4K Smart TV is a smart choice if you want to entertain outside. You can enjoy crystal-clear television quality year-round with an IP55 rating, which means that it is protected against water and dust. According to Samsung, it is the first TV to be officially verified by the Underwriters Laboratories, a global independent safety science company.
Best 65" Samsung TV for Gaming
The 65" Class QN800B Samsung Neo QLED 8K Smart TV (2022) includes the Super Ultrawide GameView and Game Bar to enhance your gaming experience. With these features, you can change between multiple aspect ratios, so your screen is always eye level. The Game Bar is an on-screen menu that lets you adjust things like screen ratio, input lag check, headset settings, and more. Super Ultrawide GameView supports PC games and is only available for ultra wide supported games.
Keep Cables out of Sight with Slim One Connect
The Samsung One Connect Box keeps your TV area organized and decluttered. The box funnels cables and wires away from the TV and can be mounted anywhere. Models like the 65" Class QN800B Samsung Neo QLED 8K Smart TV come equipped with Slim One Connect, so you can keep all those pesky HDMI cables discreet. 
Experience Realistic 3D Sounds with Dolby Atmos and Object Tracking Sound+
TVs including the QN90A and QN800A models come with Object Track Sound+, a technology that analyzes the input and content, be it movies, gaming, or sports, and optimizes the sound, so that it moves with the action. This makes you feel like you're living inside the action, and adds a realistic element to your TV experience.
The Best Bang for your Buck
Buying a brand new TV isn't cheap, which is why it's important to thoroughly understand the features you are paying for. As technology continues to advance, manufacturers will supply the latest products to keep up with consumer trends at a premium cost. The good news is, any 65″ Samsung TV will offer exceptional quality across display, sound, and speed, and the varying prices are because of very specific features like pixels, Smart TV features, LED displays, weight, and size. Luckily, Samsung offers payment plays for up to two years, so you can choose the TV that best suits your needs without having to worry about paying up front.