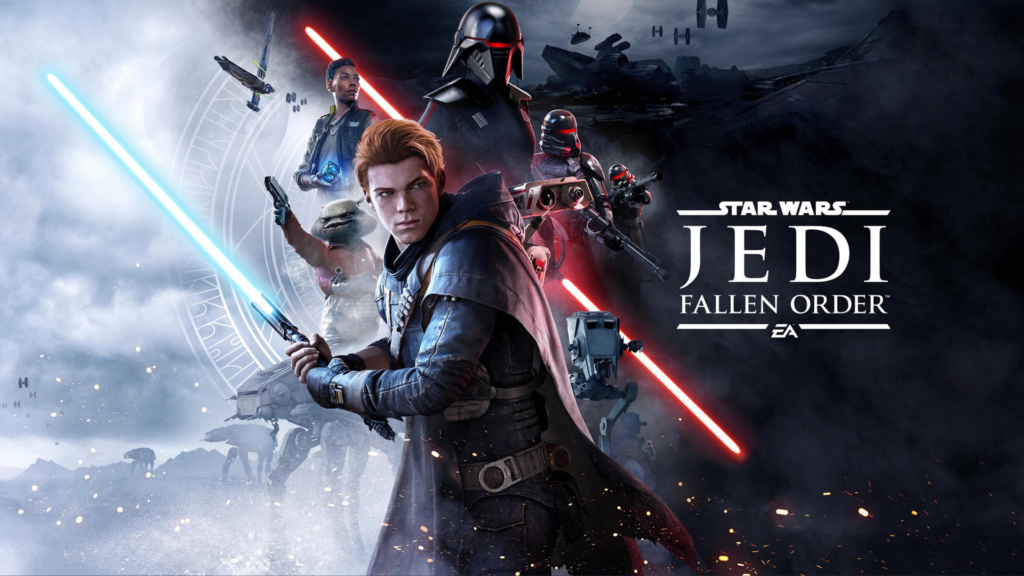 Star Wars is one of the most legendary franchises ever made, and not just because of the groundbreaking original trilogy. It has exploded into a multi-billion dollar franchise, covering multiple media, including television, comics, novels, and, of course, video games. The Star Wars video games have a varying level of quality, with some being stinkers while others being truly great. One of the best ones, at least in recent years, has been Star Wars Jedi: Fallen Order, which you can play on a variety of consoles, including PCs. But can you play it on a PC using a PlayStation 5 controller? And if so, how?
Using a PS5 controller that's already been paired with your PC via Bluetooth or USB, you can set up a PS5 controller for use with Jedi: Fallen Order using multiple methods, depending on how you are playing it. Steam and DS4Windows are two popular methods people often suggest.
But how do you get a PS5 controller set up using these methods? Can other PlayStation controllers be used to play Jedi: Fallen Order? And why aren't my controllers working with it?
How to Play Jedi: Fallen Order with PS5 controller On Your PC
The PS5 controller is capable of being used with Jedi: Fallen Order, although there are multiple methods you can employ, which depend on how you want to play the game. Before you can get your PS5 controller working with Jedi: Fallen Order, however, you first need to get the controller working with your computer. There are two methods you can use to do this. The first method is to connect the controller using a USB cable. This is a quick method, as you just need to plug the USB cable into the PC and your PS4 for your computer to pick it up. Be sure to use a USB-C cable, however, as USB Type-A will not fit.
To connect it via Bluetooth, make sure that your computer has Bluetooth enabled & Airplane mode disabled. You can do both by clicking on the message box icon in the bottom-right corner of the screen, and if Bluetooth is off or Airplane mode is on, click on them to turn them on and off respectively. Next, put your PS5 controller in pairing mode. Right-click on the Bluetooth icon, and select Go to Settings. Next, select Add Bluetooth or other device, and add the PS5 controller when you see it in the list of compatible devices.
Not all devices have Bluetooth. The only way to make it work otherwise is to purchase a Bluetooth adapter, which can be plugged into a USB port. This will give your PC the same capabilities as a computer with built-in Bluetooth.
Use the PS5 controller through Steam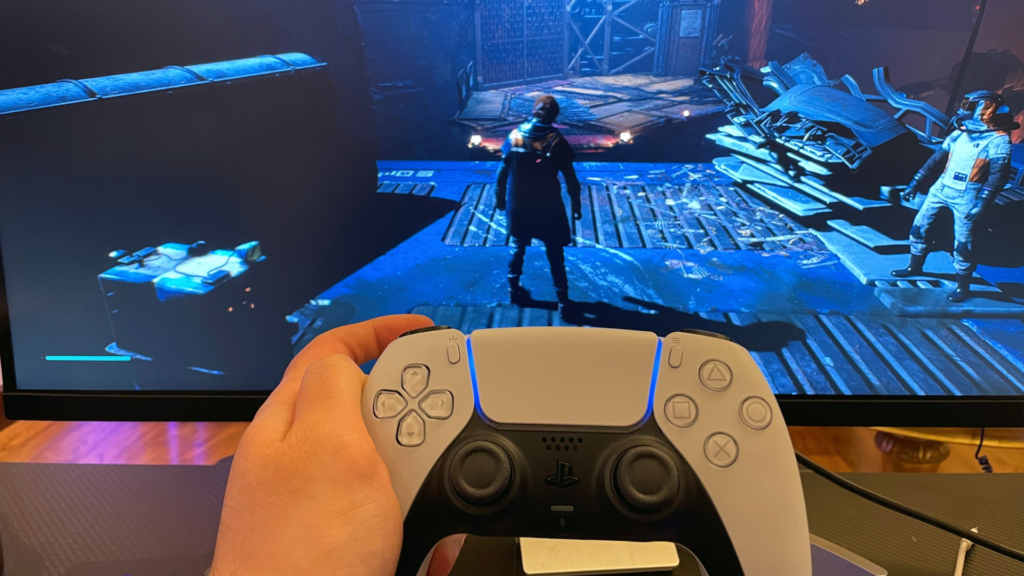 Star Wars Jedi: Fallen Order can be purchased through a variety of storefronts for PC, with the biggest storefront being Steam. Beyond being a good way to purchase and play games, Steam can also be used to set up external controllers, the PS5 controller included.
To set up your PS5 controller through Steam, click Steam in the top-left corner of the Steam screen, and then select Settings. Click on the Controller tab, and then select the General Controller Settings menu. It will list the PS5 controller as a detected controller. Next, check PlayStation Configuration Support. Return to the Controllers menu, and create a custom layout for the PS5 controller.
Next, open Jedi: Fallen Order on Steam. There are two ways this can be done: have it be purchased through Steam, or add it to your library. To do the latter, click Add a Game in the bottom-left corner of the screen, and then Add a Non-Steam Game. Next, either look for Jedi: Fallen Order in the list of programs, or click Browse and navigate to the game's location. Select it, and then select Add Selected Programs. You should now be able to use the PS5 controller through Steam, regardless of how you play it.
Use the PS5 controller using DS4Windows
DS4Windows is a popular solution to allow the PS3, PS4, and PS5 controllers to be efficiently used to control a variety of games on your PC. DS4Windows is a pretty straightforward program to set up, although it can only be used in Windows 10 or Windows 11.
Here's how it's done:
Download DS4Windows.
Extract all the files from the Zip folder.
Now simply open the DS4Windows.exe file from the DS4Windows folder.
You will then be asked to save the profile. Choose "Program Folder" if you prefer to save the profile on a USB, or choose "Appdata" if you prefer a full install on your PC.
A window will pop up presenting you with "Welcome to DS4Windows", select Step 1: Install ViGEmBus Driver".
Now run DS4Windows.exe once again.
Connect your PS5 DualSense controller either via USB or Bluetooth.
And you're ready to start playing.
You may also have to update drivers for DS4Windows, at least for first-time setup. Assuming your controller is connected to the PC using Bluetooth or USB, it will show up on DS4Windows. When using the PS5 controller with Jedi: Fallen Order, make sure that DS4Windows is open. This program can also be used to modify certain aspects of the PS5 controller.
Can you use a PS3 or PS4 controller to play Jedi: Fallen Order on PC?
If you have a PS3 or PS4 controller, you may want to use one of these while playing Jedi: Fallen Order. The PS4 controller is an easy thing to use with Jedi: Fallen Order (well, about as easy as the PS5 controller anyway), so if you do not have a PS5 controller, or prefer the PS4 controller, this is a valid option. A PS3 controller may be more difficult to get set up with Jedi: Fallen Order, particularly because it was made a generation before Jedi: Fallen Order. However, people have managed to make it work, at least to some extent, though it is not a recommended method of controlling the game.
Can I set the PS5 controller up to play Jedi: Fallen Order through Origin without Steam?
If you do not want to use Steam to play Jedi: Fallen Order, you can play it through only Origin instead. However, if you do, you will unfortunately not be able to make your PS5 controller work with Jedi: Fallen Order, at least not without another program like Steam or DS4Windows. Thus, at the very least, playing Jedi: Fallen Order through Steam, even if it is not a game in your Steam library, is recommended.