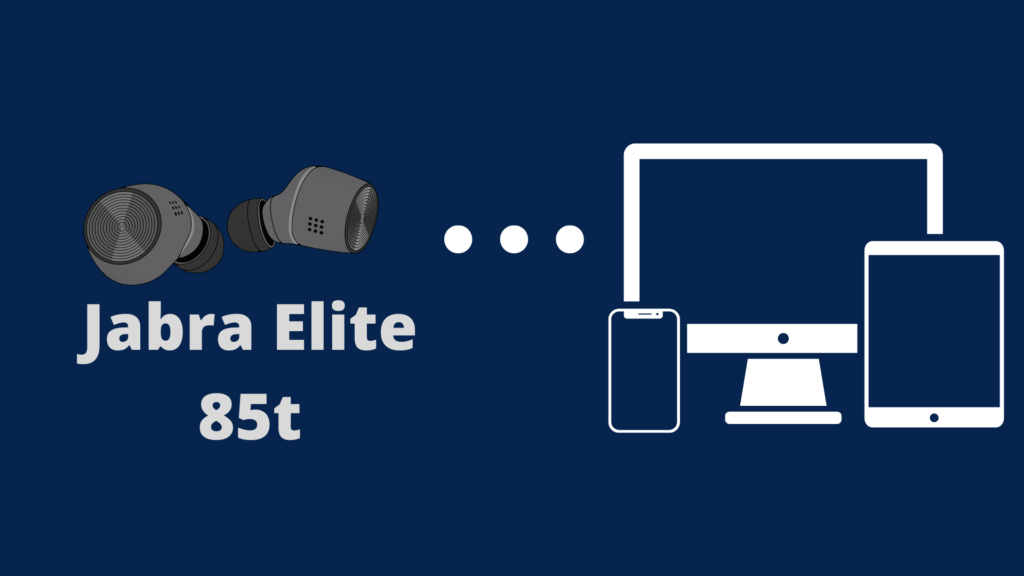 The Elite 85t earbuds are one of the top-of-the-line models from the ever-popular Danish audio brand Jabra. Whenever you buy a new pair of earbuds or switch devices, you need to sync your Bluetooth with your device. This process may seem tricky at first, but it doesn't have to be after you do it once.
How to Pair Jabra 85t With Your Device
To Pair your Jabra 85t With Your DeviceFirst, open your Bluetooth app settings page on your device. Take your earbuds out of the charging case. Then, hold the left and right buttons for three seconds until a blue light blinks. Then select Jabra Elite 85t on your device's Bluetooth menu to pair. 
Tips and Tricks for Pairing and Troubleshooting
Your earbuds will blink a blue light if they are new, which means you can connect them through your app. This doesn't happen when you change devices. The Jabra Elite 85t Bluetooth earbuds are pretty confusing to reset for pairing, so read ahead to learn more.
A More In-Depth Guide to Pairing
The first step to pairing your Jabra 85t headphones is to open up your settings page or app on your laptop or phone. You can find this page on Apple computers by going to your Apple Menu, then to System Preferences, and lastly, clicking on Bluetooth. All you have to do on Windows computers is go to your Setting page, then Bluetooth & devices, click Add device, lastly click the Bluetooth option, and then wait for the time being. For iPhones and Android, click the Settings app, click Bluetooth (It should be one of the first options), turn on Bluetooth (If it isn't already on), and then wait.
The next step is to take your earbuds out of the charging case. If this is your first time using the Jabra Elite 85t earbuds, you will hear a voice that says, "to connect, go to the Bluetooth menu on your mobile device and select the Jabra product from the list." Once taken out of the charging case, new earbuds automatically look for a device to connect with. Just as an FYI, new earbuds do not require you to connect with a mobile phone or tablet first; You can pair your device with a laptop or desktop first.
If your earbuds aren't new, it likely means you forgot how to pair them unless you bought them or were given them used. No need to worry; first, you need to reset the earbuds. Place your earbuds back into the charging case. Make sure not to shut the lid of the charging case. Then, press and hold the left and right buttons until the headphones flash purple. Press both buttons at the same time. The left and right buttons are circles located directly opposite of where the headphones go into your ears. Lastly, close the lid to your charging case and wait five seconds. Your headphones are now reset.
If you reset your headphones, it would automatically be looking for a device to pair with. Resetting doesn't make your existing devices forget that your headphones have been paired to them before; it just means that your headphones are no longer connected to another device. However, you can finally pair your headphones with your device once this is done.
Press and hold the left and right buttons simultaneously until the headphones blink blue. Once your headphones are blinking blue, look for 'Jabra Elite 85t' on your Bluetooth page. Click 'Jabra Elite 85t.' If a box pops up asking for a pin code, put in the numbers '0000.'
Can I connect Jabra 85t to a laptop? (Search Term is 'Can I connect Jabra 85t to a laptop?')
Jabra 85t headphones can connect to all Bluetooth devices, not just mobile phones. So, Jabra Elite 85t headphones can connect to a laptop. Jabra prioritizes making versatile products in the audio industry, and the majority of its products are catered to business environments. Many people prefer using Jabra 85t headphones with laptops; however, no features differ between devices.
Can Jabra Elite 85t connect to multiple devices?
Yes, the Jabra Elite 85t headphones can connect to multiple devices. All new models of Jabra headphones have a feature called 'Multipoint.' This allows you to have your Bluetooth headphones to pair to two devices at once. It means you can be playing a game on your laptop and listen to the game audio and then switch to a video call on your phone.
Connecting your Jabra Elite 85t headphones with two devices is actually simple. After taking your headphones out of the charging case, press and hold the left and right buttons for three seconds. Once it flashes blue, click the Jabra headphone name in your Bluetooth settings app. Then repeat this process with your other device. The Jabra voice assistant will let you know that you have connected two devices.
Can I shower with Jabra 85t?
Jabra Elite 85t headphones are not water-resistant. Doing this risks damage to your headphones. You shouldn't expose your headphones to other liquids, aside from recommended cleaning solutions, chemicals, and salt. This also means that you should not swim wearing Jabra Elite 85t headphones.
How long do Jabra 85t headphones last? (Search Term is 'How long do Jabra headphones last?')
Jabra claims that the Elite 85t earbuds last up to seven hours without ANC (Active Noise Cancellation) turned on. You can also listen for up to 31 hours with the charging case. If you have ANC turned on, the Elite 85t earbuds can last up to five and a half hours without the charging case and up to 25 hours with the charging case. There is also a quick charge feature that lets you listen to music for an hour after 15 minutes of charging.
There are not currently any issues with the Jabra Elite 85t headphones breaking early or lasting only a few months. These headphones were released in November 2020, which seems to be a good sign.