Nintendo's Switch is the company's latest console, and it can be a portable console, or you can connect it to your TV to use traditionally. Along with some games developed exclusively for this console, you can play older Nintendo titles, indie games, and many games that are available on multiple platforms. So you've got plenty to choose from on your Switch and even multiple options for acquiring those games.
Does the Nintendo Switch Come with Games?
The Nintendo Switch does not come with any games pre-installed, nor does it come with games in the box unless you purchase a Nintendo Switch bundle that specifically includes games. Fortunately, there are plenty of options when it comes to buying a bundled Nintendo Switch or purchasing games separately, or even downloading free games on the Nintendo eShop, and we guarantee you haven't heard of every game available.
Firstly to download free games on your Nintendo Switch, on the home menu, navigate to the eShop.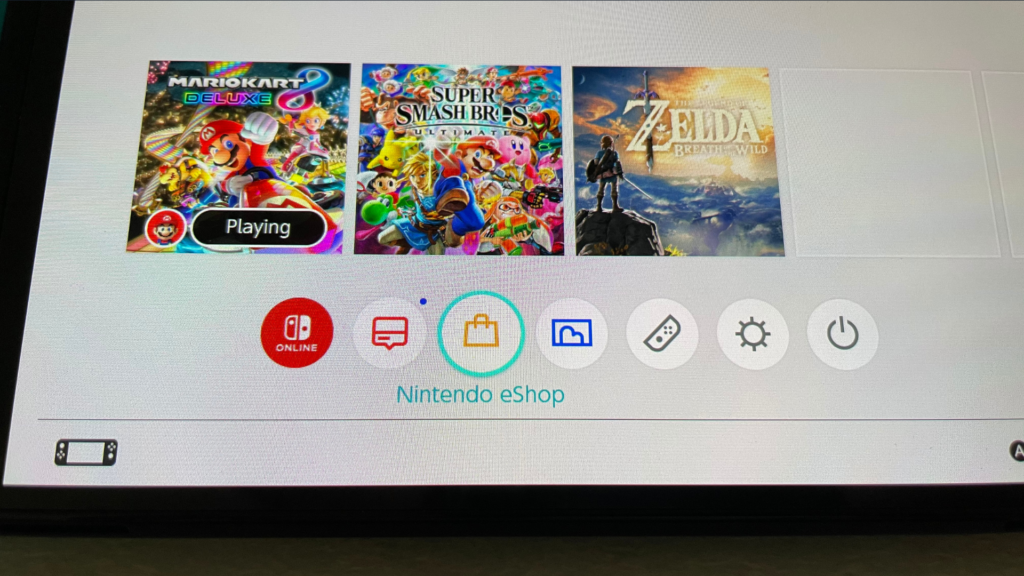 Now click on Search/Browse.
Select Price Range.
Scroll to the bottom of the list.
Below you will see a "free" Category.
Simply select the games you would like to download.
Here's a complete list of free games that can be downloaded on the Nintendo eShop:
Overwatch 2
Fall Guys
Fortnite
Rocket League
Pac-Man
Asphalt 9: Legends
Pokemon UNITE
Guardian Tales
Apex Legends
Super Kirby Clash
Tetris 99
Sky: Children of the Light
Pokemon Quest
Dauntless
Brawlhalla
Warface
Super Animal Royale
Fallout Shelter
Warframe
Vigor
The Elder Scholls: Blades
Ninjala
Roller Champions
Chocobo GP Lite
Rogue Company
Fantasy Strike
SMITE
Trove
Capcom Arcade 2nd Stadium
Knockout City
Wolfstein: Youtngblood Trial
World Of Tanks Blitz
Puzzle Galaxy
Tricky Doors
Spellbreak
Paladins
Color Zen
Fighting Ex Later Another Dash
Turbo Shot
The Pinball Arcade
Punchman Online
Arena of Valor
Skyforge
Capcom, Arcade Stadium
Retrograde Arena
Crush Crush
Lost Lands: Dark Overlord
EMERGENCY HQ
Island Saver
Realm Royal Reforged
CRSED: F.O.A.D
Business Tour
Angry Bunnies: Colossal Carrot Crusade
Zorya: The Celestial Sisters
The Four Kinds
Pinball FX3
Circle of Sumo: Online Rumble!
Kitten Squad
Gems of War
Cyber Protocol Prologue
Stern Pinball Arcade
hexceed
Idle Champions of the Forgotten Realms
Game of Dragons
Eternal Card Game
LightSeekers
Zaccaria Pinball
Prime World: Defenders
Dawn of the Breakers
To figure out whether your best option is to purchase a Nintendo Switch console separately from games or to purchase a bundle, you should know which games will be played on the system. Knowing which games are available in a bundle and understanding the difference between special editions and Switch bundles can also save you from experiencing buyer's remorse.
Nintendo Switch Game Bundles
Although the Nintendo Switch doesn't come with games, you can purchase bundles that include games. For example, there is a bundle with the console and a physical copy of Mario Kart 8, Donkey Kong Country, Hyrule Warriors, Fire Emblem: 3 Houses, Fitness Boxing 2, or Animal Crossing. In addition, these bundles may include other accessories, such as screen protectors and storage cases, for the Nintendo Switch.
You can also purchase bundles that include codes for the digital version of a game. You will have to download the game, so it's important that your Nintendo Switch has enough room or that you have an SD card to expand the storage on your console.
If buying a bundle, carefully compare what's included. There are many options, and they're not all comparable. For example, some might include subscriptions to Nintendo Play Online along with physical accessories and digital or physical games.
Nintendo Switch Special Editions
Furthermore, you don't want to confuse bundles with special editions of the Nintendo Switch. For example, you can buy the Animal Crossing: New Horizon version of the Switch, but it doesn't come with the game of the same title. Instead, the console's Joy-Cons match the dock, which has a decal. The Switch itself is still the original black design.
You can also purchase Pokemon-themed versions of the newer Nintendo Switch Lite. Various Pokemon are depicted on the back of these consoles, but they don't come with the games that feature those Pokemon, so you'll need to purchase those games separately.
Buying Nintendo Switch Games
Many games for the Nintendo Switch are available in both physical and digital versions, with the latter being downloaded to your console. You can purchase games directly from Nintendo through your Switch or from other major retailers that will give you a code to redeem on your console.
Digital games are convenient because you can have all your games on your Nintendo Switch at the same time and don't need to switch between physical games. With games averaging around 8 gigabytes, you can quickly use up hard drive space with only a few games, so we recommend increasing space with a microSD card.
Popular Nintendo Switch Games
Once you've got your console, you've got plenty of choices when it comes to games, including Nintendo's iconic Mario games, the popular Pokemon franchise, and multiple Legend of Zelda titles. Below, you'll find some of the most popular games for the console to consider.
Animal Crossing: New Horizons
Super Smash Bros. Ultimate
The Legend of Zelda: Breath of the Wild
Pokémon Legends: Arceus
Super Mario Odyssey
Luigi's Mansion 3
Super Mario 3D World + Bowser's Fury
Metroid Dread
Super Mario Maker 2
Pokémon Sword and Shield
Mario Party Superstars
Stardew Valley
Mario Kart 8 Deluxe
Tetris 99
You can also download games for older Nintendo systems, games by indie developers, and games such as Minecraft that are available on multiple systems. So you've got plenty of choices when it comes to games for your Switch. Comparing physical and digital versions may save you money. Plus, some games, especially indie games, may cost significantly less than the 
Earn Rewards and Games from My Nintendo
Signing up for My Nintendo earns you rewards for your console, game, and in-game purchases. You can redeem these rewards for various prizes, including wallpapers for your smartphone, in-game perks such as bells for Animal Crossing, printables, Nintendo 3DS themes, sweepstakes entries, and other downloadable content (DLC). Rewards are added when you purchase from Nintendo directly or redeem codes from other retailers.
Another benefit of signing up for Nintendo's online service is the ability to add games to your wishlist. Nintendo sends messages about general sales but will also notify you when games on your wishlist have gone on sale.
Purchasing a Nintendo Switch as a Gift
If you're buying a Switch to give to someone, it's smart to buy at least one game so that they can play it right away. However, you might want to unbox the console and charge it if your recipient wants to play it as a handheld right away. You can charge the Switch with the included USB-C cable (or one you might have) or plug the cable into the dock and place the console in it. 
When you first turn on the Switch, you may have to download updates for the console. On top of that, some physical games require you to download additional data when you first insert them into the Nintendo Switch. Digital games require you to download the entire game to the Switch, which can take some time depending on the size of the game and your Internet connection.
Finally, you may want to include a subscription to Nintendo Switch Online if your recipient plans to play games such as Animal Crossing: New Horizons, Tetris 99, or Minecraft, all of which require Internet access or include online content that plays a significant role in the game. Along those lines, an online subscription lets gamers race against other players around the world in Mario Kart, but you can fully enjoy the game without an online subscription.
Nintendo Switch — Controllers Included
While your switch includes everything you need to get started playing once you purchase a game, including the unique Joy-Con controllers. The Joy-Cons are different from previous Nintendo controllers and let you play your Switch as a handheld when they're attached to the device. You can remove the controllers and attach the included bumpers to turn them into two controllers, letting you play games with a friend.
The Nintendo Switch also comes with a grip to which you can attach your Joy-Cons, creating a controller that's a bit more like other systems' controllers. If you're not a fan of the Joy-Cons, you can purchase a Switch Pro Controller or one of the many third-party options that are available.