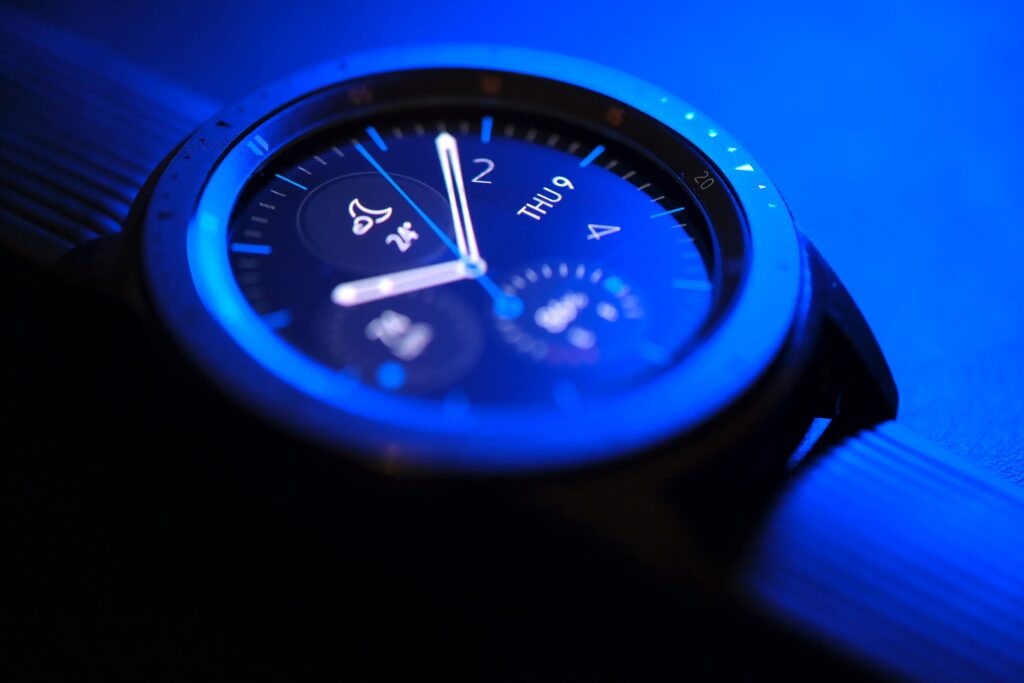 Apple and Samsung have a long history of competing in the tech industry. One can only imagine that this competitive nature extends into their accessories, leading to some interesting questions. For example, can I charge my Samsung watch with an Apple Watch charger?  
You can't charge a Samsung watch with an Apple charger. However, this can be a blessing in disguise since manufacturers use proprietary cables and adapters which are designed specifically for their products.  
When you are looking for a charger for your Samsung watch, it can be tough to know what will work. Thankfully, we have all the answers in this article!  
Will an Apple Watch Charger Fit My Samsung Watch? 
An Apple Watch charger cannot charge your Samsung watch. So, for example, if you have the Samsung Gear S, will an Apple Watch charger fit? The answer is no because the connection ports are different. 
Additionally, the sizing is completely different between the Apple Watch charger and a Samsung watch charger. Varying amperage between the two can damage the circuitry in your watch and even void the warranty. 
How To Use a Wireless Samsung Galaxy Watch Charger 
Start by connecting the wireless charger to your charging cable. Next, you will plug the charging cable into an electric socket. Place your watch onto the wireless charger. The back of the Samsung watch should be touching the wireless charging pad. Be sure to center your Samsung watch on the charger for best results. 
Can I Charge My Samsung Watch With My Phone? 
Imagine never having to worry about misplacing or forgetting your charger again. With Samsung's new Wireless PowerShare feature, you can provide reversed charge wirelessly from your phone to your watch. This breaking technology allows you to use your Samsung phone to charge your Samsung watch. 
Can I Charge a Samsung Watch With a Wireless Charger? 
Yes, Samsung's wireless charging feature is a handy way to power the Galaxy watch, no matter where you are. Charge your watch by placing it on top of another Qi-enabled device or with one of Samsung's chargers. Virtually any wired Samsung USB charger will suffice as well. 
How to Charge a Samsung Watch Without a Charger? 
Your Samsung watch is your best friend throughout the day, but when it runs out of juice, you need to know how to recharge. There are many different ways to charge, and each one has its own unique benefits. Let's go over three popular charging solutions. 
Samsung Watch Wireless Charging Dock 
As previously mentioned, a wireless charging pad is available for purchase through Samsung and all of its authorized retailers. Samsung consumers enjoy the convenience of a wireless charging station at home, work, and school! 
Switch on Wireless PowerShare 
Wireless PowerShare is an excellent feature for Samsung Galaxy phone owners who want to save space in their pockets. Simply tap the wireless PowerShare icon from quick settings on your Samsung phone to begin reverse charging your watch.  
Purchase a Power Bank 
Do you own a Samsung Galaxy Mobile? If not, don't worry! You can also charge your smartwatch with the help of a mobile power bank. A power bank is handy for busy professionals and students who are always on the go and need their phones to stay charged at all times. 
Samsung Charging Station for Phone, Watch, and Earbuds 
What if there were no wires? A world without tangled cables or plugs. Samsung now offers a Wireless Charger Trio that allows you to charge three devices simultaneously! 
Samsung Wireless Charger Trio 
With one charger, three different Galaxy products can all charge. Save time by charging your Samsung watch, earbuds, and phone together! No more fussing over tangled cords or which cord belongs to each device! 
Final Thoughts
This article discussed Samsung watch charging requirements, why an Apple Watch charger is not compatible, and three options for charging your Samsung watch. We know that you want to be able to charge your smartwatch without needing a wire or cable of any kind. To help with this issue, we have outlined all of your wireless charging options. 
The Samsung Galaxy Watch is the latest and greatest smartwatch. From wireless charging to using a mobile power bank, there are plenty of options for getting your new timepiece up and going! Unfortunately, an Apple Watch charger is not one of them.