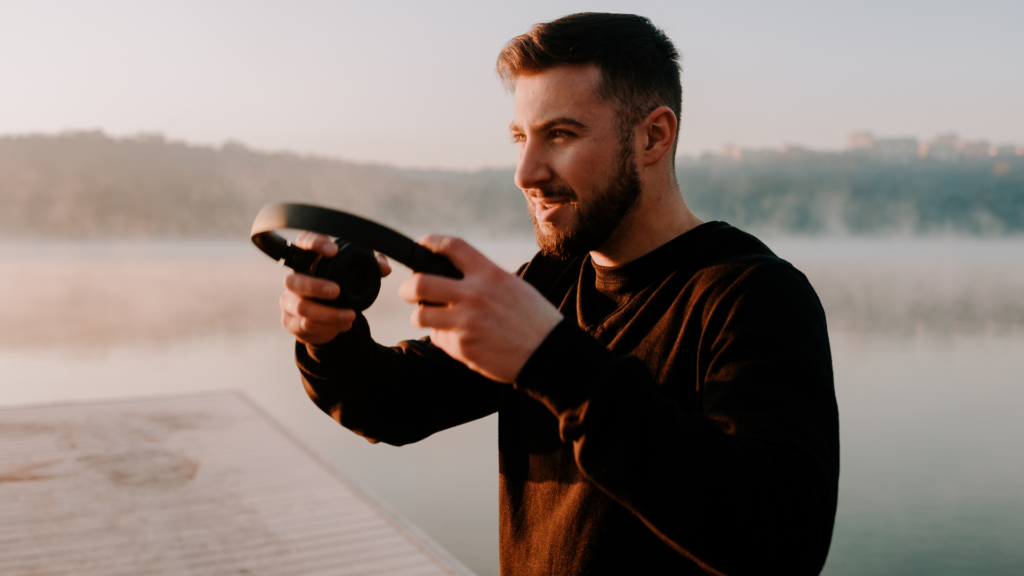 Skullcandy has made quite a name for itself by offering outstanding audio devices for those on a budget. While they aren't going to be on par with Apple Airpods anytime soon, they provide high value without breaking the bank. They're also designed to pair with all of the best that Apple, Samsung, and Microsoft have to offer.
To Pair your Skullcandy Crusher headphones, you'll need to press the circle button on the side of your headphones for 3 to 5 seconds; this will initiate pairing mode. Then go to your device's Bluetooth list and select your Skullcandy Crusher headphones to connect.
Pairing your Skullcandy Crusher headphones to iPhone, Android, PC (Windows 10), and Macbook is all the same for the Crusher, however, the process is a bit different for each device. They all have various methods for pairing. 
Pairing two devices via Bluetooth isn't supposed to be a complicated process, especially considering how far Bluetooth has advanced as a communication protocol now. Luckily, pairing your Crusher to any one of the devices on this list is a breeze. 
Not only does Skullcandy manufacture a quality product, but they also ensure that your experience with the device is a positive one, streamlining the more mundane and complicated tasks of synchronization across various communication protocols.
Pairing Skullcandy Crusher with an iPhone
Skullcandy Crusher headphones have a powerful level of bass, so much so that often, professional reviews take marks off for it, even though the bass is adjustable, so it can be toned down. Outside of that, the Crusher gets outstanding reviews for its impressive sound quality. 
Because of that, you want to pair it with a system that will offer you the best sound experience around, and Apple Music definitely falls in that category, with over 20 million songs available in lossless hi-fi, which will include a classical streaming music service as well. 
To pair your Crusher headphones with an Apple iPhone, or any other iOS device:
Press and hold the circle button on the side of your Skullcandy Crusher headphones for three seconds
When the lights on the headphones are blinking open your iPhone to the home screen
Open the Settings Menu (Gears Icon)
Select Bluetooth
On the next screen, toggle Bluetooth to On
Stay on this screen and wait for your Skullcandy headphones to appear
When they do, select them to complete the pairing process
Once the headphones are paired, your iPhone will remember them for good. Each time you turn on your Skullcandy Crusher headphones, they will automatically connect to your iPhone so long as the Bluetooth feature is turned on. 
Pairing Skullcandy Crusher with Windows 10
The best and fastest way to connect your Crusher Headphones to Windows 10 is through the Windows logo/Start menu. Before you get started, make sure that your Skullcandy Crusher headphones are turned on and in range. 
Press and hold the circle button on the headphones for three seconds
Open the Start Menu/Windows Logo at the bottom left of the screen
Highlight and select Settings on the narrow, vertical menu to the far left
Select Devices
Toggle Bluetooth to On
Select the + Add Bluetooth or Other Device
When you see your Skullcandy pop up, select it
Your Skullcandy Crusher headphones are now paired with Windows 10
Like the iPhone example above, Windows 10 will remember your headphones for future use and will automatically pair with them when your PC is on, the Crusher headphones are on, and they are within range of each other. 
Pairing Skullcandy Crusher with Android
Pairing with Android is not much different than pairing with iOS devices, it's just a matter of getting into the menu. You're probably familiar with holding the circle button on your Skullcandy Crusher headphones by now and that's always the easiest part. 
Ensure that your headphones are in pairing mode
On your Android, go to Settings
Select Connections
Select Bluetooth and wait for your Crusher headphones to show up
Select your Skullcandy Crusher headphones 
Your headphones will pair with your Android
That's that and you don't have to do anything additional to keep pairing them as your Android device will save the headphones to memory and your devices will automatically connect whenever they are both on and in range with each other. 
Pairing Skullcandy Crusher with MacOS
Regardless of whether or not you are on a Macbook or a Mac, the process is exactly the same for either one. Like the above connections, once the two devices are paired, they will remain in the Mac's memory for future use. 
Place your Skullcandy Crusher Headphone in pairing mode
Select the Apple logo at the top of the screen
Select System Preferences
Select Bluetooth and scan for devices
When your Crusher headphones pop up, select them
The device will automatically pair to your Mac
All of these devices essentially work the same when it comes to pairing; it's just a matter of getting into the settings and finding Bluetooth. Even without a guide, it's something that may take you all of five minutes to complete. 
For pairing purposes, all of these devices attempt to make it as easy as possible and also store the headphones for quick connections later. That keeps things convenient. However, it has the potential to cause a bit of a problem too. 
Pairing to Multiple Devices
This is where the problem may crop up as you go about your day, especially if you have multiple devices in the same house or, worse yet, in the same room. When you place your headphones on your head, you may have two, three, or even four devices automatically trying to pair at the same time. 
If you make a habit of connecting your Skullcandy Crusher headphones to multiple devices in your home, you may also want to take the time to turn off the Bluetooth functions when you're done, only with the devices that aren't your primary listening device. 
If you mostly listen on your iPhone, be sure to turn Bluetooth off when you're done listening on the PC or Mac.
All Things Considered
It doesn't take much to get your Crusher headset paired with any one or more of these devices. Just be sure to unpair or turn off the Bluetooth for the devices that you seldom use. 
The Skullcandy Crusher headphones offer an outstanding listening experience and any one of these devices is capable of delivering hi-res, lossless, spatial audio for the perfect audio experience.