Gaming
Mario + Rabbids: Sparks of Hope Review – Sparks of Fun 
I've never been the biggest fan of Rabbids, even when they were originally announced in preparation for the Wii. Honestly, I don't think I am even now. Despite this, I was a big fan of Mario + Rabbids: Kingdom Battle when it originally released.
I think that giving the Rabbids characters to mimic in their own satirical way gave the strange Rabbid humor more substance. Of course, there was more to it than just the premise. It was also a lot of fun, evoking the hit strategy game series XCOM.
Five years after the release of Kingdom Battle, we finally have the sequel, Mario + Rabbids: Sparks of Hope, which appears to be doing a lot of new and interesting things. But how does it compare to its predecessor? Did Ubisoft and Nintendo hit it out of the park again?
Gameplay
When I heard that we'd be getting a new Mario + Rabbids game, I was excited, but I also expected that it'd just be more of the same. Not that I'd dislike that, mind you – I had a lot of fun with the original, and would be happy to see more of the same. However, Sparks of Hope actually changes things quite a bit, using a mechanic that I so rarely see employed in turn-based strategy games. This change comes in the form of allowing you to move freely during your turn, rather than operating on a grid.
Instead of the grid, your characters have a "bubble" that displays the movement limit. Once you've picked the ideal location, you then pick what, if any, target you want to attack. After this, in most situations, if you have enough movement, you can reposition yourself. When all is said and done though, I find myself preferring the new way combat works, although there are some aspects of the old design that I miss. It's not a big deal, but the way the first game was set up felt like I was setting up a Rube Goldberg machine.
One feature I really enjoyed in the first game was the ability for Mario to jump on his allies to get further into the battlefield. Not only was this a great movement option, but it also meant you had a lot of freedom in terms of who you intended to attack, and when. This feature not only returns with this game, but they even make it open to everyone, giving you way more options for mobility.
Both Mario + Rabbids games have multiple ways to attack opponents. The standard method is to shoot enemies, although you can perform a wide array of moves, such as dashing into enemies. Another thing you can do is use items, acquired from battles, shops, and the overworld, which can be used for health recovery, skill cooldown recovery, and damage.
Much like XCOM, you use cover to protect yourself, as do your opponents. However, unlike XCOM, cover is very unambiguous. XCOM works on a % chance, with 101 different possible percentages, while Mario + Rabbids uses only three: 0%, 50%, and 100%. Your character is capable of using two moves in one turn, excluding dashes and super jumps, both of which have their own limits.
When you're out in the open, it's guaranteed you're going to take damage (with some exceptions). If you're behind half cover, it's 50/50. And if you're behind full cover, it's impossible for them to hit you. Granted, there are exceptions, such as attacks that go over cover. Additionally, there is a chance of both enemies and allies doing critical hits against each other. When your HP reaches 0, the character is knocked out for the remainder of the fight.
However, when all is said and done, by far my favorite change from the first game to this game is that you don't have to play as Mario anymore. Nothing wrong with the guy, just that when there are eight characters in the first game and only three slots, it feels a little limiting!
Overworld
Outside of the actual combat, you control your party in the overworld, where you can do a variety of things. These include going to the shop, doing sidequests, going into battle, and finding secrets and coins. These coins can be used at the shop to buy consumables that can be used in and out of battle, as well as to heal your party before a battle. Additionally, you can find intel on characters, enemies, and locations in the shop and scattered throughout the overworld. Unlike the first game, where the overworld was more of a means to the end rather than anything of substance, this game's overworld actually feels fun to explore.
Character growth and modification
While it is a turn-based strategy game first and foremost, the characters you control each have different things that can be customized about them. Each character is capable of leveling up, which enables them to increase their health, damage, and other stats. They can also modify their abilities, such as Luigi being able to shoot opponents through cover. As you progress, new upgrades require more to acquire.
Each character has their own strengths and weaknesses. For example, Luigi's combat style encourages far-off sniping, while Rabbid Mario is more of a melee fighter. There are also support abilities, including Rabbid Peach's healing ability. While it is certainly advisable that you have a party member with good support abilities, it's not required, and you can usually get by with any team combination.
An interesting thing about this game are the Sparks. Sparks are Lumas, creatures from Super Mario Galaxy, who have been fused with Rabbids. You start the game with only two, but you get more as you go along. You can equip Sparks to use their respective abilities to any of your characters. For example, one Spark allows you to add a fire effect to your attacks, and another redirects a certain percentage of damage given to the wielder back to the opponent. These Sparks are a replacement for the special effects in the first game, and an improved one to boot due to it being far more consistent. Much like your party members, Sparks can be leveled up, making them more useful, with Star Bits you obtain throughout the game.
Difficulty
Nintendo has a tendency to look at their takes on genres they have less experience with as being a "debut" for their players to the genre. Pokemon, Splatoon, ARMS, these are all more accessible games in the RPG, shooter, and fighting game genres. Meanwhile, Mario + Rabbids is a simpler – but not brainlessly so – take on the turn-based strategy genre. While the mechanics are more straightforward and easily accessible than a lot of turn-based strategy games, that should not be taken to mean that it is an easy series. The first game had its fair share of challenges, and Sparks of Hope does too.
When the game starts, you get three difficulty options, and after that, you can tweak the minutia of the difficulty. For example, you can modify how much damage an enemy can deal, as well as how much they can take. Additionally, you can modify how your hero skills work, how health regeneration works, and even whether you're able to receive damage from enemies or not. Essentially, this last option allows you to go through the game with no skill whatsoever.
On its highest difficulty, the game certainly gets pretty tough, though I find it's a little easier than the first, especially later on. However, the biggest complaint I can give about this game is the fact that, with so much freedom to choose your attacks and movement, the characters do feel a little overpowered, even on the hardest difficulty. It's not bad, but it'd be nice if there was a higher difficulty level. At the very least, I appreciate that there's so much individual control over difficulty, since you can make it basically impossible to lose by preventing damage to your characters. Ultimately, though, the fact that if you lose a fight you can just start over from the beginning means that you can experiment.
Setting and characters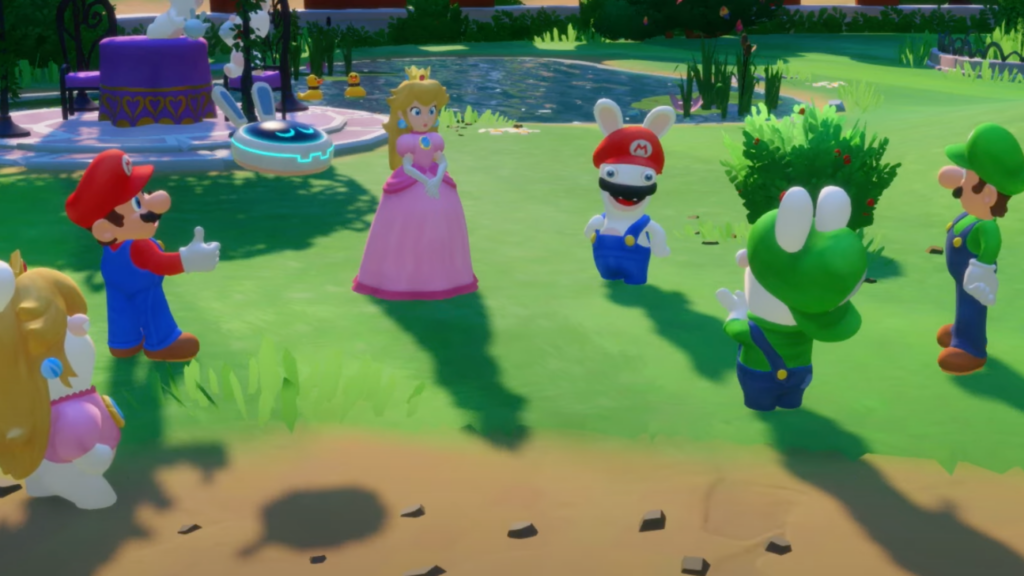 When Sparks of Hope begins, we see that the Mushroom World and Rabbids have come to coexist, and as you play through the game, you see Rabbids setting up homes throughout various settings, giving us story continuity you don't often see in a Mario game. With Mario + Rabbids, that game seemed to take the safe route with its setting. Grassland, ice, desert, haunted area, and lava area. Meanwhile, Sparks of Hope takes place on different planets, giving the designers a lot more room to work with when designing settings. It feels like Nintendo gives them a lot more creative freedom after they proved they understood how to make an authentic Mario game.
The game starts with every member of the original cast returning, short of Yoshi and Rabbid Yoshi. The six characters – Mario, Peach, Luigi, Rabbid Mario, Rabbid Peach, and Rabbid Luigi – are hanging out at Peach's Castle before a giant manta ray creature takes Rabbid Peach, and Mario and co. go to save her. This leads them to a grand space adventure as they seek to protect the Sparks, which have become threatened by a mysterious foe.
In place of Yoshi and his Rabbid counterpart, we instead get to play as Bowser and Edge, which I honestly feel is a massive upgrade. For a series that's basically a Mario RPG, it was so disappointing that we never got to play as Bowser, since Bowser appears as a begrudging ally multiple times in these games. Next, we have Edge, an original Rabbid character, whose design I thought was great. Them using an original character lets the game feel like it's more than just the premise of "Mario + Rabbids."
I really enjoy the goofiness of the Rabbids in this game, and giving them more dialogue gave them a lot more depth. Whether it's Rabbid Peach's Zoomer dialogue, Rabbid Mario's bravado, or Rabbid Luigi's zaniness, it's all a good time.
It's also nice to see that the enemies are not just Rabbid variants, and they include plenty of Mario enemies as well. This really spices up the experience, especially since a lot of enemies have to be defeated through different means than others. For example, some enemies cannot be defeated unless you dash into them, while others, like the Bob-ombs, can be used as a projectile once you've dashed into them. You even get Rabbid Rosalina, an NPC until after you beat the game, to play.
Graphics and performance
When talking about Nintendo Switch games, it's worth noting that you can only really talk about them as they compare to other games on the platform. The Switch not only has power limits compared to the PS4 and Xbox One, the release of the PS5 and the Xbox Series S|X only made that more pronounced. Nevertheless, even on a Switch, Sparks of Hope looks good, and you can tell that the designers put a lot of thought into making an attractive game. I did really appreciate that the aesthetic they used in a lot of areas really didn't feel like your standard Mario or Rabbids experience. It's not the most out-there visual design you'll find in a game, but I found it refreshing nonetheless.
Where the game does suffer the most, however, is load times. The game has annoying load times, and while they're not the longest, there are so many, and they add up quickly. The performance isn't perfect either, but for the most part, it runs well enough.
Audio
Whether you loved Mario + Rabbids: Kingdom Battle or hated it, I think that few would argue that the soundtrack wasn't amazing. After all, just like the first game, it's made by the legendary composer, Grant Kirkhope, famous for his work on Banjo-Kazooie, Donkey Kong 64, and more. Of course, he's not a one-man band, and is accompanied by Gareth Coker, known for Ori and the Blind Forest, and Yoko Shimomura, known for multiple Mario RPGs, Kingdom Hearts, and Xenoblade. The music is an absolute delight, and having three wonderful composers in charge did a world of good for it.
Unlike the first game, this game steps it up with the voice acting. Your robot companion is fully voiced, and many characters have partial dialogue, including your party members. It is somewhat jarring to hear these characters, normally expressed via noises and expressions, express themselves via their words, but it's interesting if nothing else. It also helps give the Rabbids more characterization than normal.
Upcoming content
Even before Sparks of Hope came out, we learned that it would be getting a DLC campaign, just like the first game did with its Donkey Kong Adventure campaign. Instead of Donkey Kong, however, it's a Rayman adventure. This is a big deal, as Rayman hasn't had a major appearance in a new game since all the way back in 2014 with Rayman Legends. We don't know much about it, aside from that Rabbid Peach and Rabbid Mario will also be in it.
The DLC campaign can be obtained through the game's season pass, which includes three DLC packs. The first, which is exclusive to the season pass, is called "The Tower of Doooom," and is a new combat mode for the game. The second is a story that takes place on a new planet against a new foe. Finally, the third is the aforementioned Rayman campaign. The Season Pass is $29.99, and the packs are slated for early 2023, mid 2023, and late 2023 respectively. I wish that there wasn't season pass-exclusive content, but on the bright side, having two new pieces of story content is a step up over the previous game's DLC.
Overall
Mario + Rabbids: Sparks of Hope is a pleasant surprise, taking a game I considered pretty good and making it into a truly great game. Everything the first game seemed to do to play it safe seems like they either changed or expanded upon it. It looks great, sounds great, and plays great, and I'm all too excited to see what's in store with the DLC.
Just, please, stop trying to make me create a Ubisoft Connect account! I'm not going to make one!
| | |
| --- | --- |
| Pros | Cons |
| The changes from the first are mostly great | The action is a little less smooth than the first game |
| Combat versatility allows for tons of improvisation | Voice acting feels weird in this game |
| The worlds are varied and interesting | The game is a little easier than the first later on |
| Lots of great side content | Sick of seeing Ubisoft Connect! |
| The soundtrack is excellent |   |
| No longer have to play as Mario! |   |