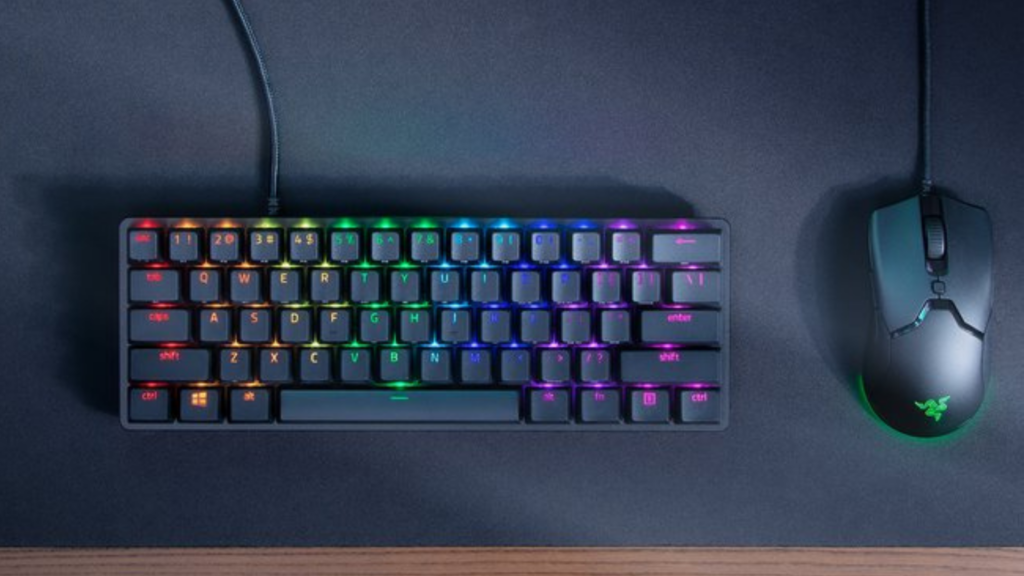 A Razer Huntsman Mini is among the best gaming keyboards from Razer. For more than a decade, Razer has been invested in creating better and better computer equipment founded on improving the gaming experience. But sometimes, this equipment acts up like any other technology, and you need to reset them. Here is how to reset the Razer Huntsman Mini. 
Resetting the Razer Huntsman Mini:
Unplug the keyboard.
Press and hold the "Escape" button (Esc), "Caps Lock" button (Caps), and Space Bar.
Plug in the keyboard to a USB port.
Release all keys
But being able to reset the Razer Huntsman Mini is not all there when the keyboard acts up. Read on to learn other things that might bug the keyboard and how you can solve them.
How to Enable Game Mode After a Reset
Game mode when it comes to a computer keyboard is when a keyboard is reset, and certain keys have been reprogrammed to execute specific actions depending on the game.
As a gamer, adapting your keyboard to your game and your playing style is foundational to how you play. In addition, game mode deactivates certain keys, such as the windows key, to ensure the gamer is not taken back to the home screen when they accidentally press the key. Furthermore, the game mode boosts the keyboard's performance while maximizing anti-ghosting, improving the gaming experience.
You can enable the gaming mode on the Razer Huntsman Mini in two ways. You can use Synapse, or you can enable gaming mode by using a key combination.
When using Synapse 3.0, what you need to do is:
Open Synapse 3.0
Go to "KEYBOARD"
And then "CUSTOMIZE."
Under "CUSTOMIZE," you will see "GAMING MODE."
Click "GAMING MODE" and change it to "Always On."
When using Synapse 2.0, what you need to do is:
Go to "KEYBOARD"
And then "CUSTOMIZE."
Under "CUSTOMIZE," you will see "GAMING MODE."
Then "Switch On" gaming mode.
On the other hand, if you want to use the key combinations, press FN+U.
However, sometimes, playing over a long time, a keyboard may lag, or the keyboard ceases to respond accordingly, leading to some delay while playing. This can be frustrating and stressful. At this point, it is better to reset the keyboard afresh.
This is the process of resetting the Razer Huntsman Mini.
Disconnect the Keyboard
Press and hold "Escape," "Caps Lock," and "Space Bar" at the same time.
Connect the keyboard to a USB port without letting go of the three keys pressed simultaneously.
Once the Razer Huntsman Mini is connected to the USB port, release all three keys simultaneously.
After resetting the keyboard, it should be able to function just fine once again.
Exiting Demo Mode After a Reset
Sometimes the keyboard is unresponsive after you reset your huntsman. If this is the case, it might be in demo mode. You should exit demo mode first to use the keyboard. The process of exiting demo mode is similar to that of resetting your keyboard.
However, beyond being able to exit demo mode, reset or activate the game mode, the Razer Huntsman Mini has more qualities that make it an exceptional gaming keyboard.
Other Common Problems of the Razer Huntsman Mini
Your Razer Huntsman Mini might experience some other problems that you can easily troubleshoot. These issues might range from programmable keys not working, your keyboard not receiving power, or not lighting up to keys not responding. 
These issues can be frustrating, but before you give up on your keyboard, try the following to address the issues.
Not Working Programmable Keys
When your macro keys are not working, this might be because your computer fails to recognize your keyboard. This problem can be because of two main issues. First, your computer does not have the required drivers installed, or the drivers installed are faulty.
Before setting off to find an epic solution to your programmable keys not working, ensure that the keyboard's USB port is fully inserted and held in place. If your keyboard is well plugged and there is a screen pop-up saying "cannot detect the device," you lack the required drivers. 
You can download software and firmware support on the Razer Support page if this is the issue. You can also get additional resources depending on how you want to set up your keyboard. Of course, you can also do this for a faulty driver.
Not Receiving Power
If your keyboard is not receiving the power, you might have it disconnected. Just double-checking your power connection can save you a lot of stress. If your power is well connected, then check your USB connection. It might be faulty or not connected. You can try to plug the cable somewhere else and establish whether it's working. 
Faulty Keyboard Lighting
Faulty keyboard lighting might be the keyboard not working or the lighting only working partially.  If your keyboard is partially lit, that might indicate that it is not the whole keyboard lighting system that has a problem but specific keys. Carefully remove the key to inspect beneath it. 
First, ensure that you have a light. If not, you need a replacement. If it's not the case, the light will likely be burnt, and you need to replace it.
The problem with lighting, however, might not result from faulty hardware but from settings. For example, it might be that the keyboard is in hibernation mode. You can check this by going to " Device Manager" and clicking the plus sign on the USB controller. Then, go on to each "Root Hub," click " Properties," and ensure they all say, " Allow the computer to turn off this device to save power." Also, under the "Control Panel" and "Power Options," you can "enable hibernate support."
Keys Not Responding
A key not responding can be because the key is getting stuck. To address this, dislodge the key carefully, clean up any debris holding the keys, and place the key back. If your keyboard fell, some keys might be damaged. 
If there is no debris and the keys are still not responding, you need a replacement.
Is the Razer Huntsman Mini Keyboard Effective for Gaming?
The Razer Huntsman Mini is the first keyboard from Razer that is 60 percent. A 60 percent keyboard is compact and functional. Specifically, this Razer keyboard is better because of its software support and high-quality build, in addition to the highly responsive switches.
The Huntsman Mini is the best keyboard for gamers who take pride in a clean desk. It takes minimal space on the desk, leaving more room for your mouse movements. However, it might need a bit of getting used to, especially when accessing the secondary layer of function keys and arrow keys. But these are not the only impressive qualities of the Razer Huntsman Mini.
In Closing
The Razer Huntsman Mini is an impressive keyboard. The build of the keyboard is stellar. It is built using cutting-edge Razer technology. It is also Razer's first 60 percent keyboard. It's also very easy to reset when you need to. Switching to game mode is also not complicated, and if the keyboard stops responding, you can easily deactivate the demo mode.