If you've been trying to figure out how to set your iPhone timer to vibrate only, then chances are you still haven't found a solution, and that is because the iPhone doesn't officially support this feature. However, there are a few workarounds you could do.
There are specifically two different methods in which you can set your timer to vibrate-only. We'll walk you through both processes step by step.
How to Make iPhone Timer Vibrate Only
As mentioned above, there are two methods to set your timer to vibrate only. The first method allows you to use your iPhone's official clock app. However, it will cost you $1.29, whereas the second method will involve installing a third-party app.
Let's take a look at the first method. If you would like to use Apple's official clock app to set your timer to vibrate, then here's what you'll need to do.
On your iPhone select your Clock app.and click on the timer tab below the start and cancel button functions. You'll notice a function called "When timer Ends" select it.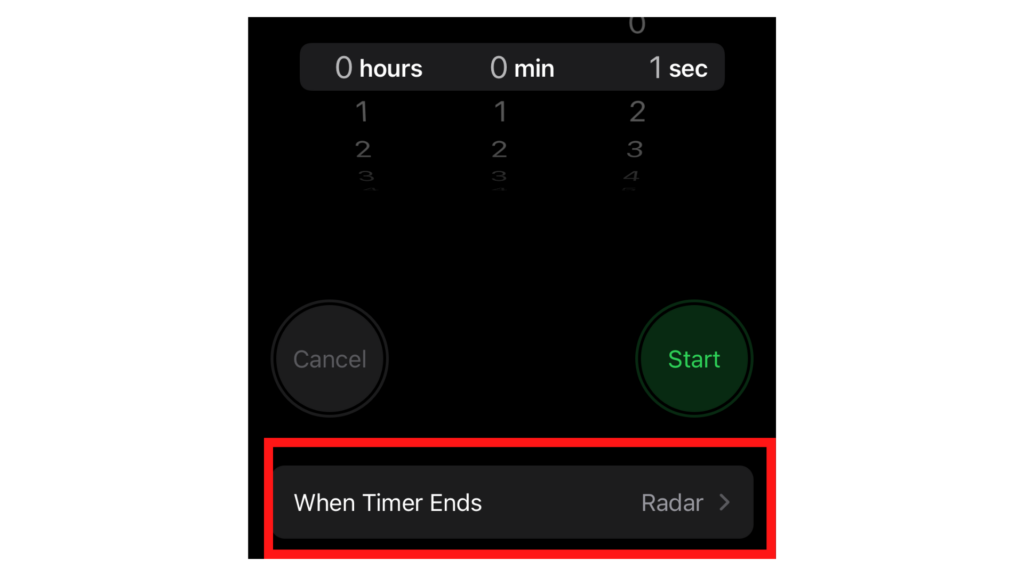 In here, you'll be able to change the sound of your timer to the options below. Unfortunately, there are no integrated vibrating sounds. However, if you look at the very top, you'll notice that you'll be able to purchase and use tones from the iTunes Store.
You'll need the tone "Silent", once you've purchased the tone navigate to Settings> Sounds & Haptics, and toggle on "Vibrate on Silent". And that's it! Your timer should now vibrate when it goes off; you can test it out by creating a one-second timer.
If you don't want to spend $1.29 on a tone, you do have another option. And that's to simply download any free timer apps on the iPhone that features vibration functionality when the timer ends.
How to Set Custom Vibrations on iPhone
If you want to customize your Timer's alarm vibrations, you can. All you would need to do is go to your iPhone's Settings app, and select Sounds & Haptics. Scroll down to "Sounds & Vibration Patterns". Now select "Reminders & Alerts", click on Vibration, and tap on "Create a New Vibration". Now you can create a vibration pattern you'd like by tapping on the screen. Once complete, select "Stop" and then select "Save" and name the vibration to whatever you'd like". And that's pretty much it! You should now have a custom vibration you can set for your timer.
How to Set your iPhone Alarm to Vibrate Only
If you would like to set your phone to vibrate at certain times of the day. One option is to set your alarm to vibrate only. The process is quite simple. Here's how:
Select the Clock app on your iPhone
Tap on Alarm, located at the bottom of the screen
Set your Alarm time
Now on the top left corner of the screen, select "Edit"
Select the Alarm time you've created
Select Sound
Scroll all the way to the bottom and select None
Scroll back all the way to the top and select Vibration
from here you'll be able to select different vibration patterns or you can create a custom vibration of your choice.
Can Vibrations Damage your Phone?
Your iPhone's own vibration feature can't and won't damage your phone. However, you may be surprised to find out that Apple issued a warning on June 27, 2022 discussing the negative effect vibrations from high powered motor vehicles have on your Phone's camera. Long term exposure to these circumstances can result in permanent damage to your device's camera.
Does Do Not Disturb silence alarms or Timers?
Your iPhone's do not disturb function does not affect your Alarm nor does it affect your timer. So both should still go off regardless of whether Do not Disturb is turned on or off.
Apps For Settings Recurring Alarms
If you're a person who likes setting multiple alarms a day to remind you of specific tasks that need to get done or remind you of places you need to be, then you may benefit from taking advantage of a few alarm apps from the App Store. First, let's take a look at Alarmed. This timer and alarm app allow you to quickly and easily create customized reminders, integrated with a set of robust repeat options, snooze, add custom notes, and select from over 140 different timer/alarm sounds. It also includes pop-up timers, pop-up reminder alerts, and iCloud syncing. It also allows you to import from your iPhone's reminder app. Allowing you to utilize Siri for quick and easy reminders.
If you're simply looking for an alarm app that goes off hourly, then Hourly Chime is probably a better option for you. The app simply reminds you of upcoming tasks and events you have on your schedule every hour. Overall a great simple app to help you keep your day organized and efficient.