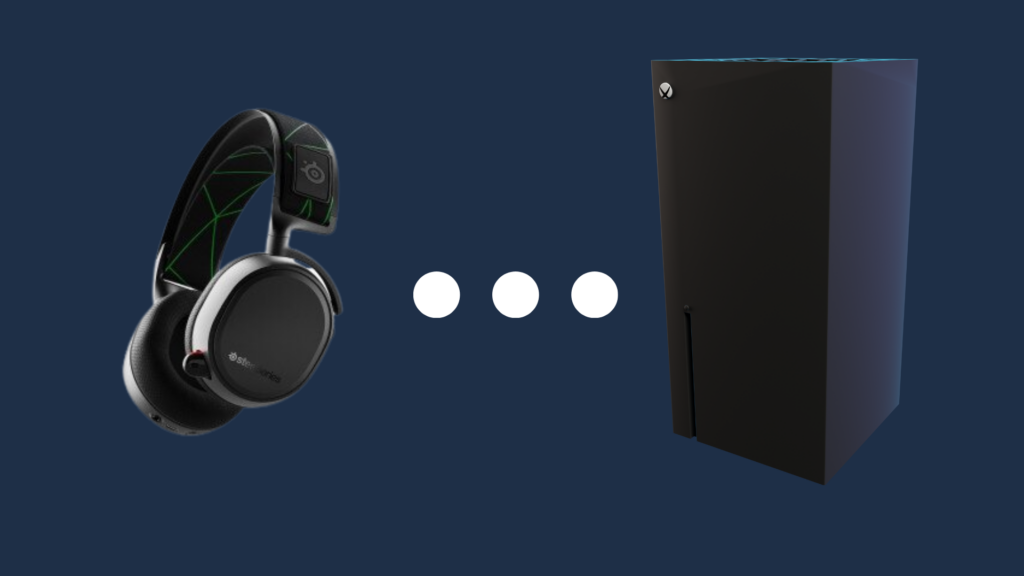 The Steelseries Arctis 9x wireless headset is designed for Xbox gaming. These headphones are equipped with a noise-canceling microphone and can provide up to 20 hours of use on a single charge. Of course, before you can start using your headphones, you'll have to connect them to the Xbox. 
You can pair the Xbox Series X and the Steelseries Arctis 9x by holding down the connect button on your console and the power buttons on your headphones. Since the Arctis 9x has Bluetooth functionality, it can also be connected to a Bluetooth device.
Since Arctis 9x headphones were designed to be Xbox compatible, connecting to your console should be a simple process. Read on to learn how to pair your console and headset.
Connecting the Steelseries Arctis 9x to the Xbox Series X: A Step-By-Step Guide
You can pair your Arctis 9x headset to the Xbox Series X in minutes. Follow these steps to get your devices connected. 
1. Turn on Your Series X
Power on your console and turn on the TV that it's connected to. Once you see the menu screen, you can move on to the next step. 
2. Press the Connect Button on Your Xbox Console
Press the connect button located in the lower right corner of your console. After you release the button, the Xbox logo on the console should start to blink. 
3. Hold Down the Power Button on Your Arctis 9x Headset
Make sure that your headset is turned off. Press the power button and hold it for six full seconds before releasing. If you've done this correctly, you should see a message on your screen that says "Headset Assigned."
Why Isn't My Arctis 9x Connecting to My Xbox Series X?
If you've followed the instructions above, but your Arctis 9x headset won't pair to your Xbox Series X, there are several quick fixes you can try. Go through these solutions to get your headset and console connected.
Confirm That Your Headphones Are Fully Charged
If the rechargeable battery on your Arctis 9x is low or fully drained, you may not be able to sync it with your Series X. Use the USB power cable to charge the headset.
Power Off Your Console
Restarting your Xbox may be able to resolve issues that are preventing your headset and console from pairing. Shut down your console and leave it powered off for at least 30 seconds. Once your console is powered back on, repeat the steps outlined above.
Make Sure Your Headset Isn't Connected to Another Xbox
If your Arctis 9x is connected to another console, it will have to be unpaired before it can be connected to your Xbox Series X. Make sure your Arctis 9x is turned off and then hold the power button until you see blinking white lights. Once the headset is unpaired, you can connect it to your current console. 
Try Holding Both Power Buttons at the Same Time
If you're running into syncing issues when you try to pair your console and headset, try holding the power buttons on both devices at the same time. After 10-15 seconds, the devices should connect. 
How to Set Up Bluetooth on the Arctis 9x
The Bluetooth features on the Arctis 9x make it possible to mix in audio from a different device while using your headphones. You can connect your headset to your phone, your PC, or another Bluetooth-compatible device by following these simple steps. 
1. Power On Your Headset
Make sure that your headset is fully charged or connected to a power source. Turn on your Arctis 9x before moving on to the next step. 
2. Press and hold the Bluetooth Button
The Arctis 9x Bluetooth button is located right above the power button. Press this button and hold it for at least 6 seconds. You can release the button once you see blue flashing lights. 
3. Select the Arctis 9x in Your Device's Bluetooth Settings
Navigate to the Bluetooth settings on your device. When you look at available devices, you should see the Arctis 9x. Select your headset to connect the two devices.
Can You Use the Arctis 9x as a Wired Headset?
It's possible to use the Arctis 9x as a wired headset by connecting it to your Xbox Series X with a 3.5mm cable. However, this will only allow you to hear audio and won't give you access to the headset's microphone features. 
If you'd prefer a wired connection, you can try connecting your headset to your console via Bluetooth. This will let you use the Xbox for microphone support. 
Can You Connect the Arctis 9x to Other Devices? 
You can connect the Arctis 9x to any compatible Bluetooth device, including PCs and even PlayStation 5s. With that said, since the Arctis 9x is designed for the Xbox, this won't give you access to all of its features.
In addition to its Xbox headset, Steelseries makes headphones that are compatible with PCs, PS5s, and the Nintendo Switch. If you want a headset that you can use with other consoles, one of these devices may be a better option than the 9x.
Why Won't My Arctis 9x Stay Connected?
If you're experiencing connection issues when using your Arctis 9x, try resetting your headset. You can do this by using the reset button under the ear cushion on the side opposite the mic. After you've reset your headset, you'll have to re-pair it to your Xbox Series X. 
You can also try resetting your Xbox. This option is located under "Console Info" in System Settings. Select "Reset and Keep My Games and Apps" to start the connection process. 
It's also possible that you're running into connectivity problems because of your router. Ideally, you should keep your router as close to your Xbox as possible. Changing the router channel to 5.0 can also give you a smoother connection. 
Lastly, try to move any devices that could be interfering with your connection. Cordless phones, wireless speakers, and smart thermostats can all operate in the same range as the Arctis 9x, which may lead to problems.