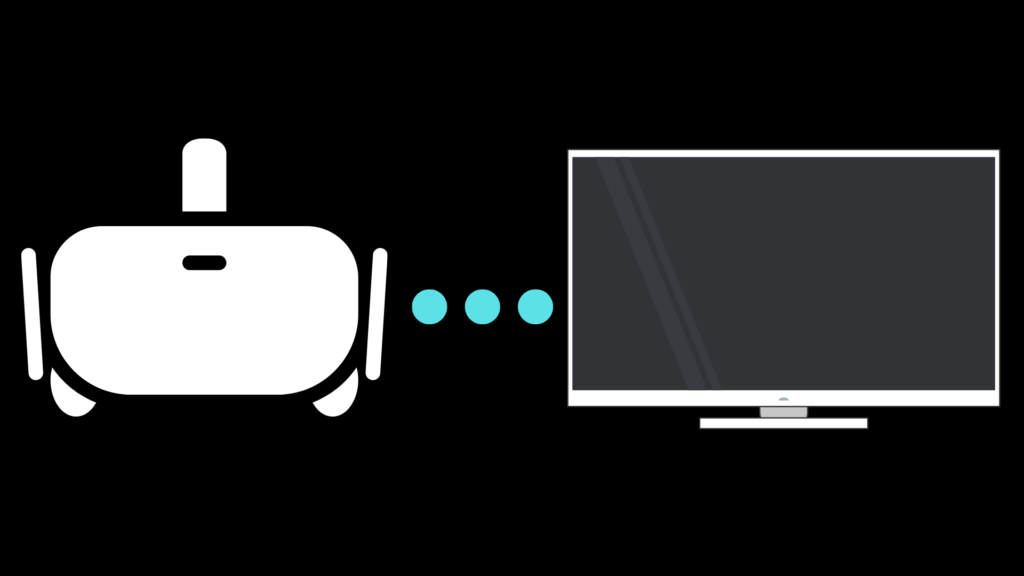 The Oculus Quest 2 is one of the best and most popular virtual reality machines on the market, and can connect to a multitude of devices to display what is going on in the headset to everyone else on the device's display. This includes televisions, such as TCL, Sony, and Vizio, with Vizio being the focus of our article today. We will tell you how to connect Oculus Quest 2 to Vizio TV.
How to Connect Oculus Quest 2 to Vizio TV
In order to get your Oculus Quest 2 connected to your Vizio TV, you have multiple options at your disposal. Make sure that your Vizio TV is connected to the same Wi-Fi connection as your Oculus Quest 2.
Connecting Oculus Quest 2 to Vizio TV via the Oculus app
Turn on both devices, and then start the app. Tap the Cast icon located at the top right of the screen, located immediately left of the notifications icon, being sure to grant permission for this device to the Wi-Fi network. Then you must select the headset in question in the Cast From section, and then selecting the Vizio TV in the Cast To section.
If either device is not appearing, make sure that those devices are on and have proper Wi-Fi functionality. Once you've verified this, tap "Tap to search for other devices" and then tap start. At this point, you should be good to go.
Connecting my Oculus Quest 2 to Vizio TV via the headset
If you do not have the Oculus app, or would simply prefer to do it via the headset, there is an option for that. Put the headset on, and with the controller, navigate to the "Cast to" setting, located under Utilities on the right portion of the screen. A pop-up window will open, and if the Vizio TV is discoverable, it should be noted on the list of available options.
Once you have selected the Vizio TV option, click "Next," and you should now be casting your Oculus Quest 2 footage to your Vizio TV. If you are having trouble discovering it, ensure that both devices are connected to Wi-Fi and are powered on.
Why should I cast to Vizio TV?
If you're using the Oculus Quest 2 on your own, there is no real reason why you should want to connect to a Vizio TV. However, one of the big issues with virtual reality is how isolating it can be, such that if you are playing it with people around, they cannot get invested in what you are experiencing, and you are cut off from them to a large extent. By connecting to your Vizio TV and casting what you're doing to it, you can make sure that it's more of a party than otherwise.
Why isn't my Oculus Quest 2 connecting to Vizio TV?
If you are experiencing difficulties making your Oculus Quest 2 connect to your Vizio TV, your Vizio TV may not be compatible. Check your TV's model so that you can verify if the television is equipped to be capable of connecting to and casting a device like the Oculus Quest 2. If the Vizio TV should normally be capable of working with your Oculus Quest 2, then the next thing you should do is check that the proper settings are enabled on your router, particularly IP Multicast and Peer-to-Peer (P2P) Networking (which can be enabled by logging into your router's IP address and following certain steps).
Another router-related issue that may be preventing your Oculus Quest 2 from connecting to your Vizio TV is an issue with signal. Make sure that they're connected to the same signal (2.4GHz or 5GHz).
Why isn't my Oculus Quest 2 app casting to Vizio TV?
If a specific app is not casting to your Vizio TV despite the Oculus Quest 2 being connected to it, this likely indicates that the app in question is not compatible with casting functionality. Be sure to look up the specific app on the Internet to see if the app is explicitly determined to not be castable.
Is Connecting an Oculus Quest 2 to Vizio TV the same process as other Oculus devices?
If you have multiple Oculus devices, you may have concerns about connecting all of them to your Vizio TV. Thankfully, the Oculus Quest, Oculus Quest 2, and Oculus Go all use the same process to complete the process.
What other ways can I cast my Oculus Quest 2 footage?
Multiple television brands, Vizio included, are able to cast Oculus Quest 2 footage, but if you want to go further than that, there are devices that can help you. One of these devices is the mobile mixed reality camera, which not only casts your Oculus Quest 2 footage to your Vizio TV, it will also be able to cast yourself in that footage. This is a great feature for a game like Beat Saber, and is used by streamers and YouTubers to put more personality in their gameplay, such as in this great clip, where a player has turned their two controllers into one.
It should be noted that the mobile mixed reality camera is only compatible with the Oculus Quest and Oculus Quest 2. Thus, if you have an Oculus Go, do not get this device to use in your casting.