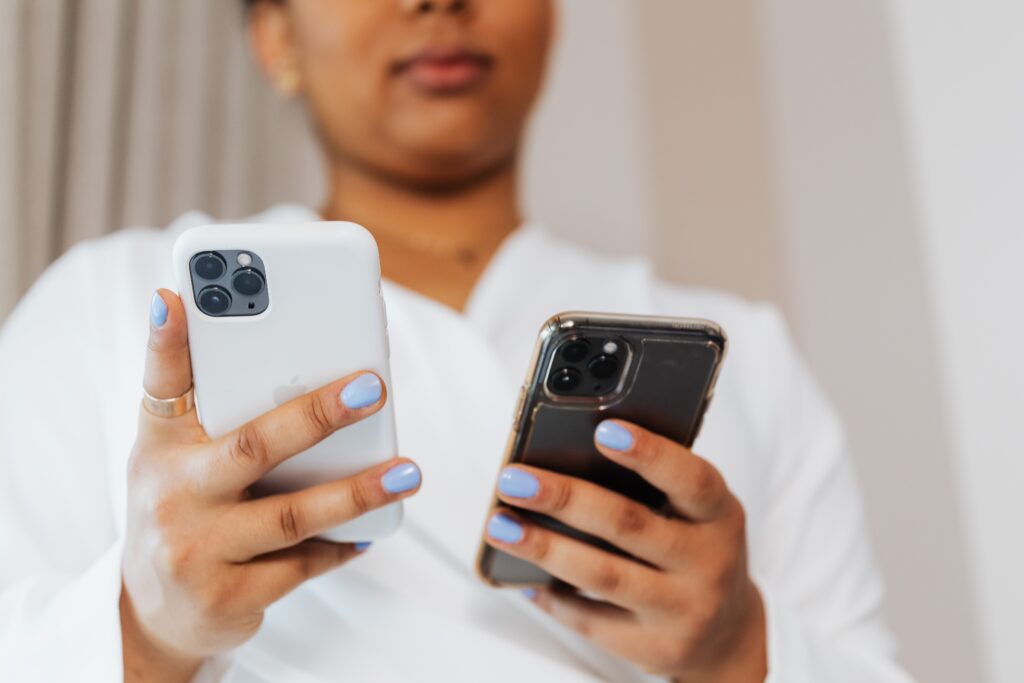 Your Apple ID is the key to all of your Apple devices, including your iPhone, iPad, and Mac. Using the same ID when switching to a new phone conveniently lets you share data and content, so you may want to use the same ID on multiple devices. However, you might have concerns about privacy issues or find that your child's device is backing up data to your iCloud account, taking up space you'd rather reserve for your own use. Fortunately, you can take steps to set up your iPhones to your exact preferences.
When you use the same Apple ID on two phones, you'll share downloads, purchases, playlists, messages, photos, and contacts. Even if you have two different phone numbers, call logs will be shared between the phones. Using a separate Apple ID ensures your private data stays on only one iPhone.
Although you can create a new Apple ID for your second iPhone, there are other options that can help you manage your data and content across multiple iPhones. This makes managing multiple phones or Apple devices used by your family members easier than ever.
Using the Same Apple ID on Two iPhones
Although it's usually better to create a separate Apple ID for different users, you may only want one if both iPhones are yours. Logging into a new phone with your current Apple ID will create an environment similar to the one you're accustomed to. You could use this method if you wanted an identical backup of your iPhone.
However, you don't have to share everything across both iPhones. One option is to turn off app sharing from the Apple store tab of iTunes to prevent apps downloaded on one phone from automatically downloading to the other. Similarly, you can turn off contact syncing from your iCloud account.
Apple also allows you to set up iCloud with a different account, even though you're signed in with your Apple ID. This means you still purchase content with your Apple ID, but personal data is saved to a separate iCloud account. This feature could be useful if you have two iPhones, one for work and one for personal or leisure use.
However, your options are limited when using the same Apple ID. If someone resets the password on another device, you'll be locked out of your account. Plus, you can only make FaceTime calls or use Messages from one device at a time and cannot contact someone on the other iPhone using these apps. If someone else is using the second iPhone, it's best to use separate Apple IDs, instead.
Using Separate Apple IDs On Each iPhone
You can easily create a new Apple ID when setting up a new iPhone for the first time. iTunes and the Apple website also let you create a new ID that you use to sign in to your new iPhone. You can either use your existing email address or create a new iCloud email address to associate with your Apple account. If you create an ID through the iTunes store, you will need to verify your email address.
If your child has previously logged into their iPhone with your Apple ID, they'll need to log out from the Settings app. Make sure to back up any data to the iCloud just in case. Note that messages sent to the Apple ID will be lost when signing in to an iPhone with a new ID. Then, the other person can log in with their new Apple ID.
You can remove the other account from your iCloud options if you wish. Although it takes a few steps, you can consolidate data from two different iCloud accounts in the future.
Manage Multiple Devices with Family Sharing
You can use Family Sharing to share content with your family members, each of whom can still use their own Apple ID to keep data private. With Family Sharing, up to six users can access iTunes storage, data stored in the cloud, and services such as Apple Music, Apple TV+. and Apple Card or Cash without sharing personal files or messages. Only family subscriptions and items currently in the iTunes store are shareable.
Note that you can share specific photos, videos, or albums, invite others to collaborate on shared documents, create shared calendar events, and use Reminders to share to-do lists without sharing all of the data or content in those categories. Plus, you can let family members control smart devices in your home through HomeKit All of this relies on iCloud share access.
You'll set up Family Sharing from one of the parent's accounts. Open Settings on your iPhone, tap your profile, and choose Family Sharing. When you choose to add a family member, you can invite someone with their existing Apple ID or add an account for your child. They'll receive an email or text message inviting them to join your family. You can return to that screen and select a profile to see if your family member has accepted the invitation or to resent the invite.
Family Sharing lets you specify a parent or guardian, which allows them to manage the family account, and the ages of children in your family. Apple offers multiple parental controls, including limiting screen time and requiring adult permission to make purchases from their iPhones. Adults and teenagers can disable sharing purchases they make directly. Alternatively, you can block sharing for specific files by finding them in your iTunes Library and selecting "More" on your iPhone (or hovering over the item on your Mac) and choosing the option to hide your purchase from Family Sharing.
The function also lets you track the location of family members with the Find My app. However, you can turn off this feature entirely or for specific people in Family Sharing settings.