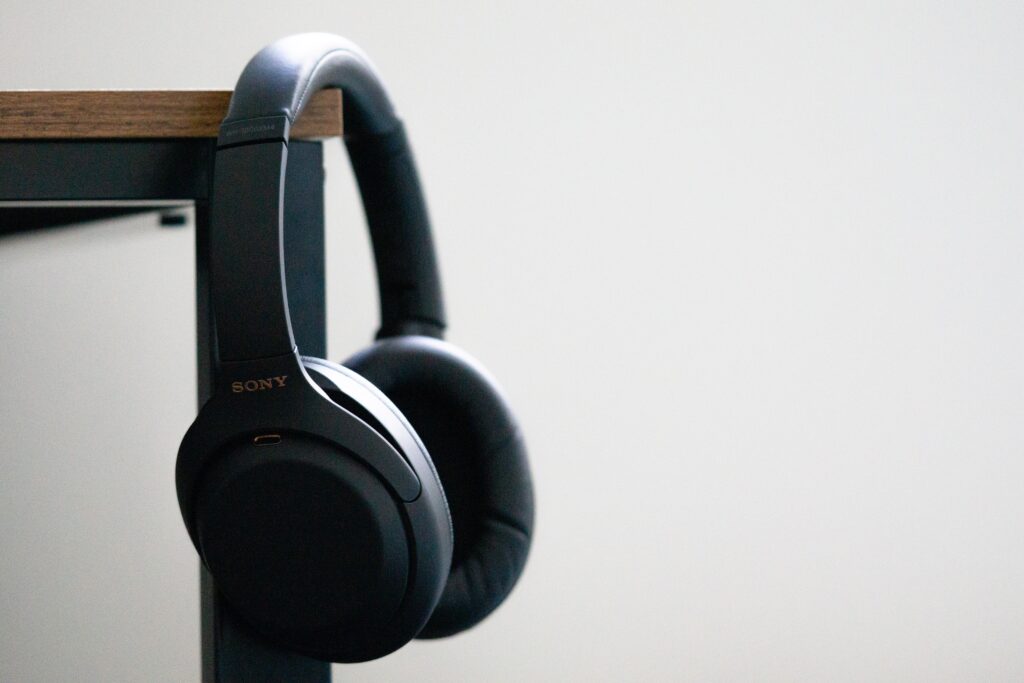 It's no secret that gaming consoles like the PS5 don't natively support most headphones.
Sony has stated that some of their headphones are able to natively pair with the PS5. Unfortunately, the Sony WH-1000xm models are not one of them.
If you're interested, these are the headphones that can natively pair to your PS5.
Compatible Wireless headsets:
Pulse 3D Wireless Headset (model CFI-ZWH1 / CFI-ZWD1)
 NEW Gold Wireless Headset (model CUHYA-0080) 
 Gold Wireless Headset (model CECHYA-0083) 
 Platinum Wireless Stereo Headset (model CECHYA-0090)
Now back to the Sony WH1000 model, just because they're not natively supported by the PS5 doesn't mean they can't be used. There are a few things you're going to need depending on how you would like to connect them. Let's dive in!
How To Connect Sony WH-1000xm4/wh-1000xm3 Headphones to PS5:
Method #1 Bluetooth Adapter
The first thing you'll need is a Bluetooth adapter/ transmitter; all this does is allow wireless communication between your PS5 and headphones.
Simply plug-in your adapter to your PS5's USB port. Then
Press & hold the power button for 7 seconds to enter pairing mode
Check that the blue indicator repeatedly flashes 2 times in a row. You will hear a voice guidance "Bluetooth pairing".
The Bluetooth Adapter and your headphones will automatically pair when both devices are on pairing mode.
Now, you'll want to ensure your adapter is set to the audio output. Here's how to do this:
on your Playstaion select Settings
Click on Sound
on Audio Output ensure Output Device is set to USB headphones
If your Bluetooth adapter comes with a wireless microphone dongle, then you'll need to ensure that your wireless dongle is selected as your microphone input. Here's how:
On your Playstation Settings
Select Sound
On Microphone tab click on Input Devices
Then select Controller Headset
Method #2 Wired Option
Alternatively, you can connect your Sony Wh-1000xm4/3 headphones to your PS5 through a wired connection. All you would need to do is simply plug-in your headphone cable into the 3.5mm audio jack located at the bottom of your dual sense controller.
You can easily adjust the sound settings by pressing the PlayStation Logo in the middle of your controller and selecting Sound from there. You'll be able to adjust the volume as well as select your Sony Wh1000xm4/3 headphones as your outputted device.
Are Sony wh-1000xm4/3 Good For Gaming?
The Sony WH-100xm4/3 can be quite effective for gaming, especially with a wired connection. A wired connection will always offer better latency than a wireless connection, which is ideal for games where listening to enemy footsteps can make a difference between winning and losing.
The main components to look for are Microphone Quality, Noise Isolation, Sound Quality, Comfort.
Microphone Quality
If you're a gamer that likes to communicate with your team, then microphone quality may be at the top of your list.
The main element that differentiates gaming headsets from ordinary headphones are microphone quality; the microphones on ordinary headphones are mainly designed to answer calls or communicate with your Voice assistant.
Normal headphones like the Sony WH-1000 models feature omnidirectional microphones, which picks up sound from all directions. This is great for when picking up calls or communicating with your voice assistant.
However, it's not the most optimal choice when it comes to gaming; most gaming headsets are equipped with cardioid or hyper-cardioid microphones; these microphones pick up sound coming from in front of the microphone, which is able to pick up your voice a lot clearer, offering greater sound quality.
However, both the Sony WH-1000xm4 and Sony WH1000xm3 are equipped with Active Noise Cancelation features (ANC), which utilize multiple microphones that detect & block external noise for enhanced sound quality; this also factors into the microphone quality because external noise is going to be blocked you will have a better sounding microphone.
So overall, a high-end gaming headset will always have a more optimal microphone than high-end daily use headphones. If you prefer using normal headphones but would like to have a great sounding microphone, then opt for headphones with ANC, or you can use an external microphone if you would really want to bump up the quality.
ANC
When it comes to sound quality, one of the first features to look for to determine how effective your headphones are going to be for gaming is Active Noise Cancellation. No matter how good a headphones' sound quality is, if it can't block out external sound, you definitely won't get the best gaming experience. Thankfully both WH-1000xm headphones are equipped with ANC features; this offers a greater listening experience as well as allows for greater microphone quality.
Sound Quality
It's no secret that Sony's WH-1000xm models offer great sound quality; they're rated one of the best headphones for a reason.
Equipped with Powerful 40mm drivers, with Liquid Crystal Polymer (LCP) diaphragms, coupled of with an analogue amplifier offers a great listening experience with low distortion.
Comfort
If you're a true gamer, your probably going to be wearing the headphones for an extended period of time. If that's the case, then comfort is another extremely important element that needs to be taken into consideration.
The Sony headphones are quite comfortable. However, top gaming headsets in the market prioritize comfort much more than most traditional headphones; if you've ever owned a pair of premium gaming headsets, then you probably noticed how much bigger they tend to be compared to traditional headphones, this is because where traditional headphones are designed for portability, gaming headsets focus more on offering a comfortable and immersive experience.
PS5 Hacks That You Probably Don't Know About