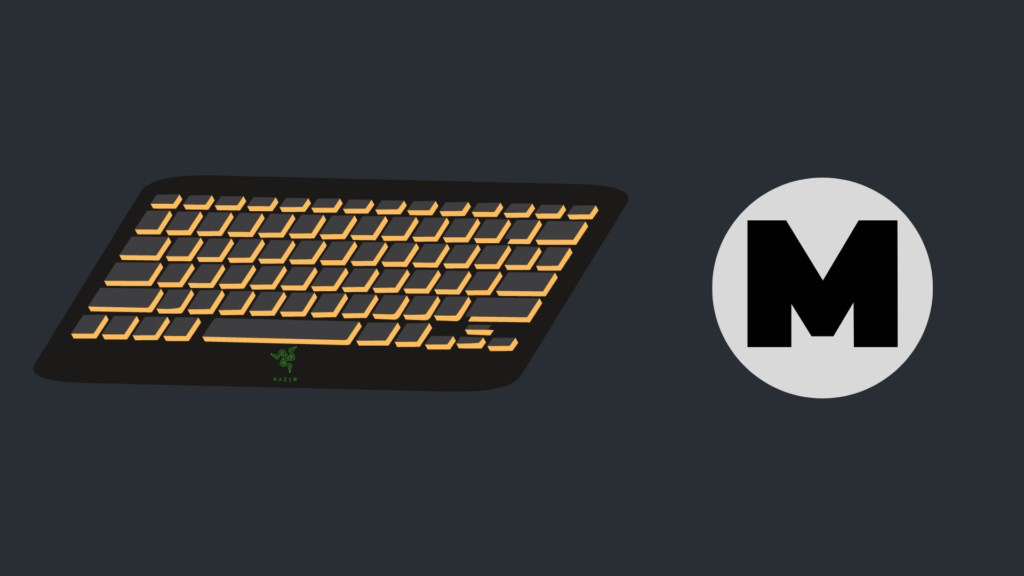 For PC gamers, being able to customize a computer and gameplay controls can make or break a gaming experience, especially when considering reaction time or an inventory's accessibility.
Razer keyboards, designed to be customizable for gamers, can throw new users for a loop since they have more functions than traditional keyboards – what, exactly, is that "m" key, after all? Read on for a closer look at a Razer keyboard's functions.
What is the "m" key on a Razer keyboard?
Located on the top right corner of the keyboard, the "m" key enables users to add macros instantaneously, bypassing setup procedures.
In gaming, macros are command chains that are programmed by a combination of keys. A macro key will allow a player to execute that command chain with the press of a single button rather than several keys in a series. Macros can be a huge advantage in gaming, increasing a player's agility and reaction time.
How do I use the "m" key on my Razer keyboard?
The "m" key is designed for on-the-fly (OTF) macro recording. OTF recording allows you to record macros during gameplay without having to use driver menus or other software. To create an OTF macro:
Make sure the Razor Synapse program is installed and running in the background.
Press the macro record key combination to start recording. This will be the "m" key or a combination of fn + F9. The macro recording indicator light will flash on.
Type in the keys you want to record.
Press the macro record keys again to stop recording. The macro recording indicator will start to blink.
Press the key where you want to bind your new macro.
The macro will automatically save in Razer Synapse, where it can be modified, reassigned, or deleted.
OTF macro recording will not work without Razer Synapse.
How do I create a macro on a Razer keyboard?
Razer keyboards are designed to record and assign macros to their built-in programmable keys. If you don't wish to use OTF macro recording, macros can be created in the Synapse 3 program. To create a macro:
Download the Razer Synapse 3 program, a cloud-based hardware configuration program.
Open Razer Synapse 3.
Select "Macro."
Click the "Plus" icon.
Select a macro to add input sequences.
Record keystrokes or mouse functions OR manually insert key sequences. 

To record: 

Click "Record."
Set the delay function and the method of recording mouse movement. If you select "Record Delay," you will be given a three-second countdown before the recording begins.
Click "Start" when you are ready to record.
Click "Stope" when you have finished recording.

To insert: 

Click "Insert."
Select an action: Keystroke, Mouse Button, Text, or Run Command.
Set macro properties on the right side of the screen.
Input an applicable function.

Your macro will save automatically and can then be assigned to your keyboard.
How do I assign a macro to my keyboard?
After programming a macro in Synapse 3, it can then be assigned to a particular key on the Razer keyboard. To assign a macro:
Go to the Razer Synapse app "Dashboard."
Select your keyboard from the list of devices.
Click "Customize" and select the key to which you'd like to assign a macro.
Select "Macro."
Click on "Assign Macro" from the drop-down list.
Select the macro you want to assign and the preferred playback option.
Click "Save" to finish. The name of the key will change to the name of the assigned macro.
How do I remap keys on my keyboard?
Razer keyboards can be easily remapped if you wish to change which keys activate your macros or other in-game actions. To remap your keys:
Open Razer Synapse 3.
Select "Devices" and choose which device you wish to customize.
Select the key or button you want to modify.
Select your function: keyboard, mouse, macro, inter-device, or others.
Add modifiers to bind shortcut keys or control the number of times an action will be performed when a key or button is pressed.
Click "Save."
How do I enable Gaming Mode on my Razer?
Once you have created macros and assigned them to your chosen keys, you'll want to switch your keyboard to Gaming Mode. Gaming Mode, once activated, will optimize the keyboard's performance for gaming and maximize the effect of anti-ghosting. It also deactivates specific keys (like the Windows Key) that would disrupt gameplay if pressed unintentionally. To enable Gaming Mode:
On your keyboard: 

For full-sized and ten key-less keyboards, press fn +F10.
For mini or 60% and 65% smaller keyboards, press fn + U.

In Razer Synapse 3: 

Open Synapse 3. Go to "Keyboard," then "Customize."
Select "Gaming Mode," and choose "Always On" from the dropdown menu.
How do I fix my Razer keyboard if my macro keys don't work?
If your macro keys are not working, a little troubleshooting should fix the problem, and you'll be gaming again in no time. To fix your keyboard if your macro keys aren't functioning:
Update your Razer keyboard's drivers.
Update your Synapse software.
Update Windows. 

If you've just updated Windows, make sure the "Optional Updates" are installed.
To access the "Optional Updates" go to "Settings," then "Windows Update," and finally "Advanced Options."

Make sure the Razer keyboard is directly plugged into the computer rather than a USB hub. 

If the keyboard is already directly plugged into the computer, try a different USB port.

Double check that you have a macro assigned to the key you're trying to use. The "m" key is not automatically associated with any command by default.
Disable Razer Synapse in the System Tray.
Restart your computer and test the keyboard again.
The Razer keyboard is a great way to streamline gameplay. Creating and assigning macros to your keyboard will maximize reaction time. However, if you're a competitive gamer, it's best to steer clear of macros, since using them can be considered cheating and may get you banned from servers.