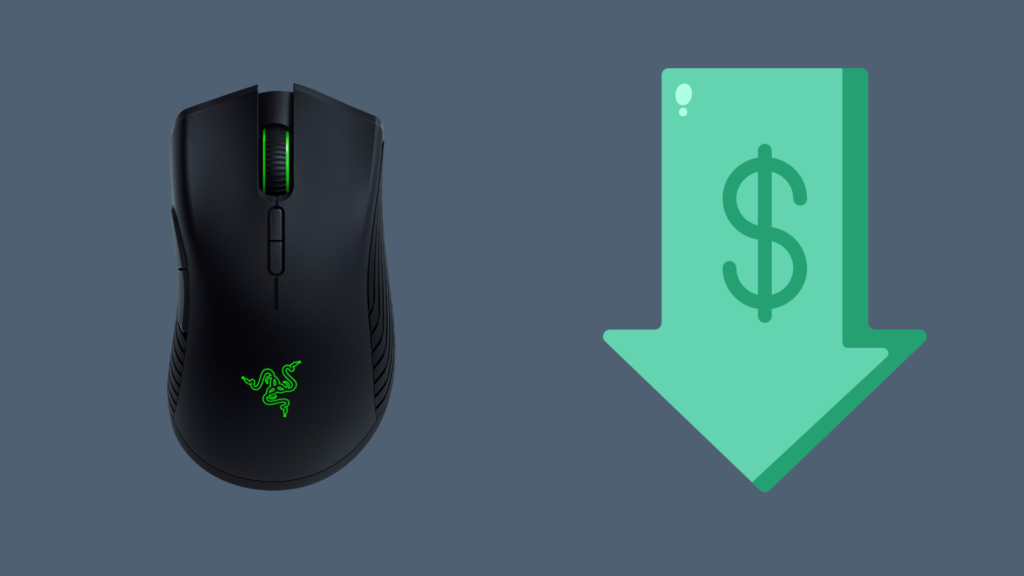 Razer has been one of the foremost gaming hardware, electronics, and computer producers for many years now, being a household name for many PC gamers. They sell a myriad of products ranging from gaming laptops to headphones to computer mouses. Razer is best known for its high-quality and expensive gaming mice; however, they also sell many more affordable options at lower prices.
What is the most affordable Razer mouse?
Gamers on a budget should consider purchasing the Razer DeathAdder Essential mouse. This 6.89-foot wired mechanical mouse comes in two colors: black and white. It has an optical sensor with a 6400 max DPI (dots per inch), 220 max IPS (inches per second), and five programmable buttons.
What should you look for in an affordable mouse?
Razer is known to create computer equipment for gamers, so if you are looking on the lower end of the price scale, consider a wired mouse. Both wired mouses and wireless mouses have their own pros and cons, and obviously, you can use a gaming mouse and not be a gamer, but wired mouses are typically cheaper and more reliable. Having your movements register more effectively, so having a high DPI and IPS, is a benefit for all gamers; however, video editors and computer modelers may prefer to have programmable buttons to set as shortcuts.
More Expansive Look at the Features of the Razer DeathAdder Essential
The most recent model of the Razer DeathAdder Essential was released in June 2021. It is currently ranked as one of the most purchased gaming mouses online in a variety of marketplaces, such as Amazon. Do not confuse the Razer DeathAdder Essential with the DeathAdder Essential V2, which has a higher price point but extra functionality. Both mouses look the same cosmetically, asides from additional lights and buttons on the V2, but the two mouses are different.
The DeathAdder Essential is a mouse for righthanded people, which means it is shaped to be used in someone's right hand. A lefthanded version of this mouse was released, but it no longer sells online or in retail. At this point in time, finding the lefthanded-variant of the DeathAdder Essential is too expensive. Furthermore, lefthanded variants are older models and are, therefore, not as powerful. If you are looking for a lefthanded mouse from Razer, check further in this article for more information.
Here is a rundown on all the notable features and specs:
Cosmetic Features: The Razer DeathAdder Essential fits best with smaller hands because it is not very wide. The scroll wheel has a green LED bordering it; this LED light is not programmable and cannot be changed digitally. 
Programmable Buttons: There are five mechanical programmable buttons on this mouse. Two specialty buttons on the lefthand side, the scroll wheel, the left button, and the right button. Mapping and configuration are done within whatever program you are using. 
Size and Weight: This mouse is 5 inches long, 1.68 inches tall, and has a grip width of 2.43 inches. It is wired with a 6.89-foot standard cable and weighs 0.211 pounds.
Expected Lifecycle: According to Razer, the most recent version of the DeathAdder Essential will last for up to 10 million clicks.
Optical Sensor: Like all other Razer mouses, the Razer DeathAdder Essential has an optical sensor. Unlike the DeathAdder Essential V2, this model does not have a focus plus optical sensor, which means that it cannot detect different surfaces with the light detector at the bottom of the mouse. 
DPI: The DeathAdder Essential has a max sensitivity of 6,400 DPI. DPI stands for dots per inch, which corresponds to your computer's resolution. If you are playing on a larger monitor with a higher resolution, you will likely want a high DPI.
IPS: The DeathAdder Essential has a max speed of 220 IPS. IPS, or inches per second, means the max inches a mouse can track per second.
Max Acceleration: The DeathAdder Essential has a max acceleration of 30 G, which is as good as you will get for a budget mouse. Max acceleration correlates to how fast you can move a mouse, tracking all movement changes.
What is the least expensive wireless mouse from Razer?
Currently, the Razer DeathAdder Essential V2 X Hyperspeed and the Razer Basilisk X Hyperspeed are the least expensive wireless mouses from Razer. Do not get the DeathAdder Essential V2 X Hyperspeed confused with the DeathAdder Essential V2. For these mouse lines, X Hyperspeed means wireless. The X Hyperspeed variants of the DeathAdder and Basilisk are less powerful than their wired counterparts; however, it comes with the added benefit of wireless gameplay.
What is the least expensive lefthanded mouse from Razer?
Currently, the only lefthanded model of Razer mice available is the wired Razer Naga, which has a plethora of features like 20 programmable buttons and Razer Focus Plus. However, this mouse comes at the non-competitive price point of $99.99. 
However, if you are lefthanded and are looking for a mouse specifically from Razer, you may want to try an ambidextrous mouse like the Razer Viper Mini. The Viper line of mice is known to be the most lightweight offered by Razer. 
Unlike other Viper models, the Viper Mini has a lower price point of $39.99 and is wired with a Speedflex cable. Mainline Viper models, which are used by many notable professional gamers, start at $99.99 and are always wireless.
The Viper Mini has an 8,500 DPI, 300 IPS, and 35 G max acceleration. This mouse is outfitted with six programmable buttons and is supposed to last up to 50 million clicks, according to Razer. It is also slightly smaller and weighs less than the DeathAdder Essential.
More Tips for Buying Your Next Razer Mouse
Keep in mind that Razer mouses that go on sale online may be older models with less powerful specs. Purchase products directly from Razer or other reputable sources for more assurance on the product you are getting. Many people also sell Razer mice secondhand, so don't hesitate to email a seller for more information about the quality and make of the mouse.