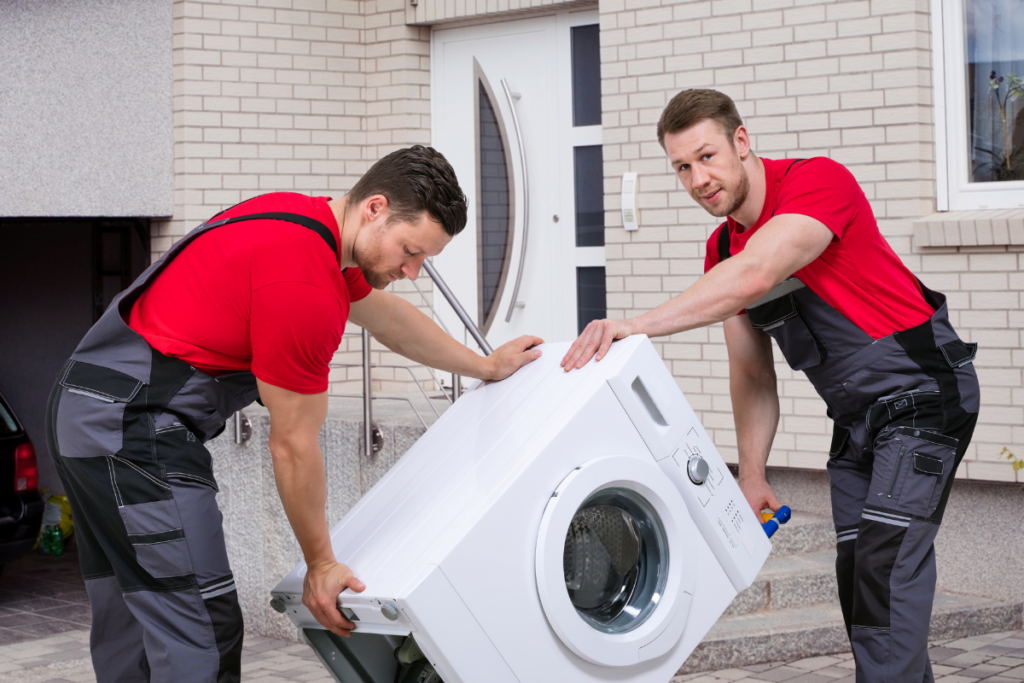 You see how hard your delivery person works to get your new appliance out of a truck and into your house. It's no easy task, so the question is: should you tip when appliances are delivered? 
In most cases, a tip is not expected. However, appliance delivery requires a lot of heavy lifting, so tipping is often very appreciated. There are other factors to consider when deciding whether to tip, such as how difficult the delivery was, and whether other services are included.  
How Much Should You Tip? 
The amount to tip an appliance delivery person is up to you, but generally $10-$15 is a good range. Some people will tip as little as $5 or as much as $20. The amount really depends on the details of the delivery. Here are some things to consider when determining whether and how much to tip. 
Number of Appliances Delivered 
If you are having multiple appliances delivered at once, a heftier tip is warranted. You don't need to base your tip on a percentage of any other amount, like the cost of the appliance. 
The Nature of the Delivery 
A more generous tip is also appreciated when your delivery person must deal with stairs, a particularly large appliance, or an awkward doorway. Of course, it will matter if the person is taking care to minimize dirt or scratches in your home as they get the appliance in place.   
Some things to consider: 
Did your delivery person have to walk up any stairs? How many? 
Were there problems with any of the doorways or other spaces? 
How large was the appliance? 
How far did your delivery person have to move the appliance? 
Removal of Old Appliances 
Another factor to consider is whether your delivery includes removal of old appliances. Since this can involve the same amount of maneuvering and heavy lifting as the delivery itself, you will want to consider adding more to the tip. 
Punctual or Late Delivery 
One more thing to consider is the time of delivery. If your delivery is much later than you expected and has caused you inconvenience, then you may not want to tip as much. 
Attitude and Effort 
Delivery drivers spend much of their days doing back-breaking work and problem-solving in difficult situations. If they maintain a positive attitude and take special care to prevent damaging your home or appliance, it might be worth a bigger tip. 
Does a Delivery Fee Cover the Tip? 
Some people feel there is no need to tip if a delivery fee is included. This is technically true, as the cost of delivery is covered by the fee. Some people still like to give a small tip, particularly if the service was great or if the delivery was difficult for the driver.  
Tipping for Appliance Installation 
Whether to tip for appliance installation can be a gray area for some people. Installation fees are often hefty, and one can assume installation is a specialty for which employees are being well-compensated. That being said, if the installation is complicated or your service person goes the extra mile, a tip is nice.  
What Will an Appliance Delivery Include? 
Every company is going to have different policies about what their deliveries include. Some offer additional services for extra fees.  
A lot of companies will include simple hook-ups with appliance delivery, but you should confirm this ahead of time. Complicated installation will most likely cost a little more. Removal of old appliances should also be included in most deliveries.  
Deliveries will often include a quick test run of your appliance, and an inspection to make sure there is no damage from delivery. Your delivery person should also give you a brief overview of the product and any special instructions regarding its use.  
What if Tipping is Against Company Policy? 
Certain companies have no-tipping policies. You can check their website beforehand to see if delivery drivers can accept tips. However, remember that some companies will use a third-party for delivery.  
If your delivery person cannot accept a monetary tip, consider something else to show your appreciation. Here are some suggestions for non-monetary tipping or showing gratitude.  
Offer a Refreshment 
A bottled water might be appreciated after moving a heavy appliance, or even a small snack. Even if your delivery person refuses the gift, he or she will appreciate the gesture.  
Make the Delivery Process Easy 
Your delivery person will also appreciate if you make the extra effort to ensure the delivery goes smoothly. Some ways you can prepare for an efficient delivery are: 
Make sure there is plenty of room for the driver to park and move any vehicles that might block easy access to the entrance of your home. 
Measure the space where the appliance is going to ensure it will fit. 
Measure doorways to make sure the appliance is small enough to go through them. This includes any interior doorways. 
Move rugs or any obstacles. 
Make sure any hook-ups and cords are available and ready. 
Make sure your pets are out of the way. 
Make sure stairways or walkways are free of snow and ice. 
If you are having old appliances removed, make sure they are empty and ready for removal. 
Give Positive Feedback 
Another way to say "thank you" is to make sure you note the delivery person's name, and follow-up with a phone call to his or her company. You can also leave a positive review on the company website, mentioned the employee by name.  
Other Tips for Tipping 
Make sure to have cash on hand. We live in a world where a lot of tips can be added on to a credit card purchase, but this will most likely not be an option in this case.  
While tipping is customary in the United States, it is not always the case if you are in another country.  
Make sure ahead of time that a tip wasn't already included in your bill and check the company's website for tipping policies.  
Don't stress if you forget to tip or don't have cash – most delivery people are not expecting a tip. A show of gratitude will be enough!