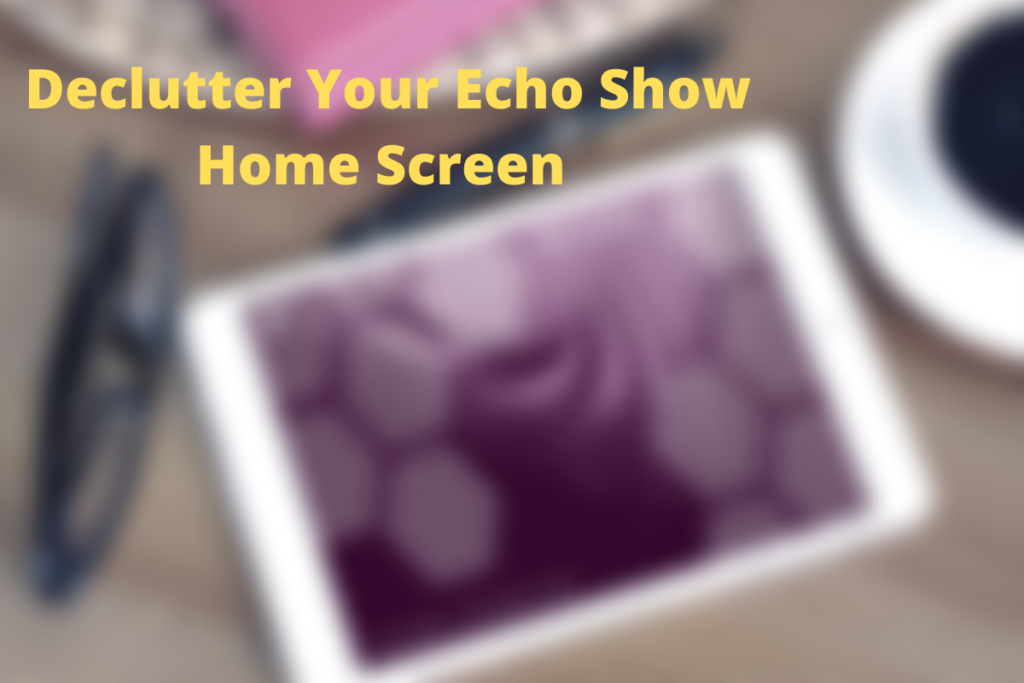 I had my Echo show for a while now I find it incredibly beneficial especially since it's connected to all my smart home devices such as camera, ring doorbell..etc. But the biggest issue I find with the Echo Show is the Home screen is cluttered with ads, suggestions, and many other distracting images or text.
Below is a step by step guide to removing unwanted ads, suggestions and other unwanted features from the home screen.
How To Turn Off Rotating Ads On Your Echo Show 5, Echo Show 8 & Echo Show:
First in your Echo home page simply swipe down click on settings
Select Home & Clock then -> Home Content
Inside "Home Content" you will find everything that is displaying in your home screen contains a Blue Check, simply disable the blue check for items you don't want to appear on your home screen
Turning Everything off will remove all the clutter from your Home Screen except for the Time, Date, & Temperature.
To effectively Declutter your screen these are the things you would probably want to turn off:
Rotate Continuously
Discovery
Game Schedule
Game Score
Notifications
Shared With You
Trending Topics
This will clear up most clutter from your home page, however, the "Alexa Try" notification cannot be removed and is a permanent part of the Echo show.
How To Customize Your Echo Show Home Screen:
(Out of all the Echo show's The Echo Show 5 is by far the most customizable). So there will be limitations in terms of customizations if you are using the Echo Show 8 or Echo Show.
Customize Echo Show 5 Home Screen
Change your Echo Show 5 background screen:
Swipe down on the Echo show screen
Select Settings -> Home & Clock -> Clock
Different Types of Clock Customizations: (These options are only available to the Echo Show 5)
Modern
Playful
Photography
Classic
Change your Echo Show 5 Background to your personal Photos:
Go to Background depending on your preference select Alexa App Photo's or Amazon Photo's
Customize Echo Show Home Screen (2nd Gen)
Change your Echo Show background screen:
Swipe down the Echo show screen
Select Settings then tap on Wallpaper & Clock
And from there you will be able to select the type you prefer
How to Use Echo Show As A Digital Picture Frame:
One of the best ways is to simply download the Amazon Photos App. Once you Log in you will be asked for permission to access your photos once you select yes all your photos will be uploaded to the Amazon Photos app and simply log into the App on your Echo show and all your pictures should be in there. Now you should be able to set these photos to scroll through your home screen.
How To Get The Most Out Of Your Echo Show (Hidden benefits):
Make Your Echo Show Portable
There are several power banks available in the market such as the RAVPower 20100 mAh that allows you to make your Echo Show portable. This means you can bring your Echo Show outdoors with you, or just walk around the house and move it around without having to constantly go to the same place in your home to communicate or use your Echo show.
Use Drop In Calls
Drop-in calls work with echo show, Echo Dot and Echo and what it does is allows you to drop in unannounced into someone else Echo device without having to call or have the other person pickup. It automatically allows you to communicate with someone through video & voice. All that is required to set this up is to grant access to someone to be able to drop in calls to your device and that's it they will be able to drop in and communicate with you at any time. There is a do not disturb feature available which prevents the person from dropping in at a specific time you select.
Connect Your Security Cameras to Your Echo Show
Linking your security camera's to your Echo Show makes it incredibly convenient to monitor your camera's all you need to do is ask Alexa to "show the front door", and it will instantly show up on your Echo Show.
Benefits Of The Echo Show:
The fact that the Echo Show has a screen makes it incredibly useful with a bunch of features that you won't get with the Echo or Echo Dot.
Use Echo Show as a photo album: This is one of my favorite features of the Amazon Echo Show the reason being is an average digital nonsmart Photo album can cost around $100 or more.
Tap To Alexa: Tap to Alexa allows you to communicate with Alexa by simply tapping the commands on the screen you're able to customize and add your own commands. The benefit to this is if you are in a quiet environment and everyone is asleep in your home or you're just tired of speaking to Alexa then simply tap and your good to go.
Browse the web: The Echo show allows you to browse the web, watch youtube videos, Amazon prime and much more.
Frequently Asked Questions:
Can I watch videos on the Echo Show?
Yes, you will be able to watch videos from youtube and Amazon Prime. However other streaming services such as Netflix won't work on the Echo show but this feature might work in the future.
Can I use the Echo Show's camera to take pictures?
Yes, you will b able to take pictures with the Echo Show's camera and all your photos will be saved in the default Photo Booth app.
Final Thoughts
So there you have it, decluttering you Amazon Echo Show does make for a much better user experience. Rotating ads and suggestions over time do become very distracting, the good news is that they can be shut off very easily.
The Echo show is very customizable so you can adjust the screen background to your liking set different types of moods such as night or day mode as well as use the Echo Show as a digital picture frame.
The Echo show does also make it easier to control and monitor your smart home the fact that the Echo Show has a screen allows you to view your smart camera's by simply asking Alexa, you will also be able to monitor and control your other smart devices with your Echo show, for example, your smart thermostat.