Mac
Uncategorized
How to Delete Photos on Mac Without Deleting it From iCloud? (Simple Method)
By default Apple syncs Photos with iCloud storage; what happens is since both devices are synced, if you delete a Picture in your Photos app, you would also be deleting it on iCloud. However, the fix is incredibly simple.
You can delete a photo on a Mac without deleting it from iCloud by opening system preferences, selecting Apple ID, clicking on the iCloud tab, and unchecking photos. This will unsync iCloud from your Photos app, allowing you to delete pictures on your Mac without affecting the deleted image on iCloud.
Let's walk you through the whole process step by step and look at a few tips for restoring deleted files, as well as useful tips on how to clear storage on y our iCloud account. Let's dive in!
how to delete photos on Mac without deleting them from iCloud
On your Mac, select System preferences, which can be found by clicking the Apple logo.
2. Select the iCloud tab located on the left
3. Uncheck Photos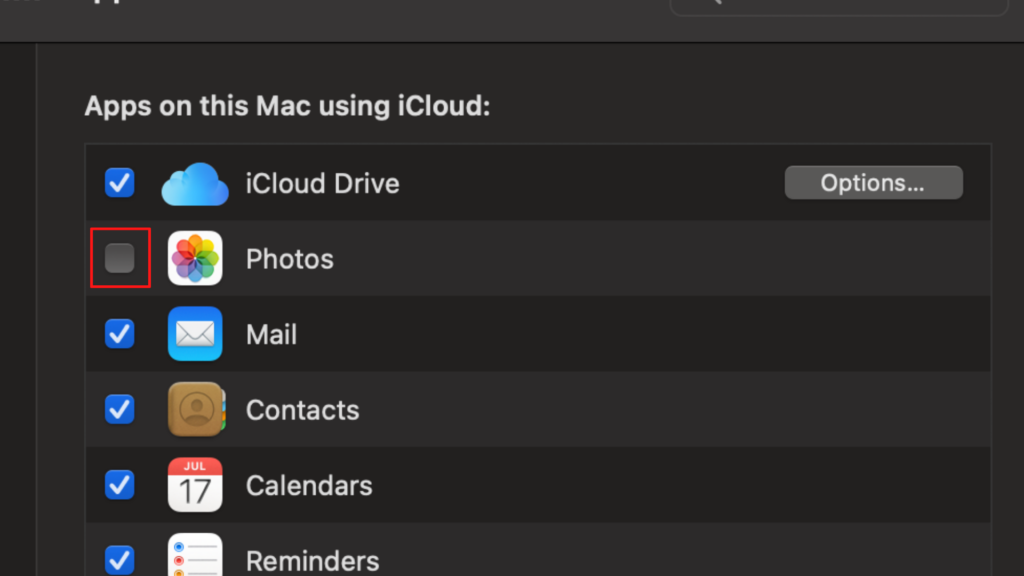 4. You may be prompted to re-enter your password for verification
5. Once this is done, you'll be able to delete photos on Mac without deleting them from iCloud
Your Photos app and iCloud will now be completely disconnected, allowing you to delete pictures on your Photo app without them getting deleted on your iCloud Account.
However, any new photos you add will not be automatically Synced with iCloud until you re-enable Photos on iCloud on your Mac. Alternatively, you can manually add desired photos to your iCloud drive.
How to Recover a Deleted Photo
Both iCloud and the Photos app will create a backup if you delete a photo or video. This will appear on your "Recently Deleted" tab; you'll be able to restore your picture by clicking on the file and selecting "Restore".
You have a limited number of days (30 days) to restore a deleted photo until it's permanently deleted.
How to check how much space you have left on your iCloud storage?
On your iPhone, you can do this by going to Settings > tapping on your name (located at the very top of the screen) > iCloud.
From here, you'll be presented with a graph detailing how much storage space you have left and what type of data is taking the most space on your iCloud account.
How do I clear up iCloud storage?
Saving all your images and data on iCloud can take up a lot of storage which you may need for future files. So how do you clear up iCloud storage?
The first way you can do this is through the premium method, which is iCloud Storage + which currently costs $0.99 a month for 50GB of additional storage, $2.99 a month for 200 GB, or $9.99 a month for 2TB of storage.
The second method is by clearing up space on saved data that you don't require; for example, iCloud automatically stores email & messages; while the messages and email themselves don't take up much space, this also includes attachments, which can result in massive storage space over time. You can disable certain data like messages & email from being saved by going to Settings > tapping on your name (located at the very top of the screen) > iCloud. From here, you can toggle off any data you want to unsync from iCloud. Simply check what data is taking up the most space, and you don't need to be saved on your iCloud storage and toggle that off.
How do you delete photos from iCloud storage?
If you'd like to free up more space on your iCloud storage by deleting old or unwanted photos on iCloud, then here's how:
Login to your account on iCloud
On the Photos tab, select & double-click the Photo or video you would like to delete
Select Delete
Your deleted files will be moved to recently deleted storage, where iCloud backup deleted data for a limited number of days. You can delete your recently deleted files by selecting the file and clicking on delete.
How do I organize my photos in iCloud?
Suppose your photos and videos have been automatically synced to your iCloud account. In that case, chances are your files are hard to get through, especially if you have several videos and photos. You can organize your files on iCloud by creating an album.
Creating an album is simple:
On the Photos tab on your iCloud account, select the + icon, then select New Album.
Enter the name of the album you would like, click on ok to confirm.
to add photos to your album:
Select the photo or video you would like in your album and press the + icon
select the album you would like to add your photo or video to.
And that's it! Your photo should now be in your album.
How do I turn off iCloud without deleting everything?
Once you sign out on your iCloud account from your device, you'll be notified if you want to "keep on iPhone" or "delete". "Keeping on iPhone" will save the files to your device's storage. If your files on your device (iPhone, tablet…etc.) aren't saved locally, then turning off iCloud will erase them from your device.