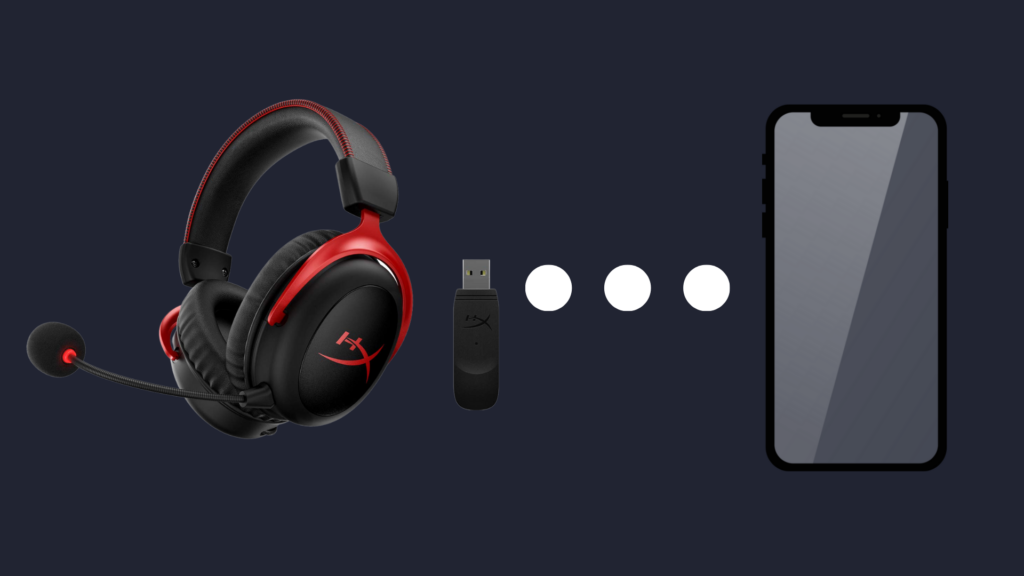 HyperX is one of the foremost brands in computer electronics and gaming accessories. They have released many popular headphones and headsets, and the HyperX Cloud 2 Wireless has recently been a fan favorite. The Cloud 2 Wireless is actually known as a top PC-only gaming headset, so, unfortunately, there is only one way to connect it with your phone.
The only way to connect the HyperX Cloud 2 Wireless with your phone is through an OTG adapter. An OTG adapter will give you the ability to plug USB-A devices and cables into a phone with a Micro-USB or USB-C charging port.
The HyperX Cloud 2 Wireless officially does not support mobile devices, so you will not be able to troubleshoot any issues you have with HyperX technical support. Additionally, the abovementioned method is only proven to work with specific mobile devices. If you are considering taking a gamble by purchasing the Cloud 2 Wireless to use with your mobile phone, consider other gaming headsets.
How to Connect Your HyperX Cloud 2 Wireless with Your Phone
The HyperX Cloud 2 Wireless headset connects wirelessly to PC devices through a USB drive. After an initial setup, the USB drive outputs a 2.4 GHz wireless frequency that matches the headphones. Mobile devices do not naturally pick up these frequencies, and the Cloud 2 Wireless does not output any Bluetooth signal.
In general, if you want to use wireless headphones with your smartphone, consider purchasing Bluetooth headphones. Unlike the HyperX Cloud 2, the Hyper X Cloud 2 Wireless does not have a 3.5 mm headphone jack. If you want to use these headphones for mobile-only use, consider the wired alternative, which is cheaper and of comparable sound quality.
Use an OTG Cable to Connect the Cloud 2 Wireless with Your Phone
An OTG adapter cable connects USB-A devices and cords into a phone with either a Micro-USB or USB-C port. Android phones typically use this adapter to download files from a flash drive. OTG cables are purchasable from all major electronics retailers and are abundant online.
As long as your phone allows OTG cables natively, the process of using an OTG cable with the HyperX Cloud 2 Wireless is relatively straightforward. First, plug in the OTG cable to the bottom of your phone. Then, plug the USB dongle into the OTG cable. If everything is working okay, the headset will be reset into pairing mode and will soon connect with your phone. You shouldn't have to access any network settings on your phone for it to work.
It is important to remember that this method does not work with all smartphones. Users with newer Android phones like the Samsung Galaxy S8+ and the OnePlus 6T have stated that this method works for them, but others with Android phones have not gotten this method to work. You may need to go into your phone settings to enable the OTG dongle to work. No one with an iPhone has tested using a HyperX Cloud 2 Wireless with a similar adapter.
Additionally, by using this method, you make it pretty challenging to update your headphones because HyperX drivers do not install correctly on phones.
Using an OTG cable to connect the Cloud 2 Wireless with your phone is also very cumbersome because you have a USB box and a dongle connected to the bottom of your phone. This makes it difficult to hold your phone comfortably to play games.
Why do electronics developers choose to use a 2.4 GHz connection rather than a Bluetooth connection?
When only considering personal computers, using a 2.4 GHz wireless connection is much better than using a Bluetooth connection. It has better audio quality because of higher data transfer speeds, supports a larger distance, and you do not have to go through any annoying pairing process. On the other hand, Bluetooth is supported by a broader range of devices, and weather conditions do not affect its signal range.
How do I connect HyperX Cloud 2 to my phone?
The HyperX Cloud 2 is the wired alternative to the HyperX Cloud 2 Wireless. This model is much easier to use with mobile phones than the wireless version.
If your phone has a 3.5 mm headphone jack, all you need to do is plug the audio cord into the headphone jack. Consider purchasing a dongle if you have a phone with no headphone jack.
Does the HyperX Cloud 2 Wireless have Bluetooth?
The HyperX Cloud 2 Wireless does not have Bluetooth. The Cloud 2 Wireless, like most other wireless HyperX headsets, has a 2.4 GHz wireless connection. This headset works by plugging in the USB adapter to a computer.
The only HyperX headset that currently supports Bluetooth is the HyperX Cloud MIX.
How do I use HyperX cloud wireless?
If you are looking to pair your wireless HyperX headset with its USB receiver, start by plugging the receiver into your PC.
After that, turn on your headphones. The USB receiver will automatically have power and look for devices to pair with when it is plugged in.
Next, you will want to access your sound settings on your computer. Click the sound icon on the bottom right of your taskbar, right-click the more prominent sound icon in the pop-up window, and click "Go to Settings." You can also do this by opening up your settings app, then going to "System," and lastly, "Sound."
Depending on your interface, you will either want to click a section that says "Sound Control Panel" in a box to the right or scroll down and click "More sound settings." From there, go through each section and change it from the default output to the HyperX Cloud Wireless headset.