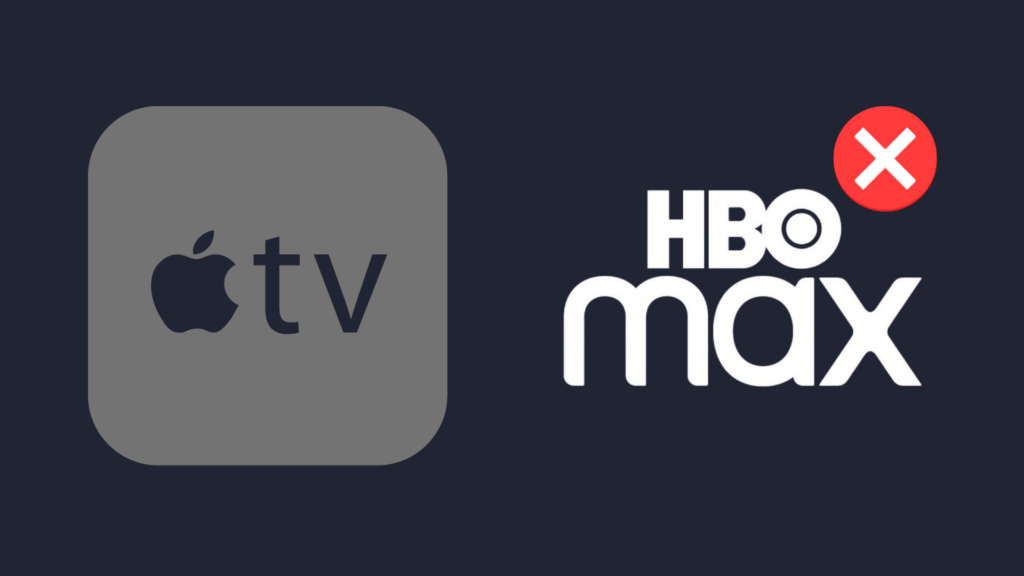 Using your Apple TV, you can watch a wide variety of streaming services, including Netflix, Crunchyroll, Hulu, and the focus of today's article, HBO Max. HBO Max offers a wide variety of content, ranging from hit shows and films, to original content created by HBO, such as Game of Thrones and The Wire. HBO Max works on a wide variety of devices, including the Apple TV, which causes some to ask why HBO Max is not working on their Apple TV.
The first thing you should do when troubleshooting your HBO Max app is to check for updates. If it is already updated to the latest version, try uninstalling and reinstalling the app. If even this does not work, however, you may have to take more drastic steps, like resetting your Apple TV to factory settings.
But what if you still can't get the HBO Max app working on your Apple TV?
HBO Max not Working on Apple TV:
Check if the problem is with a specific video on HBO Max
If you are having trouble watching a video on HBO Max, check other videos on the service to make sure it is an issue with the app or that specific video instead.
Update the HBO Max app to the latest version
If your HBO Max app is not updated to the latest version, this may prevent the app from opening properly. To update the HBO Max app, go to Apps, and either select the 'Automatically Update Apps' option, or select the individual app, check for updates, and manually download the update. If successful, you should be able to access the HBO Max app.
Update your Apple TV to the latest version
If your Apple TV is not up to date, it could cause problems with apps crashing, whether it be HBO Max or any other app on your Apple TV. To update your Apple TV to the latest version, open Settings, then System, and then select Software Updates. Select the 'Update Software' option, and if an update is available, a message will appear indicating this. Select Download and Install to begin the download. Once the download is complete, your Apple TV will be updated with the latest version of the app.
Refresh your login information
It's possible that your login may be corrupted, and thus you are not able to use the HBO Max app. To fix this, just log out of HBO Max and log back in. If you cannot remember your login information, the HBO Max app has a way to reset your password. You can also reset your password by clicking this link. Logging back in may succeed in fixing the issue.
The HBO Max app has a faulty update
While updating the HBO Max app is usually the best way to fix the app, that does not mean it comes without flaws. Sometimes, updates can be corrupted, making the app not work with certain devices. Back in 2021, an update to HBO Max actually caused such an issue with the Apple TV, causing multiple features in the Apple TV's firmware to break as a result.
Previously, the HBO Max app worked through the native tVOS player, which was typical for multiple other apps. This meant that gestures on the Siri Remote and interactions with Siri were possible with the HBO Max app. That is when HBO Max's 50.30.0 update was distributed, which removed these features, instead providing HBO's own alternatives to these features. This also introduced changes that affected the quality of life (QOL) of users, such as requiring users to pause the content to turn on or off subtitles, or Standard Dynamic Range being forced to be displayed in High Dynamic Range, despite visual issues caused by doing this.
Thankfully, however, Warner Bros. – the owners of HBO and the HBO max app – seemed to understand that this was a mistake, and announced in 2022 a new update that made it more like the pre-50.30.0 version.
Apple or HBO Max servers may be down
Like with your Internet provider having downtime, if either Apple's or HBO Max's servers go down, this would be something you would simply have to be patient about. Such downtimes are usually not long unless there is a serious issue with one or both of the servers. You can check whether a server is down using a website such as Downdetector. This website will tell you whether a website or server is down at the moment. Apple itself has a dedicated website that shows any server issues it is currently experiencing, which you can access here.
Restart your Apple TV
This is a simple fix, but one that may be enough to fix the issue. There are multiple ways to do this. The first way to do this is by pressing the Back and TV buttons at the same time until the TV's light flashes. The second method is unplugging it from the outlet, waiting 10-15 seconds, and plugging it back in. The third method is by opening the TV's Settings, selecting System, and then selecting Restart.
Uninstall and reinstall the HBO Max app
Sometimes, an app may appear to be malfunctioning for no apparent reason, and one way to fix this is to just uninstall the HBO Max app and then reinstall it. To uninstall the app, highlight the app you want to delete, and then press and hold the clickpad center on your Siri Remote until the app begins to wiggle. Press Play/Pause for more app options, and then choose delete, which also deletes the app's data. If your Siri Remote does not have a clickpad, hold the touch surface instead.
Once it's deleted, the next step is to reinstall the app.Open the App Store on your Apple TV, and then search 'HBO Max' in the search box. Select HBO Max and then choose the download option. This will download the app and put it back on the home screen, and if you can open the app, you will need to sign back into your HBO Max account.
Check your network connection on Apple TV
If your connection to the Internet is spotty or not functioning at all, you will have difficulties getting the HBO Max app working properly. There may be multiple reasons why your Internet is having issues. A good way to figure out whether it is your network connection is to see if other devices are also having issues with the Internet. If they are, go to your Wi-Fi router and unplug the power from it. Wait 30 seconds, and then plug it back in. This is an age-old, tried-and-true method, and it won't work for all situations, but it is worth trying nevertheless.
Also, check to see whether distance is causing the connection to be weaker than normal. The further away from your router the Apple TV is, and the more that is in the way of it from your router, the weaker the signal will be once it reaches the Apple TV. Try to close the gap if possible, or use a Wi-Fi extender system, which effectively daisy-chains the connection and lets devices further away from the router have a better connection than they otherwise would.
If your Apple TV is connected via an Ethernet cord to your Wi-Fi router, make sure that both ends of the Ethernet cord are properly plugged into both the router and Apple TV. If your connection is set up wirelessly, make sure that the information is correct. For instance, if you change the password for your Wi-Fi router, you will need to update the password information on all devices, Apple TV included.
If your Internet connection is having issues, you may be able to find out if it is on their end by contacting your Internet provider or viewing their website. They may include information on the downtime, as well as how long the downtime will last.
Perform a factory reset on your Apple TV
This is a last resort, but it may be what your Apple TV needs. You will use your user data, settings, and apps you have. To perform a factory reset, it will depend on your Apple TV. on an Apple TV HD or Apple TV 4K, open Settings, System, and then Reset. Either select 'Reset and Update' or 'Reset'. On an Apple TV 3rd generation or earlier, open Settings, General, and then Reset. Choose either 'Reset all settings' or 'Restore'.
What do I do if I can't fix the problem?
If the Apple TV is still unable to run HBO Max after all this, and nothing seems wrong with either Apple or HBO Max's server, your television may be faulty. Contact Apple to troubleshoot the issues, and if that doesn't help, you may be able to get your Apple TV replaced or repaired, assuming it's under warranty and due to a defect. If the problem is your fault, however, it is not likely that a warranty would cover it.