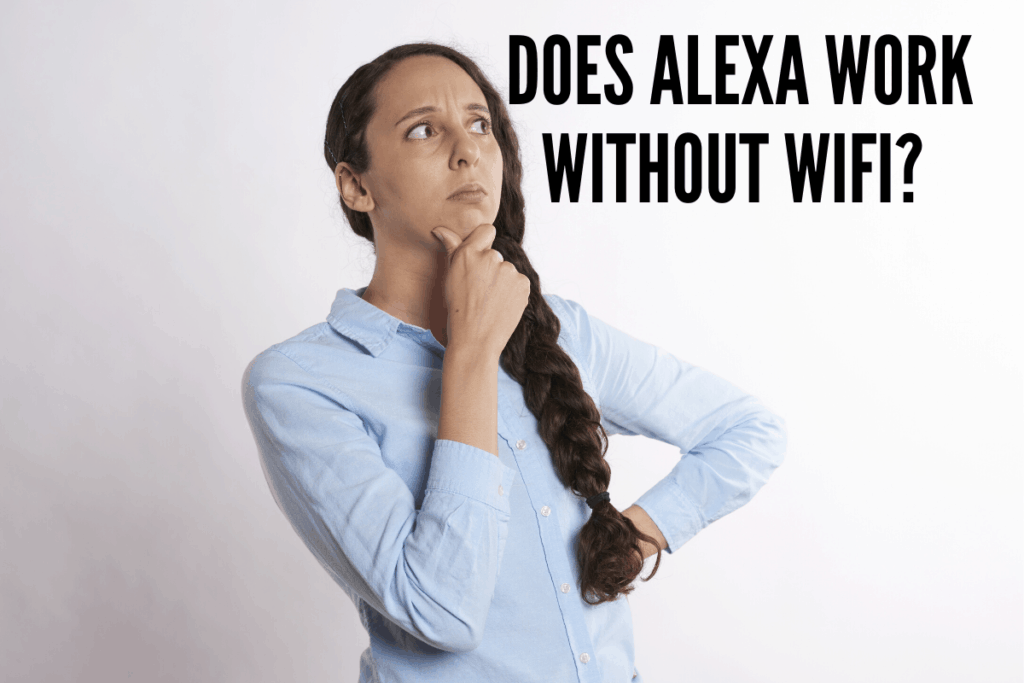 The short answer to this question is strictly no, Amazon Alexa relies on an internet connection to perform most of its tasks from accessing Google and provide answers to playing a song from Spotify or other music- streaming services.
Without the internet, it is simply impossible for Alexa to offer these features. Also, most of the Alexa devices such as Amazon Echo rely on strictly wireless internet connections (no LAN port or USB). So, without the internet from a WiFi connection, the Alexa device will be very limited in its features.
However, it's important to know that WiFi is not the only way we can get wireless internet. We can, for example, use data tethering to share the internet connection from your smartphone. As long as Alexa can connect to the wireless internet with one way or another, it is good to go. Also, you don't really need a super- fast internet speed for the Alexa device to perform properly.
So, a more appropriate question here is: "Will Alexa work without the internet?", and then the answer is no , the Alexa device won't be able to offer its full functionalities without internet connectivity.
However, most Alexa devices can still offer some limited features even without the WiFi and any other internet connection, one of those is the ability to function as a Bluetooth speaker, as we will discuss below.
How To Use Alexa as a Bluetooth Speaker Without Wifi?
Most of the Alexa-enabled devices offer the core function as smart speakers, which as established above, require an internet connection to be "smart": accessing Google to answer your questions, play your favorite songs, automate your schedule and shopping lists, and so on.
However, most of these Alexa devices can still perform as standard speakers over Bluetooth connection, although we will need to configure the device for a proper Bluetooth connection.
The idea is to make sure the device can communicate properly with the audio source (whether it's your smartphone, PC/laptop, TV, etc. ). So, below are the necessary steps to set up Alexa as a Bluetooth speaker.
Important note: you will need a WiFi or internet connection when you configure the Alexa device
Step-By-Step Guide To Configure Alexa as a Bluetooth Speaker
Make certain that the two devices (the audio source and the Alexa device) are within each other's Bluetooth range. For example, your smartphone should be close enough to your Amazon Echo Dot.
Tell Alexa to turn on the Bluetooth connectivity.
Alexa will respond by telling you that it is "searching". If you are familiar with the Bluetooth pairing process, then this should be a similar process
Open the setting on your pairing device (the audio source), and turn on Bluetooth (will vary with different devices, discussed below)
Your device should detect the Alexa-enabled device (i.e. the Echo), tap on it (or click OK) and let the two devices pair themselves.
Depending on your device (the audio source), here are the steps through which we can pair the device via the Alexa App:
Open the Alexa app, look for settings and tap on it
Start searching for your Alexa device(s) from the list appearing on the device's screen
Choose the Alexa device (i.e. your Echo Dot), then go to the next screen and tap on Bluetooth
A new screen for the pairing process will show, where you will have to enter the pairing mode. If necessary, remove devices you've paired in the past (by tapping the "Clear" button). This button will erase the pairing with other devices.
After you've tapped on the pairing mode, you'll receive another message from the App notifying that you are in the pairing process.
Finally, go to the Bluetooth setting of the mobile phone to connect with the Alexa device (as discussed above).
Will Alexa Work Without a Phone?
A tricky question that might need a little explanation.
First, as established above, Alexa strictly needs an internet connection to perform its full functionalities. If the internet connection comes from your phone (from mobile data tethering), then the answer here is no, Alexa won't work without your phone.
However, if your internet connection comes from other sources than your phone (i.e. a WiFi network), then Alexa should work without any issue.
Another factor to consider here is the configuration and set up processes. In the past, it's not possible to set up Alexa devices (i.e. Echo Show) without a smartphone, since the Alexa App was only available for iOS and Android devices.
Later on, however, Amazon released the Alexa App for select PCs and laptops, and now Alexa App is available for all Windows 10 computers. You can also access Alexa from the web app here, for example, if you are using Macs.
So, in most cases, Alexa can work without your phone as long as there's any active internet connection.
Will Alexa Alarms Work Without WiFi?
As we have established, Alexa loses the majority of its functions when it is not connected to the internet. However, the alarm feature of Alexa still works without any WiFi connection, and so the short answer is yes.
However, since Alexa needs to relay to the Amazon server to configure the alarm, you can't tell Alexa to turn off the alarm. Any existing alarms will still work until you can reconnect to the WiFi.
In such cases where you can't connect to the internet but need to turn off the alarm for one reason or another, you can tell Alexa to set its volume to one (you can whisper to it). This will result in just a small flash without any voice response
You can also set a new alarm (with a new time you need) with a voice command or by whispering to it if necessary.
Does Alexa Use WiFi All The Time?
Refer back to the very first question on this article to understand the possible misconception between WiFi and internet connectivity.
Again, Amazon's Alexa is a system that relies on internet connection (potentially from WiFi connection) to perform most of its functions. Without the internet, for example, it's impossible for Alexa to connect to Google, Spotify, and other websites and platforms to perform its core tasks as a smart speaker.
Alexa will only access the internet when it needs to retrieve or send data to any website or platform, and not when it's idle. For example, it will only access your WiFi (and use your bandwidth) when you give it a command or ask a question.
What Can Alexa Do Without The Internet?
Alexa is very reliant on the internet and WiFi, and so can only perform very limited to non-existent function without it. One possible way to use the Alexa device without any WiFi access or stable internet connection is to use the Alexa device (i.e. Echo) as a Bluetooth speaker, which we have discussed further above in another question.
Can You Set Up Alexa Without a Smartphone?
The answer to this question used to be no before 2018, as we'd need to use the free Alexa App to set up and configure the Alexa device. Before 2018, the Alexa App was only available on iOS devices (with iOS 11 or higher), Android devices (Android 5.1 or newer), and Fire OS devices. So, unless you have a smartphone/tablet (or Kindle Fire), you can't set up Alexa back then.
Today, however, it is no longer the case since the Alexa App is now available for all Windows 10 PCs, and Mac users can also access the Alexa web app from the browser.
So, the answer is yes, today we can quite easily set up Alexa without any smartphone.
Does Alexa Work With a Mobile Hotspot?
Yes, Alexa devices can work seamlessly with an internet connection coming from a mobile hotspot. And the good news is you don't really need a really fast mobile data connection for Alexa to work.
So, you can safely bring your Alexa device during your travels and use your phone's mobile hotspot for it to work without any issues.
In the past, using a mobile hotspot with Alexa wasn't available natively, and back then we need to use two different mobile devices to set up the mobile hotspot. Back in 2016, however, Amazon enabled a built-in feature to connect Amazon Echo products with mobile hotspots.
What Can Alexa Do?
Amazon Alexa is Amazon's virtual assistant with AI-driven technologies, and it's important not to misunderstand Alexa with Alexa-enabled devices such as the Amazon Echo: Alexa is the virtual AI assistant, not the physical device (smart speakers).
With that being said, Alexa is able to perform the following actions:
Answering General Questions
Alexa can answer questions related to general knowledge such as the weather today, sports results, celebrity net worth, and so on. If you integrate your calendar (for example, Google Calendar) and have set up your preferences for news sources, you can say "Alexa, what's my flash briefing" and Alexa can then provide a quick overview of this and other content like interviews, list, daily comedies, and so on.
Although Alexa can only answer factual and generic questions (that is, it can't form an opinion or respond to complicated commands), this is a very useful feature as a smart speaker.
Control Smart Home Devices
Alexa nowadays can integrate with thousands of smart home appliances via Alexa Skills—think of them as apps where Alexa can communicate and control third-party devices—. From smart LED lights to smart thermostats to smart doorbells, and so on. For example, you can tell Alexa to turn a certain smart LED on and off, or control other functions of the appliances.
Play Music, Podcasts, Audiobooks, and Radio
Alexa can connect to music streaming platforms like Spotify or Amazon Music, and can also connect with services like Pandora and iHeartRadio as your default radio station service. Also, Alexa can stream audiobooks via Audible and obviously Amazon's Kindle Audible. If you like various types of audio content, Alexa can be very useful as a smart speaker.
Calling and Messaging
Alexa can make the following types of calls:
Alexa-to-Alexa calling between different Echo devices or via the Alexa app on smartphones.
Call mobile or landline devices in the UK, US, Mexico, and Canada from select Echo devices
Alexa app calling: as mentioned, the Alexa app can make and receive calls to and from mobile and landline devices, as well as Echo devices.
International calls between Echo devices and Alexa apps
Alarms and Timers
Set up recurring alarm with various classic and custom alarm clock tones, or you can choose to wake up to a favorite radio station or a specific song. You can also set up a quick timer for any activities (i.e. cooking or sports activities).
What Are The Pros and Cons of Alexa?
Pros:
Hands-free convenience with voice control
Very versatile, Alexa can answer general and niche-specific questions, play music, read the news, playback podcasts, provide sports scores and schedules, and so on via Alexa Voice Service.
Immersive 360-degree omnidirectional audio on Alexa devices like the various Amazon Echo products. Pretty loud and sounds pretty decent for its price.
Can control third-party smart home appliances from smart lights to smart security cameras to smart thermostats.
Updated regularly, Amazon keeps adding new Alexa Skills from time to time, from pretty basic ones like Uber skills to book your Uber quickly to very advanced ones.
Far-field voice recognition, Alexa devices can hear you from across the room even when music or radio is playing
Great voice control for various functions
Can connect with Spotify,iHeartRadio, TuneIn, and Amazon Prime Music, among other music and radio streaming services
Voice training feature on Echo devices, can recognize the voice of specific family members or friends in the house. Very accurate and responsive allowing precise voice commands and controls.
Can assist various things, especially for people with disabilities from telling the time, automatically updating your schedules, making and taking phone calls, providing weather report, making doctor appointments, and so on.
Great shopping list function, can update your shopping list as you go
Easy Bluetooth pairing if you want to turn it into a Bluetooth speaker, simply say "Alexa pair Bluetooth" and it will easily pair with your audio source quickly.
Easily and quickly start and stop alarms and timers, very useful for cooking in the kitchen or any other time-sensitive activities. Simply say "Alexa, set alarm for…." or "Alexa, set a timer for 10 minutes" and you are set.
Control music and radio playback with only your voice, and works really well. This includes controlling your volume with just your voice.
Great in recognizing your questions, which is especially useful for information about conversions like "How heavy is x pound in kilograms?" or other factual questions like "how heavy is a gorilla?"
Can tell jokes and playback comedy shows, good entertainment
Alexa is 100% free (outside the cost for the device), no monthly subscription costs or any hidden fees.
Cons:
Currently, interaction and communication with Alexa are available only in English, Spanish, Portuguese, Japanese, and Hindi, German, Italian, and French although support for other languages is coming
Only select devices (Echo Show) offer visual information unlike Google Assistant on Android devices or Siri on the iPhone/iPad. You have to rely on audio information.
Most of Alexa devices (except the Echo Tap) are not portable so you have to keep them plugged in at all times. They don't include batteries so you can't use them while mobile.
It can only answer generic and factual questions and can't provide good answers for questions like "How can I get richer?" or "What is a good substitute for X bag?".
Not technically a dedicated smart home hub, so you will need to spend more on more smart home devices like smart LED bulbs, switches, smart thermostats, and more.
It can't do multiple tasks at a time without saying "Alexa" in-between tasks and questions. You can't ask multiple questions in just a single sentence.
Although the speaker on most Echo devices are pretty good, they aren't really audiophile-grade speakers, so they aren't impressive, quality-wise
Can't relay audio from Alexa devices (Amazon Echo) to other headphones or Bluetooth speakers
Conclusion
Amazon Alexa devices like the Amazon Echo are really good value for your money with their various advanced features and how they can act as a smart home hub to control various third-party smart home devices.
While it's true that Alexa devices can't work properly and perform their full functionalities without internet connection (whether it's WiFi or data tethering/mobile hotspot), there are still some features we can use offline, like the ability to use them as a Bluetooth Speaker or as an alarm.
Today, however, we can easily share our phone's internet connection with the Alexa devices via a mobile hotspot. So, an internet connection shouldn't be an issue even when you take the Echo device away from your home.