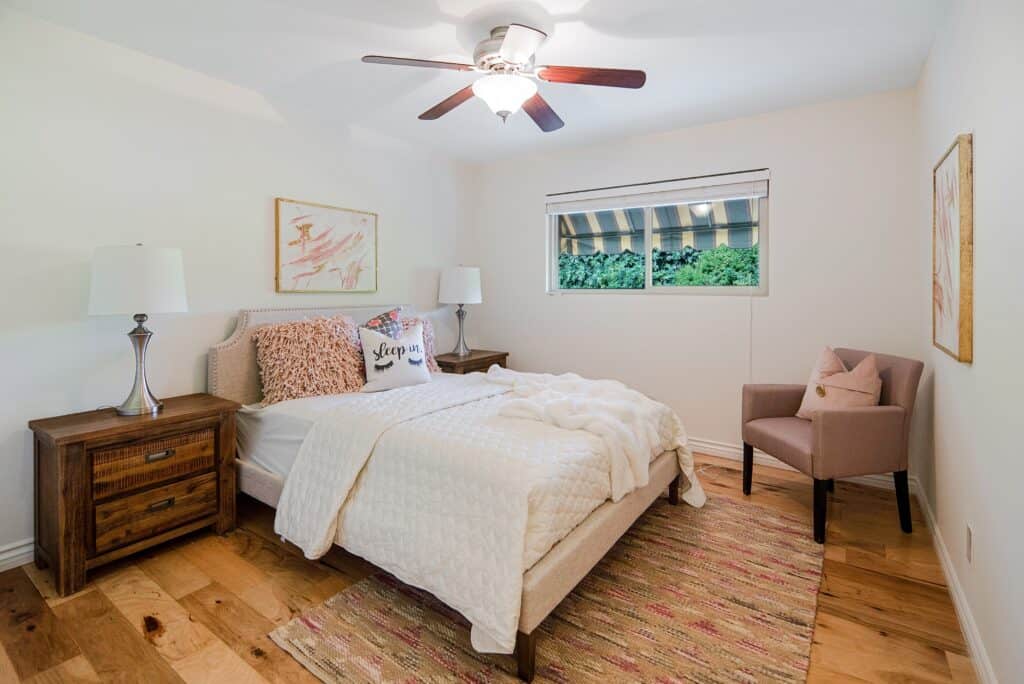 Staying indoors on a hot and humid summer's day is no fun. It is amazing how still the air can become and without cool drinks and ventilation an interior can become stifling.
Having a ceiling fan in these condition makes an amazing difference and surprisingly need not be an expensive fitting. The circulated air will be a relief and despite ceiling fans being a simple design you will find them an indispensable fitting.
There is a wide range of ceiling fan models on the market and fitting one is easier than you think. You will be surprised to find that a ceiling fan runs effectively on only cents in the dollar. In this handy article, we take a look at the electricity consumption of ceiling fans and how they are a great alternative to A/C.
So just how much electricity does a ceiling fan use?
Working out the energy consumption of a ceiling fan will depend on the following factors:
The wattage of the fan
The size and dimensions of the fan, in particular, the length and weight of the fan blades
Most designs will come with labeling that states the wattage of the fan.
Let's take a look at an example fan that is readily available online.
TheHyperikon 52 Inch Ceiling Fans 35W with 52-inch blades. Using this value we can calculate the consumption and cost of energy if you know your electricity price in kilowatt-hours (kWh).
If you use this fan for 3 hours per day (fan only and not the light) with your electricity costing, $0.10 per kWh the energy consumption is as follows:
kWh Per Day: 0.11
Cost Per Hour: $0.0035
Cost Per Day: $0.0105
This is impressive! Only a few cents for some cooling relief, demonstrating what a great choice a ceiling fan is as a home cooling solution with a cost that is minuscule compared to the air conditioning juggernaut.
Benefits of installing a ceiling fan
As seen above, ceiling-mounted fans are an excellent way of keeping your home cool and well ventilated at a low cost. By simply moving the air they provide much-needed air movement and ventilation that keeps your household cool.
Here are some key benefits of ceiling fans:
Save money on conventional fans and A/C. Once you know how much electricity does a ceiling fan use you are able to make a reliable comparison with the cost of running air conditioning which is many times more the cost of running even the most powerful ceiling fans.
You can buy a ceiling fan and install it anywhere you want for a competitive price.
Ceiling fans make the most of the wind-chill effect. Evaporating sweat and moisture off your skin will keep you cool.
Fans can be used to move warm air as well as cool. In cooler weather reverse the direction of the blades to circulate down rising hot air.
Your fan can be used indoors as well as on porches and outer areas for refreshing air movement on a hot, still day.
Ceiling fans provide an integrated lighting solution. Most contemporary units carry a low wattage LED light.
Decorative and stylish ceiling fan designs can enhance your interior decor. Choose from a wide range of designs and styles for the one that will work best in your home.
Energy consumption of a ceiling fan
The energy consumption of your ceiling fan is primarily used to power an electric motor that turns a rotor or flywheel, to which the ceiling fan blades are attached.
Depending on the wattage or power of the fan, and its speed setting, these fans have the ability to move large volumes of air and thus generate significant cooling.
The fan may or may not have supplementary lighting of varying designs and styles which will also consume electricity. The fan can be readily switched on or off with a wall-mounted switch or remote control.
Types of ceiling fan
The versatility of ceiling fans is a great benefit. They come in a variety of shapes and sizes meaning you can purchase the model that best meets your needs.
Many people may be familiar with the old rusty and dusty fittings that did little to move the air.
Things have moved on with a range of sharp, sleek and contemporary designs alongside the traditional styles. Here are some of the key types and configurations of ceiling fans:
 Hunter this iconic design is very recognizable and is still in production over a century after it was first produced.
Cast iron style ceiling fans house the motor in a robust cast iron casing and had proven to be extremely durable. Many of these traditional fans are still working on the present day.
Punkah style this original Indian design would be used to move air using a suspended Palmyra leaf pulled backward and forwards on a rope.
Stack motor fans developed in the 1970s feature a very efficient motor that brought down the costs of running the fan to be equivalent to turning on a lightbulb.
Direct drive fans featured a motor that was up until recently considered highly inefficient, but modern variants have improved energy efficiency and performance.
Belt driven ceiling fans have a belt attached to the motor. This design can be used to drive one or multiple fans.
Smart fans are tech integrated ceiling fans that boast state of the art internet of things control. Many can be remotely controlled via app.
Alternatives to a ceiling fan
When hot weather hits, every household needs a solution to gain relief from oppressive heat and humidity.
Keeping cool does cost money but a ceiling fan stacks up well against these common alternatives in terms of energy consumption and performance.
Home air conditioning
Home air Conditioning is an installed system that works to mechanically remove heat and moisture from your internal environment thereby cooling it.
It may be ducted or ductless and can serve one or multiple rooms in the case of more powerful central A/C.
Air conditioning delivers significant cooling and actually drops the temperature of a room, but at a cost that well exceeds a humble ceiling fan. A basic window-mounted A/C unit uses at least 1000 to 1500W compared to the 35W of an average ceiling fan.
A ceiling fan only has just over 3% of the energy consumption of the A/C unit, meaning if you forgo A/C you will certainly save!
Table Fans
Table Fans are a ready competitor for cooling yourself and others quickly. They carry comparable wattages to home ceiling fans of between 40 and 100W. However, unlike a ceiling fan, it only moves the air locally, so you have to be sitting in front of the fan to get the best cooling effect.
Tower Fan units and pedestal fans
Tower fan units work in a similar way to table fans but are positioned at height and can turn or swivel to move more of the air in a room. Wattages of 50W and upwards are comparable with the ceiling fan. The only disadvantage is they can take up space and get in the way in your living or workspace.
Humidifiers
Humidifiers can add much-needed moisture for relief in dry arid conditions. Again, their cooling effect will be local and negligible despite their lower energy consumption.
So a ceiling fan is a competitive all-round option as a home cooling solution. It is important to note that a ceiling fan does not drop the temperature but rather moves air around to provide a cooling sensation as the air moves across your skin.
However, the position and ability to move large volumes of air powerfully makes a ceiling fan an accessible and effective solution for feeling cool in your home.
Can you use a ceiling fan all year round?
Yes. A ceiling fan not only provides great cooling effects in the summer but can be used to better regulate your home's temperature in the winter.
This can be done simply by reversing the direction in which the blades of the ceiling fan rotate and putting the fan on a low setting.
This causes the warmer air to be drawn up and spread out across the room and mixes the warmer air with cooler air for more steady room temperature.
Best ceiling fans buying guide and examples
If you are on the market for a ceiling fan, you are probably purchasing at a time where you have the maximum range of choices and options along with superb energy efficiency and performance. There are some great models that can be obtained at every price point.
Here we share some key points for choosing the best ceiling fans for your home:
Choose a ceiling fan of an appropriate size for your room. Clearly a ceiling fan will small blades will fail to impact a large hot room. Large living spaces will benefit from large fans of upwards of 50-inches.
Look for blade angle. Blade angle will affect how effectively the air is pushed around your home. A low or flat angle will only cut through the air. Look for a blade angle of 12 degrees or more to ensure that the air is moved effectively. It is also important to remember that the larger angles, upwards of 16 degrees will push a lot of air, so avoid these blade angles if you have papers or other lightweight objects in your space which may get blown around.
If you are unsure how much electricity does a ceiling fan use check the wattage before purchase.This will ensure that you keep on top of your energy consumption.
Consider lighting. Many ceiling fans come equipped with LED lighting that can be used to boost your home lighting all year round. The number and types of lighting on your fan will affect energy consumption.
Plan for installation. Depending on the complexity of your design you may want to have your ceiling fan professionally installed or undertake self-installation.
Down rods – check the selection available to ensure that your fan can be suspended at the ideal height from your ceiling.
Look out also for wireless, app-based and personal assistant based control on many of the more modern 'smart' designs.
Here are some excellent ceiling fans that are available online
1) Hunter Indoor Ceiling Fan with light and pull chain control.
This classic ceiling fan is made by one of the world's leading manufacturers and boasts a stately 52″ size, deeply toned and oiled wood and rich brass fittings with vintage pull chain. This fan comes with an integrated light fitting that is powered by LED bulbs and is dimmable. This unit has
whisper-quiet performance functioning and a toffee glass enclosure for its light.
2) Honeywell Ceiling Fans 50614-01 Carnegie LED Ceiling Fan
This is a modern stylish design from a reputable company that specializes in home heating and cooling appliances. It boasts a 52-inch fan that has an industrial styled wood finish and a bold contemporary LED spotlight in a black metal cage frame.
3) Monte Carlo 3MAVR60BK Maverick Energy Star
This state of the art ceiling fan boasts outstanding design and engineering to create an exceptional feature as part of your interior decor. Not only do the sculpted blades create quiet but powerful air movement, the dark hand carved walnut blades create an outstanding architectural focal point in your room.
In Conclusion
It is clear that an investment in a ceiling fan is a great way of keeping cool at a low cost. Even the most advanced designs are under 100 watts meaning you can run them for cents per day.
The right choice of a ceiling fan is not only cost-effective but provides savings on more expensive central air conditioning. The ceiling fan is also great lighting and design accessory with a range of designs and styling from traditional and grand millennial to Mid Century Modern and everything in between. Selecting a fan is simple, with a range of great designs on the market that is readily installed and easy to use. Get yours and be summer-ready for cents in the dollar cooling.