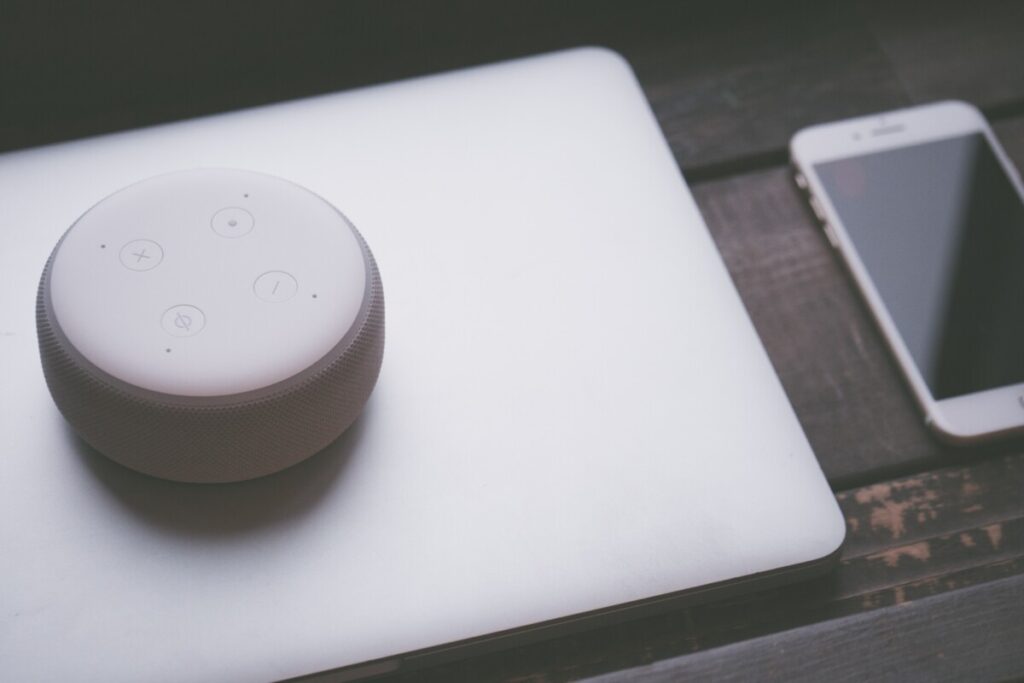 Amazon Echo Dot is known for being an incredibly helpful voice assistant with various capabilities such as control your Tv, set timers, remind you about certain things, answer questions, play games and so on. But can it be used for other things such as a speaker?
The Echo Dot can be used as a Bluetooth speaker only, as there is no aux input. But the sound quality is below average for listening to music.
The Amazon Echo Dot's intended purpose is to be a small convenient home assistant rather, and since it's lightweight and portable its speakers aren't as powerful as its other versions. The Amazon Echo Dot speaker size is 1.6 inches (contains no Woofer or Tweeter).
The 3rd Generation Amazon Echo contains much better speakers (3″ woofer and 0.8″ tweeter) than the echo dot and is more suitable to be used as Bluetooth speakers. As well as the Amazon Echo Plus which contains similar speakers to the Echo 3rd Gen (3 inches Woofer, 0.8 inches tweeter).
How To Pair Your Amazon Echo Device Via Bluetooth?
Pair by Voice Command
Enable Bluetooth on your phone or device you wish to connect
Tell your Amazon Echo "Alexa, Pair"
It will show up on your phone and simply connect
And your all set!
And that's it that's all you need to do you will now be able to use your Amazon echo as Bluetooth speakers.
Amazon Echo Dot vs Echo vs Echo Plus What's The Differences?
Echo Dot
The Amazon Echo Dot weighs around 10.6 oz (300 grams), and is around 1.7 inches tall and 3.9 inches in diameter which makes it incredibly lightweight. It contains four microphone inserts to detect speech.
Echo Dot Audio
The Echo Dots speaker is excellent for listening and communicating with Alexa. But when it comes to using it as a Bluetooth speaker for listening to music, the sound quality is below average the reason being is Amazon Echo dot's purpose isn't to be used as a speaker its been created to serve as an affordable virtual assistant.
Capabilities
Automate your home with voice command
Make calls
Get the news
Stream music
control your TV
Play games
Set up a schedule
Ask Alexa to remember things
The capabilities are endless which is why the echo dot is such a beneficial device to have in your home.
Echo 3rd Gen
The Echo 3rd gen comes with premium speakers which plays 360° audio enhancing the audio quality. An awesome feature of the amazon echo 3rd gen is that you are able to change the volume settings through the Alexa app. For example, you can adjust the Bass, Midrange, and Treble to your liking. The echo 3rd gen comes with 7 built-in microphone inserts at the top for clear voice recognition
Amazon Echo 3rd Gen Audio
The Amazon Echo has definitely improved over the years and has inherited alot of its features from the echo plus. Such as the speakers the Echo 2nd gen has a 2.5-inch woofer and 0.6-inch tweeter whereas the 3rd gen has a 3-inch woofer and a 0.8-inch tweeter which makes its sound quality extraordinary.
Amazon Echo Plus
The Amazon Echo plus contains basically the same speakers like the Echo 3rd gen but it also has a built-in Zigbee hub which allows you to comfortably control your smart home. a Zigbee hub allows you to control a wide range of smart products some of which the echo 3rd gen can't. The Amazon Echo Plus also comes with a temperature sensor. This allows you to identify the temperature, the benefit of this is you can assign it tasks based on the info, for example, you can tell Alexa to turn on the cooling system anytime the temperature hits 90 degrees.
Amazon Echo Plus Audio
There isn't any difference in Amazon Echo Plus's audio compared to the Echo 3rd Gen. There used to be when Amazon Echo was at its 2nd Gen but since then Amazon upgraded the Echo's speakers to match the Echo plus.
Installation & Setting Up Amazon Echo
The installation process for the Echo is extremely simple. Simply plug in the power cable, then install the Alexa App add the Amazon Echo to your Wifi network & simply follow the steps on the app & your all set. It shouldnt take longer than 2 minutes.
Related Questions
How can I connect my Amazon Dot to speakers?
The amazon echo dot comes with an Aux output which allows you to connect to any external speakers easily. You can also connect external speakers to your Amazon Echo dot via Bluetooth.
Do I need to keep the Amazon Echo dot plugged in for it to work?
Yes, the Amazon Echo Dot must be plugged into a power source at all times in order to function. But you can purchase a rechargeable battery base for the echo dot turn it into a portable smart home hub.
Final Thoughts
The Amazon Echo devices all possess similar traits but operate at different frequencies depending on your needs. If you're looking for an affordable high-quality virtual home assistant then the Echo dot is perfect for you.
If you're looking for a home assistant but also want to use it as a speaker to listen to music, podcasts, or the news then Echo 3rd Gen is the best option for you.
If your looking for a high-quality speaker but also want an assistant that works with a wide range of smart devices and provides premium features such as temperature detection then Amazon Echo Plus is the right choice for you.